Mozilla Firefox is in the front row of the online privacy battle, and the Firefox browser is the company flagship. However, extra caution is always recommended: a VPN on Firefox helps you be anonymous and more secure while using the Firefox browser.
By their nature, web browsers share some information (your public IP address, information about your device, your browser, etc.) to the websites you visit. And, as you probably know already, many sites track you and expose you to various vulnerabilities.
In this article, I explain why you need to consider using a VPN on Firefox, what are the differences between VPN software and VPN add-ons, and what are, in my opinion, the best VPN services for Firefox.
The Transylvanian legend of the Fox Fur
It was icy-cold outside when GrandPaBat was sent to Vlad's castle with a travel mug full of cold chocolate. Flying in the freezing wind was not something GrandPaBat desired, but some times you have to do what you have to do (yes, you guessed right, GrandMaBat "asked" him to)!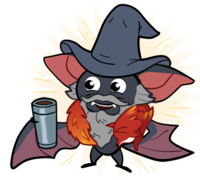 Before leaving the cave, he disappeared in his room for a minute and, when he got back, he was wearing (you will never guess this one) a … fox fur neck warmer. And he was radiating (so to speak)!
As everybody was staring at him, GrandPaBat could not resist the temptation of telling the story of RagnarBat (his grand-grand-grandfather) who has captured the fox (or was it a red panda?) with his bare hands, kept it as his pet for years, and finally made himself a neck wrap. The fox fur was passed on from generation to generation, and it was now on GrandPaBat's shoulders.
It was a moment to remember for all bat kids, but do you believe the story of RagnarBat and the fox?
Similarly, do you believe the reassuring statements made by web browsers' manufactures when they say they do not track you and keep you safe? Can you rely on that?
Firefox seems to do a great job to secure and protect its users and appears to have less financial interests in users' data, but wouldn't it be better to add an extra defense?
As you are probably on the same page with me, let's talk next about VPN and how it brings important benefits to Firefox users.
What is a VPN for Firefox?
Let's start with a general explanation regarding the VPN technology.
A Virtual Private Network or VPN creates an encrypted tunnel between your device and a VPN server. The VPN server acts as an intermediate between your device and the Internet, and the communication follows a certain (VPN) protocol (OpenVPN, WireGuard, L2TP, etc.). Thus, your data travels to the VPN server, where it is decrypted and sent to the Internet. The response is encrypted by the server and sent back to you.
The important fact: the VPN acts at the level of the operating system, and it is not a function of a specific application (however, it is possible to select which applications utilize VPN and which are not, using VPN split tunneling).
The Firefox addons marketed as VPNs are not using the VPN technology because a browser extension has insufficient permissions to enable a VPN tunnel at the OS level.
Thus, the so-called Firefox VPN addons are not, in fact, VPNs. They are using the proxy technology to emulate a secure tunnel between the browser and the proxy server.
Important: It is essential to understand that a Firefox addon or extension can not connect to a VPN server or initiate a VPN connection.
However, if a VPN is enabled at the OS level, the Firefox browser (as well as other web browsers) will use an encrypted tunnel to connect to the Internet.
VPN addon vs. VPN app
If you Google search for "Firefox on VPN," you will get many results referring to Firefox add-ons that promote themselves as VPNs but are, in fact, built as proxy services.
It is important to understand the differences between VPN extensions and VPN apps:
Browser addons or extensions can not initiate VPN connections. Instead, they are using encrypted proxies, usually HTTPS or SSL proxies.
VPN apps encrypt all the traffic traveling from and to the device, and it is enabled for all applications (including web browsers like Firefox or Chrome).
However, by enabling a VPN addon on your browser (Firefox), you get around Internet censorship, unblocking websites, and protecting your privacy, similarly to using a VPN app.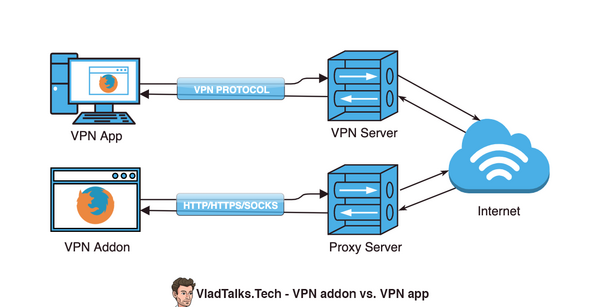 But it would be best if you kept in mind that proxies and VPNs do not offer the same security and privacy level.
To sum up, if you need a genuine Firefox VPN, the best approach is to install a VPN application or configure one on your operating system, rather than using a browser add-on.
Why do you need a VPN on Firefox?
Using a VPN while browsing the Internet with Firefox (or another web browser, e.g., use a VPN with Google Chrome) is the best way to protect your online privacy and anonymity. VPNs encrypt the data sent to the Internet and mask your public IP address. Thus, you are protected against security threats and online vulnerabilities.
Moreover, you may use a VPN to access the Internet without boundaries from countries like China or access geo-blocked websites and streaming services like Netflix, the BBC iPlayer, or even Youtube.
To sum up, VPNs offer Firefox users many benefits:
Web browser traffic encryption.
Public IP address masking while browsing the Web with Firefox.
Access to geo-restricted streaming channels, social media sites, or forums.
Website tracking prevention.
Data protection against your ISP or while using public Wi-Fi networks.
How to get a VPN for Firefox
There are several options to secure your browsing activities on Firefox:
Install a VPN app on your device and enable it while using Firefox;
Set up a manual VPN connection on your device;
Install and enable a Firefox VPN addon;
Subscribe and activate the Mozilla VPN service (Firefox Private Network).
Installing a VPN app or manually set up a VPN connection
VPN apps or VPN client applications are the way to go for most VPN users. They are simple to install, and you may connect to the VPN in a matter of minutes.
VPN apps are available for download on the VPN provider's website, or you may find official app stores corresponding to your device. You may proceed as follows:
Create a free trial or subscribe to the VPN service.
After installing the VPN app on your device, open the app, select a location or server, and click on the Connect button.
Once the VPN tunnel has been created, open Firefox to browse anonymously and safely.
All the Internet traffic that comes and goes to/from Firefox will be encrypted and passed through VPN servers. Your real IP address will be protected, and region-locked content would be accessible.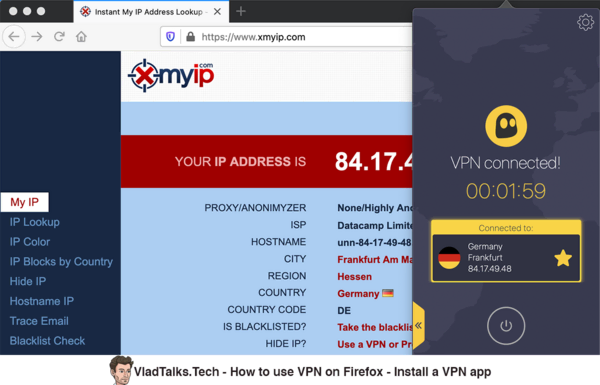 The manual setup consists of creating a VPN tunnel from the OS level directly, without the use of a VPN client app. The following tutorials help you get started with the manual VPN setup:
Similarly, you may set up a VPN on Linux OSes and use an encrypted tunnel while browsing the web with Firefox.
Adding a VPN addon to Firefox
Several VPN providers offer access to Firefox add-ons that, as explained above, are not actually using the VPN technology. However, they may be useful for browsing anonymously or unblocking restricted websites.
Most of the time, we do not recommend free VPN solutions (or lifetime VPN subscriptions), which is also true. Your privacy, anonymity, and online security are far more important to install free VPN add-ons that may intercept and use your browsing activity and, maybe, some sensitive private data.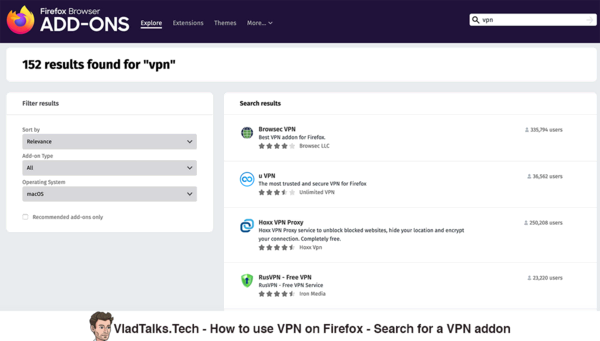 Here it is how you can start using a VPN add-on on Firefox:
Go to the Firefox Add-on Store, select the add-on you want to install, and click the + Add to Firefox button.
The permissions required by the add-on will be listed, and you need to click the Add button. Make sure you read the required permissions!
After it has been downloaded and installed, an icon should appear at the top right side of the Firefox browser.
Click on the icon, select a VPN location or server, and click on the Connect/Start/Turn on button.
Your real IP address will now be hidden, and you should be able to unblock region-locked content.
VPN add-ons typically work with the desktop version of Firefox. To protect yourself when browsing on mobile devices, you may use a VPN app.
Important: When installing a VPN Firefox add-on requires explicit permissions. It is a security measure to prevent unauthorized access to your data.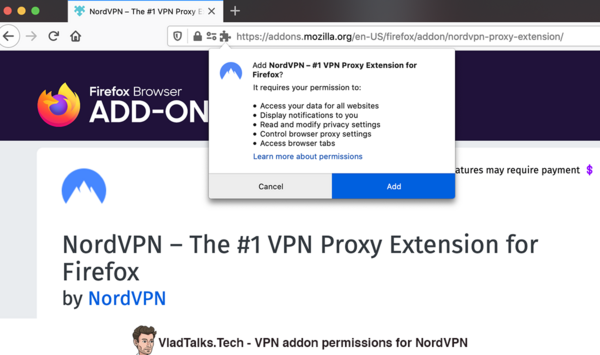 The permissions required by a proxy or VPN add-on to run are important. Basically, you grant access rights to your browsing data. Most of the VPN add-ons need the following permissions:
Access your data for all websites – The addon redirects all the browser data traffic through third-party servers, and, theoretically, they may see your browsing activity.
Read and modify privacy settings – The addon may modify some default browser privacy and security settings.
Control browser proxy settings – To function, VPN and proxy add-ons need to modify the browser proxy settings.
The vital takeaway: only install VPN add-ons that you previously read or heard about. Take your time and do your research. Choose a trustful VPN or proxy provider.
Use the Mozilla VPN (Firefox Private Network)
Firefox has recently launched its own VPN service with servers in 30+ servers, no bandwidth restrictions, no logging, and 5 simultaneous connections for $4.99/month. The server network is powered by Mullvad, a top WireGuard VPN provider.
Mozilla VPN is available for users in the United States, the United Kingdom, Canada, New Zealand, Singapore, and Malaysia.
Test run your VPN for Firefox
After installing a VPN it is uber important to test the VPN solution throughly, especially if you have chosen to use a VPN app.
For VPN add-ons, the first test is to check your public IP address with an IP locator website (e.g., XMyIP). If the IP checker website still shows your real IP address, there is something wrong with the VPN browser add-on. Try to refresh the locator website. When your real IP is no longer shown, then you know the add-on does its job.
Additionally, you should test the Firefox VPN add-on for WebRTC leaks.
The best Firefox VPN services
Suppose you are looking for completely free VPN services you are not in the right place. As there are plenty of security and privacy risks involve while using free VPNs, we simply do not recommend them here at VladTalks.tech.
The following premium VPN providers that we endorse for Firefox offer access to both VPN apps and VPN add-ons.
NordVPN
NordVPN is the VPN service that we recommend with confidence as we use it ourselves daily, and it worths its value. It is user-friendly, fast, secure, and it provides advanced options like Kill Switch, Double VPN, Onion over VPN, or obfudscated VPN.
For Firefox, you may either install the VPN app that fits your device, or you may install the NordVPN Firefox add-on.
After creating a NordVPN account, you may log in to the macOS, Windows, Android, iOS app, or to the VPN add-on, and press the Quick Connect button. It selects the fastest server taking into account your location and creates a VPN (or proxy, in the case of the addon) connection. And you are good to go!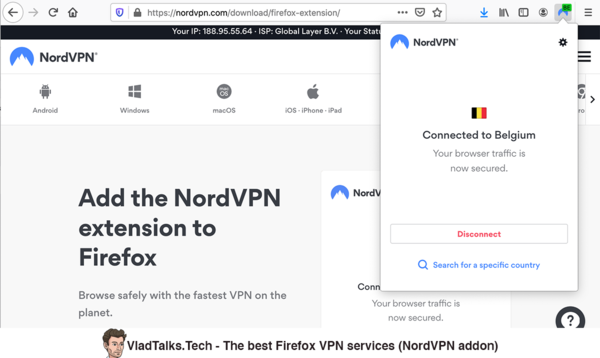 CyberGhostVPN
CyberGhost is an excellent VPN provider with simple and effective VPN apps for major operating systems.
The CyberGhost Firefox extension is free (with limited locations: United States, Germany, The Netherlands, Romania). As a trustworthy provider offers it, we have added it to the list, but we recommend using the premium plans.
Build safety habits – How to use a VPN on Firefox on a daily basis
The Internet is full of threats. You can not rely solely on your browser for protection. That is why you should do your part and use a VPN while accessing certain websites.
Do yourself a favour and:
Have a VPN app installed on your devices and a VPN add-on on your Firefox browser.
Subscribe to annual plans (or longer) such that your VPN account does not expire unexpectedly. Check this article to find great deals from trustworthy services.
Do not use and install (completely) free VPNs or free VPN add-ons offered by shady providers. Your personal data may be monitored and sold.
Turn on your VPN for Firefox when browsing shady content.
Summary
Firefox is a great web browser, and it provides a lot of privacy features. But, taking into account the plethora of Internet threats, you should use a VPN. As they say, better safe than sorry.
As explained in the article, you could use Firefox VPN add-ons, but they are not the safest approach. Instead, I recommend installing a VPN client app (a paid one, for the reasons explained above) and keeping your entire device secured and protected.
Please keep in mind that:
A VPN addon is not using a VPN, but the proxy technology;
Firefox VPN addons encrypt only the Internet traffic from the browser (Firefox in this case);
VPN client apps are much safer;
Most free VPN add-ons may log your activity and use your private data.
To conclude, consider using a Firefox VPN to protect your browsing activities, and install a VPN from a trustful provider for full privacy and anonymity.
Additionally, you may look at our Instagram account and make a Transylvanian baby-bat happy by subscribing to our newsletter. You will learn lots of useful tips on how to use VPNs better.
About the Author