I like the fact that we have one thing in common – the same thirst for learning as many things as we can… things about the online world in general and online security and privacy tools in particular.
As you might have already discovered on our About page, I am not tech-savvy. I went from being just another Internet user to becoming a responsible Internet user after getting my questions answered right.
Without much knowledge about the popular solution for private and secure surfing, I had many curiosities about what is a VPN service, or why do I need military-grade encryption for my Internet connection.
I chose to pursue this journey by always keeping me curious, as the tech world never sleeps (just like the Transylvanian Vampires). Have no fear; Vlad is here and is ready to bring to light the most important things you need to know about the popular VPN technology.
So, stay with me if you're curious to know what VPN technology is, how it works, and why you need to use it these days.
As the first things are to be done first (captain obvious here), check the VPN's Transylvanian explanation – an easy version for beginners.
The Transylvanian explanation of the VPN
Let's say that you could get back in the days when the myths about Transylvania were written. As these myths suggest, the vampires and other threats were lurking in the dark, on every corner. What could help you in such a situation? How could you possibly get from point A to point B unharmed? Maybe by always keeping with you a garlic clove or an invisible cloak?
To transpose this into the reality of our days on the internet, I guess there's no fresh news that the World Wide Web can get dark and full of terrors. How can you ensure that your internet access is secured and no hacker is waiting for you to make a mistake? Or, maybe, how can you keep all your data private so your ISP will not be able to create your digital portrait?
No, a garlic clove won't keep you safe, but there is an invisible cloak that you can use – the powerful VPN (Vampire Permanent Neutraliser).
I am just joking! VPN actually stands for Virtual Private Network, a complex technology specially designed to create a private and invisible tunnel between your device and the final destination on the web.
The VPN will not only make all your traffic invisible, but it will change your "online identity" by providing you a brand-new IP address associated with the VPN server you choose to connect to. Don't panic! Below you will find in-depth information about VPN servers, or other definitory components of the VPN, so we make sure you won't confuse this tool with the proxy technology.
So, to make sure that everything is clear, follow the logic line explained below (which maybe is logic only in my twisted mind):
The Internet = Transylvania
The online dangers = The Vampires
The VPN = The invisible cloak you're wearing to make sure you bypass Vampires (your ISP, hackers, even online restrictions).
Yes, it's as easy as that, and it almost feels like magic, but it's not… In reality, there are many years of intense development to create a tool this useful for plenty of purposes.
I hope things don't get that scary around here. Keep on reading, as I can promise you that things will get even better from now on.
Next, VPN explained from scratch.
What is a VPN service?
The VPN or Virtual Private Network is a legal and valuable technology, and one of the most popular online privacy and security tools.
Launched as a solution to enable corporations to gain access to their local networks securely, the VPN is now used by an impressive number of people worldwide. Even if it might sound complicated at first, VPNs are quite easy to use and don't require any technical knowledge.
The VPN's components
To enable a VPN encrypted tunnel, you need a VPN client (VPN software/VPN app) installed on a device (or a router) and click on the Connect button. Or you may set up the operating system in-built VPN modules.
What elements is this technology combining in order to work?
The VPN connection's key components are the VPN server, the VPN protocol, and the encryption level.
The VPN client – the VPN client is an automated and controlled software that uses a predefined configuration to work. A VPN software works just like any other application installed on a device (Windows, Mac, iPhone, Android). It can run on Windows, macOS, Linux, iOS, or Android. Additionally, you may set up a VPN on a router and use it as a VPN client.
The VPN server – as its name suggests, the VPN server is a physical or virtual server that is specially set up to enable VPN connections. To be more specific, this server is a combination of VPN hardware and VPN software that allows a connection to a secure, and most importantly, private network. Based on this information, we can conclude that the VPN server plays a significant role in the whole Vampire Permanent Neutralizer Virtual Private Network thing.
The VPN protocol – this component of the VPN is actually like a slide that enables the data transmission. In straightforward words, we could say that as an internet protocol, the VPN protocol is a set of rules that manage the connection between the VPN app and the VPN server.
Last but not least – The encryption level – a security method used to enhance your data's security and privacy. In the VPN connection, the encryption is established by the VPN protocol. In super simple words, all your Internet traffic is coded via encryption so that no one can read it. Logically, a higher level of encryption will ensure a more secure VPN connection.
I feel the need to put these components in my perspective and give you another out of the box explanation.
So, let's say that we're in medieval Transylvania, where a Knight is ready to cross the distant lands to meet his beloved princess. To avoid any unwanted danger across his road, an old and trustworthy adviser suggests to take the road over the bridge (the VPN server) and always wear his strongest armor (VPN protocol + VPN encryption). In this way, he can travel safely to his destination. Just like your data, over the internet, via the VPN connection. 😊
How does a VPN work?
For starters, all the information about this technology's components might feel overwhelming. The good thing is that you don't really need to know the technical part to use it.
To enable a VPN connection, you will need just a VPN app.
Right after the "Connect" button is accessed, the VPN will create the private scoop of communication between your device and the Internet.
The VPN server, VPN protocol, and the encryption will treat your data in such a manner that it will be encrypted within seconds and sent to the address you need to access. Its mission here is not done, as the VPN needs to process the information sent back to you to decrypt and, finally, display it.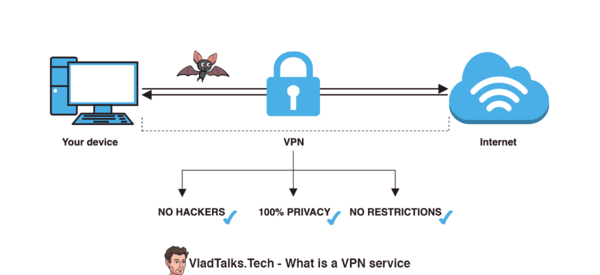 The highlights:
A Virtual technology – because it enables you to have a private encrypted connection to any website or network you need to connect.
A Private technology – because all your online activities are kept private and away from any prying eyes (in simple words – private internet access).
It's a Network – while you're connected to the VPN, you use a special VPN servers network that can cover the entire world (a private network across a public network).
We can say that a VPN is PRIVACY, SECURITY, AND ONLINE FREEDOM at your fingertips.
The advantages of VPN technology
These days, we face many challenges while going online, from spams, malware, or keyloggers to mighty hackers and even internet censorship.
Luckily, the VPN is like a swiss knife that you always carry on your device. The main benefits of the VPN are:
Enhanced online security. Beware the threats that can hide behind a public Wifi network. The main risks when using free Wifi are packet sniffing, MITM attacks, or rogue Wi-Fi networks.
Stay anonymous online. As you connect to a VPN server, this means that you get a brand-new IP address, hiding your real IP address. By surfing while having a new IP associated with your device and having all your personal data encrypted, you're all anonymous and unrecognizable.
Access geographically restricted content. It's no news that some of the most popular social media networks, games, Youtube videos, or streaming services can be geo-restricted in many countries worldwide. You can avoid these restrictions by using a VPN. In this way, BBC iPlayer, Netflix, or Facebook are always accessible, no matter in you live in Germany or China.
Bypass internet censorship. A VPN is able to bypass various types of restrictions, imposed either by ISPs or from the governmental level (e.g., the Great Firewall of China).
File sharing. The appliance of the VPN will not limit only to browsing. You can use it to share files in a secure manner or even for torrenting. Downloading various files is safer while using a VPN.
VPN port forwarding. Port forwarding goes hand in hand with P2P file sharing and is definitely huge plus brought to the VPN table.
Remote access. If we talk about a company or a corporation, the VPN is a great way to access the company network by working remotely or traveling. This is the reason why VPN concentrators are so popular among big businesses.
Improved online experience. With the help of a VPN, you can avoid bandwidth throttling. As all your personal information is encrypted, your ISP (Internet Service Provider) will not be able to track your traffic, and, in case you're a heavy streamer, it can't throttle your bandwidth to regulate the network traffic usage.
Enhanced security and privacy while using Tor. Because you're doing your research to learn more about security tools, you might have heard about Tor. Compared to the VPN, Tor is less secure, and it definitely needs VPN's help to keep its users' activities unexposed.
Save money. It might sound crazy, but it's a pure truth. Looking to buy plane tickets or book hotel rooms while using a VPN connection can help you save money. Some agencies can practice preferential prices for different regions around a country or a continent; that's why we recommend you to use a VPN while looking to book a vacation.
VPN's disadvantages
Just like any other thing in this world, a VPN can have its ups and downs. The good thing is that this technology has more ups than downs.
Here's what you need to pay special attention to while choosing a VPN:
A good VPN can be expensive. You need to pay a few bucks for a good antivirus, for example, right? When it comes to VPNs, the situation is no different. Usually, reputable VPN software can practice stiffed prices but trust us; usually, these VPNs are worth every penny. We do not recommend free VPNs due to security and privacy concerns.
It might affect your speed. Because a VPN implies a connection directed via a VPN server, based on the VPN server locations you choose to connect to, your speed can be affected. If you're located in Germany, and you don't necessarily need to connect to a server from the US, to avoid speed drops, we recommend you connect to a server located close to you. Another option that you can have is to use a VPN protocol that favors the connection speed. Such protocols are OpenVPN (open source, extremely reliable, AES encryption), WireGuard, L2TP/IPSec, IKeV2, or PPTP (Point-to-Point Tunneling Protocol, introduced by Microsoft – super fast, but less secure). Pursue some VPN speed tests and see which is the winning combo for your VPN secure connection.
Some VPN providers can log your connection. Connection logs are something VPN users need to avoid. As you use a VPN for PRIVACY and SECURITY, make sure that your VPN provider does not keep logs on your connection.
Some advanced settings need to be done manually. This can be a problem if you're not that into tech and manual configuration. Some advanced features or protocols are accessible only if you manually configure it on your devices.
What to look for into a personal VPN?
Now that we know what a VPN service is, which are virtual private networking's ups and downs, maybe you think you should start to look after a VPN provider.
These are the most important aspects that your future provider must meet:
A clear privacy policy. As you're about to put all web browsing information on the table, you need to make sure that you're about to choose a secure VPN that does not keep logs and does not use your data for any purposes.
VPN apps are compatible with the most common operating systems. As soon as you test the VPN by yourself, you will definitely want to use it on as many devices as you can. Plus, it is super important to use a mobile VPN, as many of us use our smartphones to connect to public WiFi hotspots.
Simultaneous connections. The number of simultaneous connections is super important, as you might want to use your VPN subscription to connect to VPN from your laptop, Smart TV, and smartphone at the same time.
The free trial VPN. Everything is nice and shiny on the VPN reviews websites, but nothing compares to the possibility to test if a VPN meets your needs. So, before subscribing to a provider, make sure you get the chance to familiarize yourself with the VPN and see if it meets your expectations.
Advanced features. When I say advanced features, I don't mean that these features are meant for advanced VPN users. No, these features are usually some extras that VPN providers struggle to put on the table to differentiate. The most popular advanced VPN features are VPN Kill Switches (Internet Kill Switch and Application Kill Switch), VPN split tunneling, obfuscated VPN servers, Double VPN servers (so you can enable two VPN tunnels), advanced VPN protocols, and even VPN extensions for the web browsers.
Customer support. Exceptional customer support can prove helpful both for advanced and beginners VPN users. Make sure to choose a VPN that is always ready to answer all of your questions.
Define your online goals and make the right choice
Are you preoccupied with streaming media websites while keeping all your activities private, or are you that kind of user that needs to download torrents safely?
Before choosing the best VPN for your needs, make sure you know what you want from your future VPN.
Take a piece of paper and write down anything you want to accomplish. Then, based on that, do some research on the available VPN options.
Choose the VPN with an easy-to-use app if this is what you're looking for, or pick the VPN that allows you to perform advanced VPN settings within the app if you think about perfecting your VPN skills in the future.
Whatever you choose, make sure that (if possible) all your expectations will be accomplished.
The final thoughts about the bloody helpful VPN
So, what is a VPN service? Let's make sure that everything is clear. A VPN is the perfect tool to accomplish online privacy, security, and freedom.
Based on its components, the VPN can change your IP and virtual location and encrypt your traffic so you can keep all your online activities private.
If you think that I have missed something or have any questions, make sure to drop me a line in the comments section below or complete the contact form on our Contact page.
I'll make sure that my assistant TomBat, the Bat Pet, will reply to your questions with high priority. Don't worry; even if he spends most of the time sitting upside-down, he provides competent answers.
Stay thirsty for tech! 🧛
About the Author