Close your eyes! Imagine a field of flowers, the birds chirping, the warm air gently touching your face, the sun spoiling your skin, and the crickets jumping around through the raw-green grass. And then you're suddenly in the shadow of something big. That, my friend, is the Great Firewall of China, holding China's residents in the shadow, away from what the Internet means for all the rest of us, privileged Internet users, with Netflix and BBC iPlayer subscriptions and Spotify accounts, as YouTube's no longer cool enough.
Besides The Great Wall of China, the Chinese Government was able to develop another wall called The Great Firewall of China (GFW). Even if this one is not visible from space, Chinese citizens are aware of its existence. GFW is a combination of technologies and legislative actions developed by the Chinese Government to control and regulate internet traffic. Therefore, this solution is mainly used as an internet censorship technique not only to block access to certain websites but also to slow down cross-border internet traffic.
Internet censorship prevents Chinese citizens from enjoying free and open Internet. Therefore, any person located in China is not able to access western websites like Facebook, Google, YouTube, Gmail, and even Skype.
As everyone has the right to be informed, VPN providers came with a solution that helps users bypass restrictions. And that solution is, clearly, a VPN for China.
Yes, it seems like the VPN saves the day in this situation too, but only in some special conditions. In this article, I will discuss this topic, presenting you with everything you need to know about what is a VPN for China, what providers do a great job at bypassing the firewall, and what advanced features you could use for freedom boost.
Before jumping the other side of the wall, make sure not to skip my Transylvanian explanation meant to put a smile on your face and lots of information on your brain!
Ready, steady, go!
What is a VPN for China? The Transylvanian explanation.
Having bat colonies in my neighborhood can get really challenging from time to time. For instance, now, I am trying to stop them from stealing all my grapes, and I guess I will give up from trying.
Before taking this decision, I tried everything… I installed ultra-sound devices to keep them away… when I did this, they started wearing earplugs, so my workaround didn't…. work. I asked TomBat to have a conversation with them, but they don't listen. Therefore, in the end, TomBat landed me the RoboBat, I proceeded with installing a security camera on it and placed it on my castle wall. In this way, I was able to check when the bat flock is approaching to screw around in my vinery.
Don't get me wrong! I am not angry because they eat my grapes, I am angry because they rip off the grapes, and throw them at each other, pretending it's a mad-grapes war.
But, let's get back at my RoboBat solution, which, unfortunately, didn't work as expected.
Why? Because bats are crazier than I am.
To make sure RoboBat is not detecting them, they had to fly as fast as possible over the wall. And to do so, they came up with a mind-blowing idea. They placed a catapult in a bush and started to launch themselves over the castle wall. You should have seen them wearing the huge earplugs and protective vests.
You must know, folks, that I feel defeated. Just like the Great Firewall of China is in front of a powerful VPN.
Let me give you the insides!
When you fake internet censorship, you need to come up with solutions to solve your problem. For that, the appropriate technology can do the job.
In this case, a powerful VPN (catapult) with advanced security features (earplugs and protective vests) can help you solve your issue super-fast, assuring you can bypass the Great Firewall of China (the castle wall) and DPI techniques (RoboBat).
On a serious note – what is a VPN for China?
Glad that you made it this far without closing the page of my blog, thinking I am crazy. Let's get to the serious side of things and discuss the VPN for China topic from the bottom of this subject by starting with what this solution may be.
In China, internet traffic is regulated by the government, as a measure of internet censorship. The Great Firewall of China (GFW) stands as a middleman between user's devices and the world-wide-web, regulating the outgoing and incoming traffic, meaning that if you look to access a website that is blocked in China, your access will be denied. To circumvent such restrictions, you will need a VPN powerful enough to bypass DPI.
Just like in the case of a VPN for streaming or VPN for torrenting, a VPN for China is none different than a regular VPN service. The only thing about such a VPN is that it comes with a list of advanced features or special servers to help you successfully bypass internet censorship in general, DPI inspection, and the Great Firewall of China in particular.
As I always keep my promises, we will discuss this subject from scratch. So, here we go.
VPN technology is one of the most popular solutions for enhanced online security, privacy, and anonymity. Since this solution does a really great job at hiding your real IP address, it quickly became, besides Proxy or Smart DNS, a top solution to help users bypass internet censorship, access blocked websites, and enjoy an open Internet wherever they are in the world.
There are plenty of exceptions when it comes to the VPN services, as not all of the available providers do a great job when it comes to service's performance or stability. So, you must be aware that you need to be picky and take advantage of the free VPN trials that some providers offer in order to test the VPN service and make the right decision for your need.
How does a VPN for China work?
The principle standing behind a VPN for China is no different than the one a regular VPN uses.
Therefore, in order to help you access western websites while you're in China, a VPN for China uses a VPN server, a VPN protocol, and an encryption standard. To enable the VPN connection, you will have to download VPN software or set up the VPN connection manually. As soon as the VPN connection is initiated, you will automatically connect to the VPN server which will change your IP address and, helped by the VPN protocol and the encryption standard, it will securely carry your data to its destination on the web. The VPN process is reversible, meaning that the data received as a response from the source is encrypted again, decrypted by the server, and, in the end, displayed on your device.
For now, you have successfully bypassed China's intense online restrictions, at least in theory, as there are some other important aspects, when it comes to the best VPNs for China.
It is legal to use a VPN in China?
Even if VPN is a 100% legal and valuable technology, some countries apply massive penalties for internet surfers who're using a VPN. The countries that completely ban VPNs are Iraq, North Korea, Belarus, and Turkmenistan.
Still, you can rest assured that VPNs are not illegal in mainland China. Even so, since 2018 VPN traffic is regulated in China, and only a few VPN services work there. That is why you need to do a bit of research before choosing a VPN to bypass the intense online restrictions applied. As always, I got you covered, and you will find a list of the best VPNs you can count on below.
How to use a VPN in China?
Things are starting to get clearer and clearer. We know what a VPN for China is, why you need one, and the fact that if you find a VPN that works in China, 99% of your problems are solved.
Yet, what is the next step? Folks, allow me to talk some magic.
The VPN does a fantastic job of encrypting your traffic, securing your connection, and opening the door to all kinds of online possibilities. Given that everything sounds so complex, you may think that using a VPN is rocket science when, in reality, all these benefits are at a click away.
The most accessible, easy, and fast way to enable a VPN connection is to use a VPN app. VPN apps are automatic and controlled software provided by VPN services. Therefore, when you get a VPN subscription from a provider, you are automatically able to download and install a VPN app for your device.
The great thing is that VPN providers outdo themselves and provide users with stupendous apps compatible with the most popular OSs. Moreover, such apps come equipped with out-of-the-box features, integrated to enhance your level of security and privacy and to smoothen your overall online experience. Such features are the Kill Switches, split tunneling, leak protection, specialty servers, and even integration with brand-new protocols like WireGuard. What can I say more?
If you're more like a techie person, you can opt to enable a VPN connection manually, on your device, and even on your VPN router. Should you choose to set up the connection on your device, you must know that the traffic generated from your device will be secured by the VPN, while if you opt for a VPN set up on your router, all the devices connected to that router will benefit from the perks of having a VPN connection. Yes, even your gaming consoles! Even so, keep in mind that if you go for the manual setup, you can forget about advanced VPN features!
What should I use? A VPN app, or should I go for the manual setup?
Taking the right decision, is vital for a seamless online experience, especially when you look to bypass internet restrictions, DPI, or other types of online censorship. Since GFW is not a joke, you must choose your weapon wisely, that's why the smart thing to do is to go for a VPN app. And here are the main three reasons why you should go for a VPN app:
VPN apps are easy to use. If you're not a tech-savvy, configuring a VPN and constantly switching between servers and protocols can be a real pain in the… whatever hurts you. This is the first and maybe the strongest argument that comes to my mind.
Swinging between servers and protocols in a blink of an eye. When you try to beat censorship, you will have to try out more than 1 server or VPN protocol, and with a VPN app, you can do that with just a click.
You will have access to advanced protocols. Beating internet censorship is all about choosing the right protocol to use. This is why, over time, VPN providers incorporated in their apps advanced protocols like Stealth VPN (uses obfuscation) or Shadowsocks VPN, two hype technologies that do a great job at bypassing firewalls. Even the popular Open VPN is great for beating internet censorship, still is not always able to trick GFW into granting you access to western websites.
What to look for while choosing a VPN for China?
I have already discussed a lot of aspects describing a VPN that works in China, so I am sure you can draw some conclusions about what to look for in a VPN powerful enough to bypass restrictions. But let me help you:
Apps. The manual VPN setup may be difficult or not even working in China, so make sure your future provider has some killer apps on its list.
Security. Security is critical when we talk about VPNs. AES encryption and additional security features are something you need to look after.
Complete solution. Most of the popular VPNs provide besides a VPN solution, proxy, or Smart DNS options too (check our list here). As proxy or Smart DNS technologies are good at bypassing restrictions, these would be nice bonuses to rely on in case of an emergency.
The number of locations. For example, the VPN servers located closer to China can work faster than those located in the USA. Therefore, make sure you have a nice list of servers to choose from.
The number of simultaneous connections. The best thing you can do when you have a VPN subscription is to exploit it in all possible ways and use it from all of your devices. This is why the number of simultaneous connections is important. So, the more connections, the better.
The best VPN for China in 2020
Folks, I couldn't pick just one provider, so I have a list of two VPNs that work great at bypassing censorship and the restrictions imposed by China.
ibVPN
Just like I keep on saying, when it comes to advanced features and solving problems, ibVPN is my first pick. This provider just likes challenges, especially the ones implied by the GFW. That's why it puts on the table two of the most powerful solutions able to bypass restrictions – ShadowSocks and Stealth VPN. You can use both of these protocols with ibVPN's Windows app, and you can even set up Shadowsocks manually on your device, by following the tutorials they make available in their knowledgebase. ibVPN is the provider to go for, as they even tested if the service works for China and even Egypt, as per these threads I found on Reddit: tests for China – tests for Egypt. Take advantage of their free trial and check ibVPN out!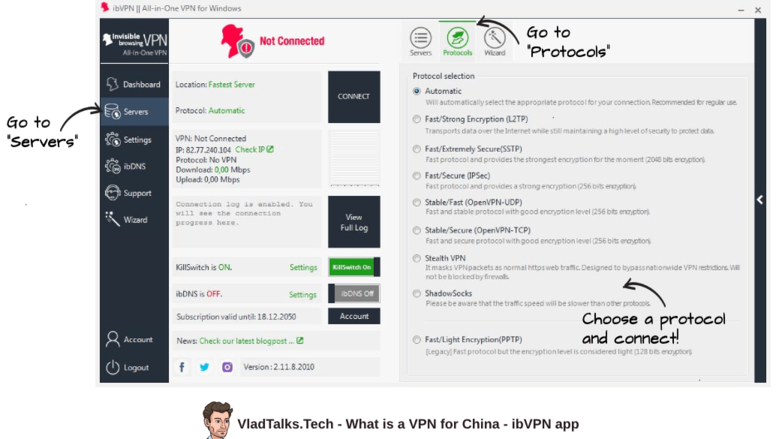 NordVPN
It's clear for everyone that NordVPN needs no further presentation, as every specialized review website presents it. And I couldn't agree more. NordVPN just works, no matter if we talk about accessing BBC iPlayer from any corner of the world, or for beating the Chinese Government's restrictions. To allow you access to western websites, NordVPN implemented a solution called "Obfuscated servers" that uses OpenVPN as its protocol. Additionally, NordVPN is a WireGuard VPN provider.
China VPN FAQ.
Finding the best VPN that works in China and learning what you need to do in order to enjoy an open Internet are not easy tasks. I will close the book on this article with a list of the most popular FAQ that come to my mind.
Do free VPNs work in China?
If you think free VPNs work anywhere, your whole life was a lie. Free VPNs are something you need to avoid by any means. I keep on saying that you need to test and check even the premium providers, therefore, my honest advice is to not even think about getting or using a free VPN service.
Can I use Tor or Tor over VPN to bypass the GFW?
Can I access VPN websites in China?
This may be a hard task, indeed. Some VPN services like ibVPN provide a proxy website (also known as a mirror website) through which you can get a subscription and download a VPN app.
Can I download a VPN app from iOS App Store while in China?
Is pretty hard to accomplish this task, as you may need a new iTunes account, using an address from the USA, or any other country outside China. And, to do so, you will need a VPN or a proxy solution to change your IP address, to be able to create the account.
Can I access Facebook, Netflix, or Gmail from China, with a VPN?
Yes, of course. As long as you have a subscription with a working VPN service, you will be able to enjoy your favorite online content.
Final thoughts.
You can no longer be sure what tomorrow brings in terms of online experience, what governments decide to do with your data, or what they will decide to allow you to do on the internet. However, with the right tool, you can be in control.
The future has arrived, and luckily, it brings along not only bad news but great solutions like the VPN.
A powerful VPN can help you secure your internet connection and regain your much-deserved online freedom. Therefore, find the provider that meets your needs and take all of your online activities at the next level.
If you enjoyed reading this article, make sure to subscribe to our newsletter, so you can be up to date with the latest tech news delivered to you straight from Transylvania, by a team of restless bats and one single (almost) sane human being.
About the Author