Enabling an iPhone VPN or iOS VPN while connected to the Internet is necessary to keep your data safe and secure. Learn how to properly set a VPN on your iPhone.
Do you own a mobile phone? Of course, you do. Who hasn't one? Is it connected to the Internet 24/7? Most phones are. However, do you know that most of your personal data is traveling the Internet unprotected?
The iOS operating system makes it easy to create a VPN connection, either by using built-in VPN features or by allowing third-party applications to encrypt your Internet traffic. Learn how to set up a VPN on iOS, what are the iOS VPN apps that we recommend, and how to use a VPN regularly.
Let's get started with our traditional Transylvanian story.
How to use a VPN on iOS – To BatOS or not to BatOS
Bats are smart. Bats from Castlevania (the imaginary place in the middle of Transylvania) are even smarter. Smarter than the smartphones they received as a gift from Vlad.
One day, TomBat and AnonymousBat were sitting under an apple tree, and they were arguing about what they should do with their new phones.
"I don't think they are safe enough," AnonymousBat prompted. "What if one of us stumbles upon another exceptional 🍏 tree, calls for help, but the call gets intercepted by the Megabats, our aggressive neighbors?"
"We should build our own bat-encrypted, bat-safe operating system for these phones! We have the bat-how," TomBat pleaded earnestly.
"Yes, yes, YES! You are a genius, my dear "almost dragon"-bat! Also, we should call it BatOS!"

Suddenly, a small apple felt off the tree exactly on TomBat's head. You may have expected an angry reaction from TomBat. However, he picked up the apple, took a bite, and, in a meditative mood, he whispered:
"Maybe we should keep the iOS on our phones and use a VPN to secure the communication! I really love small apples!"
Thus, the question "To BatOS or not to BatOS?" had a simple answer: "iOS with VPN."
What does a VPN do on an iPhone or iPad?
VPNs provide an extra layer of security for internet users. A VPN (Virtual Private Network) is a legal technology that provides secure traffic through an encrypted tunnel between the device (iPhone, iPad) and the VPN server before gaining access to the Internet by using the VPN server's IP address.
A VPN encrypts the Internet traffic that gets out of your iPhone or iPad, sends it to a VPN server (using a certain VPN communication protocol) that decrypts the data and passes it to the destination Web server. The response the VPN server gets from the Web server is encrypted and sent back to the iOS device.
Next, the VPN client (app or built-in) decrypts and forwards the information to the application that may consume it (e.g., the web browser).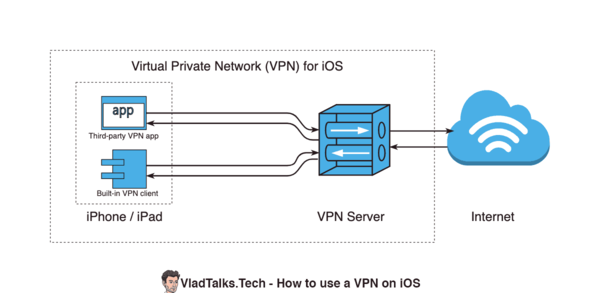 Thus, VPNs or virtual private networks can provide anonymous online browsing to iOS users, bypass geolocation-based restrictions, the Great Firewall of China, and can be used to access blocked content. VPNs also protect you from prying eyes, notably from government surveillance agencies, hackers, and your Internet Service Provider (ISP).
Why do you need a VPN on your iOS device?
Whether you are using an iOS or Android device, online threats are omnipresent (like guano in bat caves). VPNs prevent data leaks and obscure all your browsing information. VPNs also allow you to do torrenting, gaming, accessing Youtube, streaming content securely from anywhere around the globe (for example, watch BBC iPlayer outside the UK on your iPhone or iPad) or maximize your security while using Tor.
People often assume that iOS security is unbreakable, but this is not the case.
Although iOS is definitely more secure than Android, iOS users are still susceptible to cyber-attacks.
iOS is more secure because iOS is a closed system, and only Apple has access to the source code. This also means that iPhone and iPad users have very limited access to make any device modification. This belief that Apple devices can't be hacked has, however, been disproven many times with many iPhones out there that have been jailbroken to allow the use of third-party apps.
VPNs offer iOS users many benefits, including the following:
Full data encryption.
IP address masking or hiding while browsing the Web.
Geolocation-based restrictions bypass.
Website tracking prevention.
Protection against hackers while using public Wi-Fi connections.
How to get a VPN for iPhone
Apple has made it very easy to set up VPN clients that support various VPN protocols like IKEv2, IPSec, and L2TP. If you need to access your company's private intranet while on the road, or if you travel around the world and still want your iPhone to think it is in your home country, a VPN will enable you to do that.
Before you may connect to a Virtual Private Network (VPN), you need access to a VPN server. More precisely, you need to know the server address (name or IP address) and the authentication credentials (username, password, security certificate).
There are plenty of options to get access to a VPN on your devices. On your iPhone or iPad, you may:
Install VPN software built by a commercial VPN service;
Get access to the private VPN managed by your company or school;
Connect to your own VPN server.
How to set up a VPN for iPhone or iPad
If you don't know what a VPN server is and you don't care about technical stuff, then installing an iPad or iPhone VPN app from the App Store is the right path for you.
In case you have received the VPN server credentials, or you have built your own VPN server, you need to proceed with manually setting up the VPN connection on your iPhone or iPad, or install a third-party app, like the OpenVPN app.
Use an iOS VPN app from a VPN provider
Most (I would say "all") of the top VPN providers (NordVPN, ExpressVPN) have dedicated VPN apps for iOS. Some of them even provide different app flavors for the iPhone and iPad.
An iOS VPN app has the following advantages:
It automatically configures iOS VPN profiles needed for establishing the VPN connection from the iPhone to the VPN server.
Makes it easy to switch between servers and locations.
Allows you to switch VPN protocols.
Offers access to advanced VPN settings (e.g., automatically turn on the VPN when the device connects to untrusted Wi-Fi networks).
The easiest way to get started and use an iPad or iPhone VPN is by searching a VPN app in the App Store:
Open the App Store.
Type "vpn" in the Search box.
Select a VPN client app, install it, open it;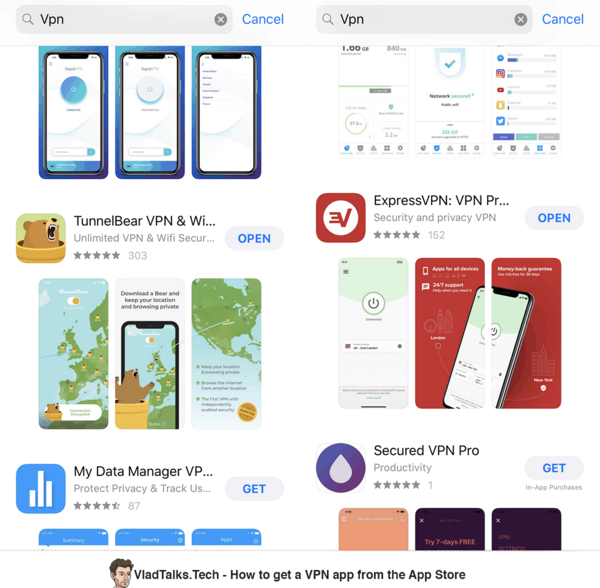 Next, create an account and subscribe (if necessary). Finally, select a server (location) and connect to the VPN. The whole process should not take more than 5 minutes.
Important: The first time you open the VPN or when you try to connect for the first time, you will be asked if you want to give permission to add a VPN to your iPhone.
If you allow this (and you should if you want to connect), the VPN will be configured automatically on your iPhone. To change the VPN settings, you'll be asked to enter your Face ID, Touch ID, or passcode.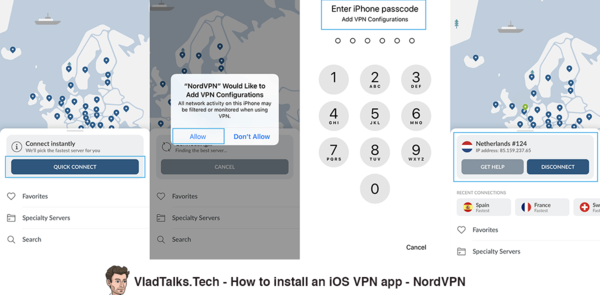 Manually set up a VPN connection on your iPhone
As mentioned above, if you have the VPN server credentials and you know the type of VPN protocol the server implements you may need to set up a manual VPN connection:
From the Home screen, go to the Settings app.
Select VPN.

Tap on Add VPN Configuration.
Select Type.
Choose the VPN type or protocol (IKEv2, IPSec, L2TP). By the way, PPTP is no longer available starting from iOS 10.

Go back to the previous screen by selecting Back in the top left corner.
Enter the required VPN settings information (you should get them from the administrator of the VPN).

Type your authentication login, i.e., your username and password.
If required, enable your proxy by selecting Manual or Auto.
Select Done.
Under VPN Configurations, flick the Status switch to the ON position.

To turn the VPN off, go to Home > Settings > VPN > Status > OFF.
To remove the VPN profile from your iPhone or iPad you need to select the VPN configuration and tap the Delete button.
Use a third-party VPN app [Advanced]
Alternatively, to the manual setup or to the iOS VPN clients built by different VPN providers, you may install the OpenVPN app – an open-source VPN client.
The main advantage of using the OpenVPN app instead of VPN apps is that you get a lite VPN client with no additional tracking, adware, or spyware (many VPN apps in the App Store track user behavior, serve ads, or even share the users' bandwidth with other clients).
In order to start using the OpenVPN iOS app, you need to have access to a VPN server that exposes OpenVPN config files (.ovpn). If you have installed your own VPN server, you may create such a file yourself. Otherwise, you need to get them from your VPN provider.
Here are the required steps to connect to a VPN server using the OpenVPN iOS VPN client:
Open the App Store and search for "openvpn" or "openvpn connect".

Install and open the OpenVPN app.

If you have access to an OpenVPN Access Server, you may import the VPN profiles from there (the Access Server).
If you already have an ovpn file, the simplest method to get it installed is to mail it to yourself.
Important! The ovpn file needs to be built for iOS. Different OpenVPN settings are used for Android, Windows, macOS, or Linux.
From the email, tap on the file.

Choose Copy to OpenVPN.
In the OpenVPN app, tap Add.
Enter your VPN username and password.
A warning shows up. Tap Allow.

Tap Yes to the question Allow OpenVPN to enable VPN connection?
You are now connected to the VPN using the OpenVPN app.

To disconnect tap the ON/OFF button.
Another option is to install and use WireGuard on your iOS devices.
Test run your VPN connection
Once your iPhone VPN is enabled, you need to test your VPN connection:
Check the VPN icon on the top of your iPhone or iPad.
Check your public IP address with an IP locator website (e.g., XMyIP).
If the VPN icon is not visible and the public IP address is your real IP address you should try to re-connect. Further, if the VPN is still not connected you may need to contact the VPN provider.
How to use a VPN on iOS with a router
Another way to get your iPhone or iPad connected to a VPN is to access the Internet via a router that has an active connection to a VPN server.
The main advantage of this approach is that you don't need to install or set up anything on your device.
The drawback is that you need to set up the VPN on your router and that may involve some advanced settings.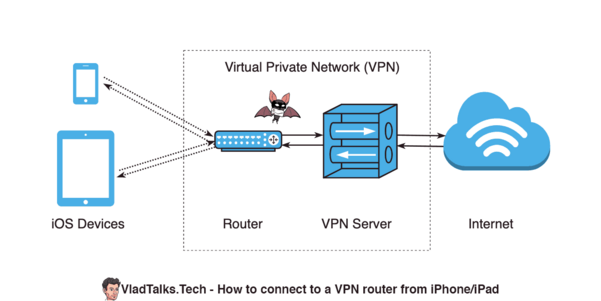 The most common routers are VPN-ready and are able to establish various types of VPN connections. Here are several tutorials that we recommend:
Once your router is connected to the VPN and your iOS device is connected to the router (Settings > Wi-Fi > select the network exposed by the router), you are using the VPN.
The best iPhone VPN services
To benefit from using one of the many top-ranked iOS VPNs available in the App Store, you will need an iTunes account to make payment, auto-renew, and secure your iOS device.
When selecting an iPad or iPhone VPN provider, always choose one that provides strong security, no logs of session data, and a strong Privacy Policy. Also look out for features including reliability, fast connection speeds, and excellent customer support.
This is easier to say than done. How could you check all that only from looking to the apps listed in the App Store? Here are some tips you should consider:
Check the app rating and reviews. Top applications have at least 4.5 stars.
Take a look at the Privacy Policy. Yes, this is important. Your private data will be managed by the provider of the app. Does the privacy policy page look trustworthy?

Look for a free VPN trial. If the VPN app offers a free trial, you may install and use it without subscribing, and you may get a feel of the service quality. Perform some VPN speed tests.
Avoid totally free VPN apps. They are either serving annoying ads or track and sell users' data.
To make things easier, I have picked three iOS apps that I consider that you may trust, that are fast and reliable.
If you search the App Store for iPhone VPN, you may not see the recommended apps on the first screen. Not because they are not good. The battle for the top places on the App Store search is fierce. Even great apps with strong ratings and reviews get outranked. That is the case for all my three suggestions.
NordVPN
Smooth, fast, secure. All you need to know about the NordVPN iOS app.
After creating a NordVPN account, you may log in in the app, and press the Quick Connect button. It selects the closest VPN server to your location and creates a VPN connection. That is it!
The NordVPN iOS app provides easy access to various locations and VPN servers (even special servers like P2P, Obfuscated, Onion over VPN, or Double VPN servers).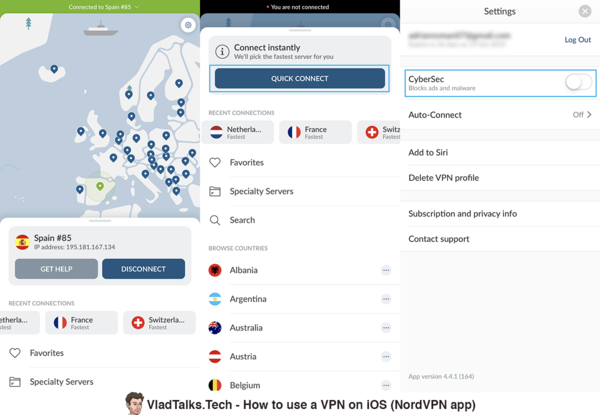 An interesting feature of the NordVPN iOS VPN client is the CyberSec option. When activated, CyberSec blocks ads and suspicious websites automatically.
NordVPN is a WireGuard VPN provider. Additionally, you may use OpenVPN (TCP or UDP) or IKEv2 protocols.
ExpressVPN
As well as the above-recommended apps, the ExpressVPN iOS app is great. Easy to use, plenty of servers available, fast connections, unlimited bandwidth. Create an ExpressVPN account, open the app, and create a VPN connection.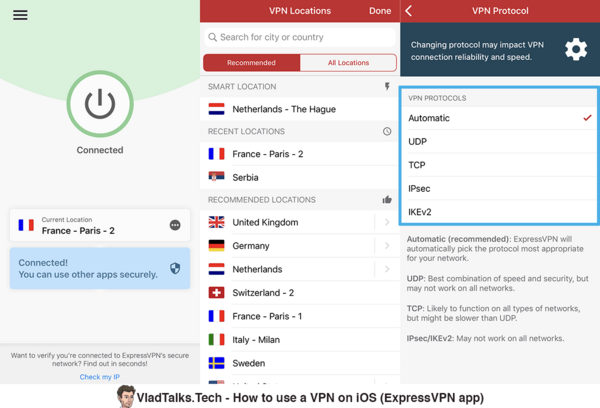 The ExpressVPN iOS client implements four VPN protocols: OpenVPN UDP, OpenVPN TCP, IPSec, and IKEv2. However, what I like the most is the Automatic option that picks the most appropriate protocol for your network. Thus, you get the best performance and protection while connected to various Wi-Fi networks.
Additionally, the Smart Location selects a server close to your location and provides maximum speed for the VPN connection.
iOS VPN FAQs
Does iOS have a VPN?
iOS has built-in VPN modules that allow the initiation of VPN connections from iOS devices. However, iOS does not provide VPN services by itself. You need to get access to a VPN server and set up the VPN connection, either manually or by installing a VPN app.
Can I leave my VPN on all the time?
Yes, you may. However, take into consideration that the VPN may slow down your Internet connection, and, in case of VPN disconnection, you may lose access to the Internet.
Which VPN is best for iPhone?
Build safety habits – How to use a VPN on the iPhone on a daily basis
You take your phone everywhere. It keeps your photos, your chats, your passwords, your credit card info. Don't you think you need to keep all these data secure? It would be unusual not to.
A VPN is a must when it comes to protecting your private data. You should have a VPN app at hand on your iPhone or iPad. Here are a few tips on how to be prepared to keep you safe and how to build safety habits:
Have a VPN app installed on your iPhone or iPad.
Keep your VPN subscription updated. Subscribe to annual plans to reduce the risks of getting your VPN account suspended.
Alternatively, install a free iPhone VPN app that you can use in case you get out of money, and you don't want to continue with your subscription. However, free VPN clients are not secure, and they should not be your permanent solution.
Enable the auto-connect to VPN when switching to an unsecured Wi-Fi. This is very useful when traveling, and your iOS devices automatically connect to various Wi-Fi networks.
Summary
The security provided with iOS devices is much better than that of Android devices. However, there is still a risk that you could get hacked or your security compromised.
Although the App Store is generally much safer than the Google Play Store, there are still many security concerns. Security breaches and cyber-attacks still happen often, especially regarding privacy issues. An iPhone VPN enables you to put an effective barrier in place against prying eyes.
A VPN for iOS, as well as Android VPN, helps you improve your online security by providing data encryption and IP address masking. There are many great VPNs available from the App Store, and they are easy to install and use.
Using a VPN on your smartphone is a smart choice. Our bats came to the same conclusion. TomBat does no longer rely on AnonymousBat for sending his super-secret love letters to PonyBat. Instead, he turns on the VPN on his phone and securely uses WhatsBatApp.
About the Author