While you may entrust Chrome for general browsing protection, you need to consider using a VPN for Chrome for extra security and privacy. Chrome VPN (VPN extension or VPN software) is a must-have for everyone using the popular web browser. But, are free VPN Chrome extensions the best solution? Let's find out.
Whenever you navigate the Internet, web browsers share some information (for example, your public IP address) with every website you visit. Even though many websites are safe to visit, many pose security threats and expose you to online vulnerabilities.
In this article, we look at how you can protect yourself if you are using the Chrome web browser. You will find out what a Chrome VPN is (and what it is not), why you need one (in more detail), and the differences between VPN apps and VPN extensions. Also, I will present my favorites VPN for Chrome services.
The Transylvanian tourney: VPN extension vs. VPN app
Did you know that animals get bored too?
There was a boring day in Castelvania … Imagine how bored was TomBat when he decided to visit Vlad's castle's armory room.
While wandering around the room, he noticed a shiny, colorful shield. Suddenly the day did not look so dull anymore:
"Master Vlad! Master Vlad!", TomBat politely yield. "Vladutz? Come quickly!"
"What do you want, child? I don't have time to waste! Winter is coming!"
"Master Vlad, please save me! I am so bored. Let's fight in a lightsaber duel, but with shields! I will be Rey, and you will be Kylo Ren. Kinky, don't you think? … I will not harm you. I promise! Please, pretty please …"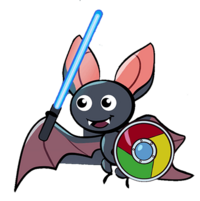 And here they were: TomBat (for the sake of our article, the Chrome VPN extension), a light flyweight fighter with the colorful shield, and Vlad (the full options VPN app), a middleweight knight with his old shield.
And the game began: TomBat rapidly flew over Vlad's head and tried to surprise Vlad with a strike to his back. But Vlad was fully-protected (as VPN apps usually are). He was not only defended by the shield, but he was also wearing a strong (encrypted) armor.
They both had their advantages, but who do you think won? Please don't be shy, and let us know in the comments at the end of the article.
What is a VPN for Chrome (and what is not)
Let's start with some clarifications: firstly, "VPN for Chrome" or "Chrome VPN" is not a special type of VPN. Secondly, the so-called "VPN extensions" are not using VPN technology.
Important: It is essential to understand that a Chrome extension may not connect to a VPN server or initiate a VPN connection.
A VPN (Virtual Private Network) encrypts (using a certain VPN protocol) the Internet traffic that gets out of your devices and sends it through a secure channel to the VPN server (there are regular VPN servers, P2P servers, obfuscated servers, Double VPN servers, Tor over VPN servers, or gaming VPN servers). Next, the VPN server decrypts the data and sends it to the destination Web server.
A VPN is enabled to the operating system level, not for a specific application (however, split tunneling is possible). Thus, when a VPN is turned on, all the Internet traffic from the device is encrypted. Of course, if the user is browsing the Web using Google Chrome, the data exchanged between Chrome and the Web servers is encrypted as well.
Thus, a VPN for Chrome is an improper name when the VPN is activated at the OS level, and the Chrome browser uses the same encrypted tunnel as the other applications.
VPN extension vs. VPN app
The term Chrome VPN is sometimes correlated with the one of VPN extension. This is not accurate as browser extensions can only enable proxy settings, and they can not initiate a VPN tunnel.
Chrome extensions and browser plugins are not VPNs but are simply encrypted proxies, usually HTTPS or SSL proxies.
However, Chrome extensions work similarly to VPNs in that they encrypt traffic and sent it via an intermediary server. This helps to get around censorship, unblocking websites, and protecting your privacy. However, keep in mind that a VPN extension will not help you unblock websites if you're located in a country like China.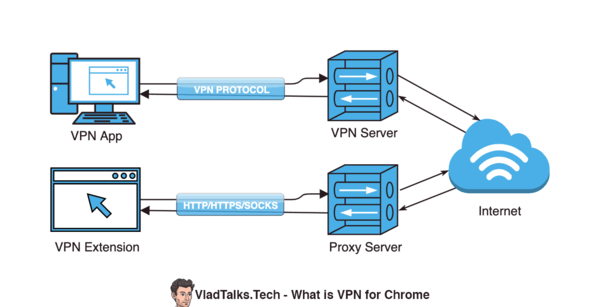 However, these extensions only encrypt traffic going via the Chrome browser, while a true VPN encrypts all the traffic traveling from and to the device. Chrome extensions are also open to several security issues as they don't use OpenVPN, or an IPSec-encrypted VPN protocol (IKE, SSTP, or L2TP), both of which need you to install a VPN client on your device. Chrome extensions also don't extend the network to access remote machines, a key defining functionality of a proper VPN.
Thus, next time you search for "free VPNs for Chrome," be aware that most of the search results you get are actually not true VPNs.
If you need a proper VPN, the best way to go about it is to install a VPN application or configure one in your operating system, rather than using a browser extension.
Why do you need a VPN on Chrome?
Google Chrome is a very popular web browser with millions of loyal users. It is, however, not invincible as far as security is concerned.
As Chrome is used as the gateway between you and the internet, it will expose you to security threats and online vulnerabilities. Browsers are also always collecting information about you that it shares with every website that is visited.
Using a VPN is the best way to protect users while using Chrome to browse the Internet. A VPN encrypts the user's activity and masks their IP address, changes the virtual location, helping them stay anonymous and protected online.
Additionally, geo-blocked websites or streaming services (Netflix, Hulu, BBC iPlayer, Amazon Prime) can be accessed using Chrome while the device is connected to a VPN. You may even use Chrome to watch BBC iPlayer on iPhone or iPad or get access to your favorite Youtube videos.
To conclude, VPNs offer Chrome users many benefits:
Browser traffic encryption and online activity protection.
Public IP address hiding while browsing the Web with Chrome.
Bypassing streaming channels, forums, or social media sites.
Website tracking prevention (including from ISP) and protection while accessing public Wi-Fi.
How to get a VPN for Chrome
There are a number of options for Google Chrome users to get a VPN:
Install a VPN app on the device you are using Google Chrome;
Manually set up a VPN connection on the device;
Download and install a Chrome VPN extension.
Installing a VPN app or manually set up a VPN connection
VPN apps are the simplest, the one-click way to get a VPN running on your device. VPN providers offer access to powerful VPN apps for all major operating systems.
VPN client apps can be downloaded from the VPN provider's website or the official app store for your device. And here is what you need to do:
Open an account with a VPN service.
After downloading and installing the app on your device, open the app, select a VPN location or server, and click on the Connect button.
Once the VPN has connected, open Chrome to browse safely and anonymously.
All the Internet traffic from your device, including via Chrome, will now be encrypted as it passes through VPN servers. Your IP address will be hidden, and region-locked content can be accessed.
The manual setup consists of creating a VPN connection from the OS level directly, without using a VPN app. The following tutorials help you get started if you are interested in this approach:
Adding a VPN browser extension
Nowadays, many VPN providers build browser extensions for Chrome, Opera, and VPN addons for Firefox. The Chrome VPN extensions can be found on the Chrome Web Store, but some free offers are sketchy, so like it happens with the lifetime subscriptions, so be careful.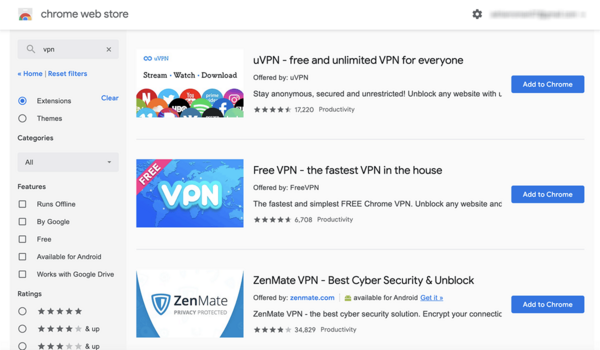 Go to the Chrome Web Store, select the browser extension you want and click Add to Chrome.
After it has been downloaded and installed, an icon should appear at the top right side of Chrome.
Click on the icon, select a VPN location or server and click on the Connect/Start/Turn on button.
Your browser will now be protected, and you should be able to unblock region-locked content.
Extensions typically only work with the desktop version of Chrome and not with Android. To protect yourself when browsing on Android, use a VPN app. Additionally, you may install Chrome VPN extensions on Microsoft Edge.
Important: When installing a VPN extension, Chrome asks for explicit permissions. It is a security measure to prevent unauthorized access to your data.
The permissions required by a VPN extension to run are important, as you grant access rights to your browsing data. Most of the VPN extensions need the following permissions:
Read and change all your data on the websites you visit – The extension configures a proxy connection and redirects your Internet traffic through third-party servers.
Change your privacy-related settings – The extension may modify some default browser security settings.
The vital takeaway is not installing random VPN or proxy extensions as your private data may get exposed. Always (ALWAYS) take your time and do your research. Choose a trustful VPN or proxy provider.
Test run your VPN for Chrome
Now that you have installed a VPN app or a VPN extension it's time to test your connection.
If you have opted for the safest method (VPN client app), I recommend testing your VPN connection thoroughly.
For VPN extensions, the quickest test is to check your public IP address with an IP locator website (e.g., XMyIP). If the IP checker site does not show your real IP address (after you connected to the desired location), then the extension does its primary job: it hides your public IP while browsing the web with the Chrome browser.
Additionally, you may want to test the browser extension for WebRTC leaks.
The best VPN for Chrome
You probably know by now that I (we) do not recommend free VPN or proxy services. There are too many security and privacy risks involved while using such services. That is why I prefer focusing on premium, generally trusted providers.
The premium VPN services I endorse for Chrome are those that offer both VPN apps and VPN extensions. They are also suitable as a VPN for Chromebooks.
NordVPN
NordVPN is a premium VPN provider and one of the most trustful names in the privacy and security market. It offers plenty of server locations, unlimited bandwidth, leak protection, and a clear no-logs policy.
The NordVPN apps and the NordVPN Chrome extension are smooth, fast, secure. The NordVPN extension adds more value to its users: when activated, the CyberSec feature avoids ads and protects you from accessing malware and phishing websites.
After creating a NordVPN account, you may log in to the Windows, macOS, iOS, Android app, or VPN extension and press the Quick Connect button. It selects the closest server to your location and creates a VPN (or proxy, in the case of the extension) connection. That is it!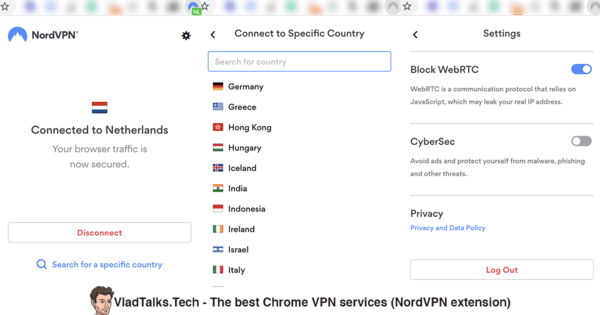 CyberGhostVPN
CyberGhost is a top VPN provider with simple and effective VPN apps for major operating systems. The CyberGhost Chrome extension is completely free (a free version of the premium apps), but you may use it with confidence as a trustworthy service offers it.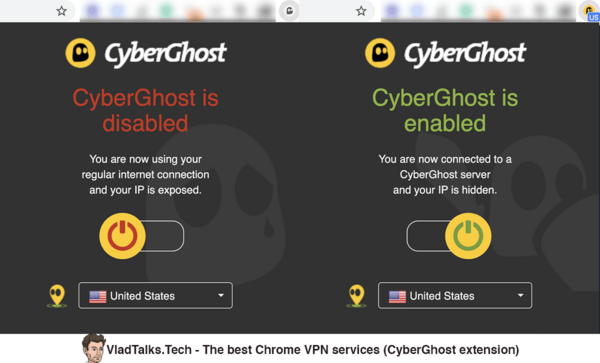 ExpressVPN
ExpressVPN has an interesting approach when it comes to securing Chrome traffic data. The ExpressVPN browser extension is simply a "remote controller" for the VPN desktop app. Thus, ExpressVPN does not use proxies, and it protects your entire device, not only the browser.
Build safety habits – How to use a VPN for Chrome on a daily basis
Browsing the web is no longer a benign activity. The Chrome browser is on your side and tries to protect you from hackers (like the shield used by TomBat), but you need the extra protection provided by a VPN app or extension.
Keep yourself safe and:
Have a VPN app installed on your devices and a VPN extension on your Chrome browser.
Do not install free VPNs or free Chrome VPN extensions offered by shady providers. Your data may be monitored and sold. Even though some services, like Hotspot Shield, are popular that does not mean that they are protecting your privacy. There is evidence that they are doing the opposite.
Subscribe to annual plans such that your VPN account does not get suspended unexpectedly. Check this post to find great deals from trustworthy services.
Turn on your VPN for Chrome when browsing x-rated or similar content.
Summary
You probably know already that the Internet is not a safe place. And you probably use the Chrome browser as the main tool to get to the Internet.
You could use Chrome VPN extensions to protect your privacy while browsing, but they are not the safest method. You should rather use a full, paid-for VPN client and install it on your operating system so that all traffic from your device is protected, and not only from the Chrome browser.
Takeaways:
A VPN extension is using the browser's proxy settings, not the VPN technology.
Chrome VPN extensions encrypt only the Internet traffic from the browser.
VPN client apps are the ones offering full protection.
Most free VPN extensions are dangerous, and they may log your activity.
To sum up, be smart, use a Chrome VPN to protect your browsing activities, and be smarter and get a trustful VPN service for full privacy and anonymity.
Additionally, don't forget to make a Transylvanian baby-bat happy by subscribing to our newsletter. You will learn lots of useful things about VPNs.
About the Author