I wish I were as smart as a bat when I had my first interaction with a VPN client, but, actually, I was more like a brick from Dracula's Castle.
To be honest, I could not use the VPN (Virtual Private Network) at full capacity. Out of both curiosity and frustration, I started to learn more.
The first phase? I felt like I was hit by a bus, by all the pompous tech-jargons and expressions – encryption standard, VPN server, SSH, tunneling protocol?
What to do, what to do?
I left my frustration behind, as I tried to understand the logic of the whole thing.
To help you skip the disheartening part, in this article, I will explain from scratch all the information that you need about what is a VPN server, in simple and basic words.
So, are we on the same page?
Let us begin with the original explanation of "What is a VPN server," in the Transylvanian way.
What is a VPN server? The Transylvanian explanation.
I don't know if you are aware that my shy and innocent TomBat the bat pet is deeply in love, and since he officialized the relationship with PonyBat, he spends most of his time spoiling her.
He started by making his relationship public on Facebat, so all PonyBat's pretenders will know that she's taken.
Today, after he finished his job at my office, he asked me how humans impress their ladies these days.
I mentioned that we often write love letters, buy expensive flowers, and Belgian chocolate for our beloved ones.
He already did the trick with the love letters, and as some beautiful flowers are too heavy for him to carry while he flies, he thought that maybe he should try his luck with some delicious chocolate. What could go wrong? Bats love apples and bananas, so it's a sure thing that his beautiful PonyBat will be very impressed.
So, he left. On his way to meet PonyBat, he thought it would be nice to stop at his grandma's cave to say "Hi."
As any curious grandma, GrandMaBat asks TomBat how things are going with his relationship.
He couldn't handle himself and told GrandMaBat about our previous discussion. She found the chocolate idea very good, but, in her mind, the Belgian chocolate wasn't good enough for such a demanding lady, like PonyBat. So, she put on the apron and perfected the recipe. In the end, she delivered to TomBat the sweetest, most flavored BATgian chocolate in Transylvania.
TomBat was happy beyond words; he took the chocolate, wrapped it, and flew to PonyBat's cave.
When he arrived, he unwrapped the chocolate and gave it to PonyBat.
She was deeply impressed. That chocolate was the best thing her fangs ever touched. As a sign of appreciation for GrandMaBat's hard work, she decided to send her some candied figs. So, she gave TomBat the delicious candied figs, wrapped the goodies, and flew back to GrandMaBat to share the success. When he arrived, he unwrapped the figs and shared with GrandMaBat her his success.
They were so happy that this idea worked well, and they are now sure that the road to PonyBat's heart is paved with the sweetest intentions and… chocolate, of course.
Since that day, TomBat spoils his girlfriend with the finest chocolate by respecting the same ritual. He wraps and unwraps the chocolate in the prettiest wrapping paper that ever existed.
When I think about this story, I smile because TomBat acts exactly like a VPN server.
A VPN server is a special server that wraps and unwraps your data in the whole VPN data transmission process, and down below, you'll find how.
The main components of a VPN connection
As its name suggests, a VPN server is one of the main components that constitute a VPN connection.
The VPN is a legal, valuable, and sophisticated tool that uses a series of key components to be able to execute things like:
Data encryption to protect your online activity and keep your private information … private;
Provide users a new IP address, thus hiding the real IP address and virtual location;
Ensure online security, internet privacy, and freedom, so you can surf anonymously and be protected.
For a VPN connection to work, it needs a VPN client, a VPN server, and, lastly, a VPN protocol suitable for users' online purposes.
In IT, a server is a device or a computer program that provides functionality for other programs called "clients." Based on this explanation, we can conclude that the VPN servers stand as a foundation in the VPN connection.
Since the server is an important component, let's learn its bloody essence and understand how it works.
What is a VPN server?
Have you ever scrolled down in a VPN server list and wonder what on Earth are these? (Screenshot from the NordVPN macOS application.)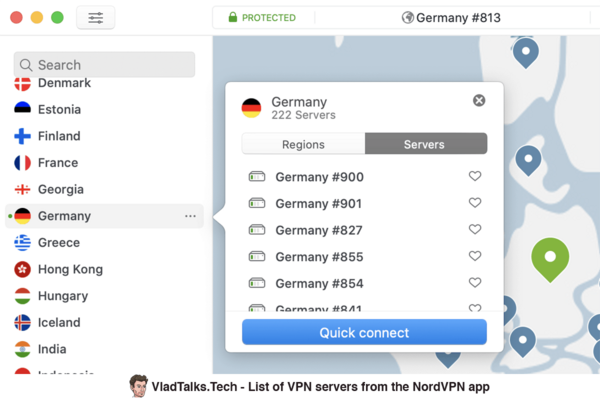 Yes, me too!
A regular server is a computer program or a device that provides functionality for different applications.
On the other hand, the VPN server has somehow the same functionality. It has more physical and logical communications ports, utilizing one or more protocols such as PPP (point-to-point protocol).
The VPN server is the key component that provides VPN connection and services to local or remote VPN clients. To do this, the VPN server uses a combination of VPN hardware and VPN server software.
Visualizing the VPN server in the whole process of data transfer over the Internet, think about it as it is a bridge that helps your data across the Internet safely.
In the typical situation, when you use the Internet without a VPN, all the incoming and outcoming traffic goes directly through your ISP. This is the main reason why your internet service provider has all the personal information it needs to create your digital portrait.
How does a VPN server work?
The VPN client is like the Big Bang for your VPN encrypted tunnel. It all starts with you enabling a VPN connection via a VPN client software.
As soon as you push the big Connect button into your app, the VPN connects your local network to the VPN server and starts sending your data through it to the ISP. When it starts to send data, the VPN app will encrypt your traffic based on the VPN protocol (PPTP, L2TP/IPSec, IKEv2, SSTP, OpenVPN, SoftEther, WireGuard) you choose for your encrypted connection.
The encryption in a VPN connection for your ISP is like the holy water for a vampire, as the encryption can keep away all the prying eyes looking to monitor your data.
As soon as the VPN server received the encrypted data, it starts to decrypt it (unwrap it) to send it forward to the desired destination on the web.
Of course, this process is reversible, as the VPN server processes all the data received from the web.

The cherry on top of the pie is that you can bypass restrictions because of the VPN server. During the whole process, the server assigns you a new IP address based on the server's location.
If your real location is the USA, you will automatically get a Romanian IP address by connecting to a Romanian server.
In this way, you can pay us virtual visits anytime you want.
How to connect to a VPN server?
Trust me! The learning part is the hardest when it comes to using a VPN service or connecting to a VPN server.
As you chose to learn like a real Transylvanian, you're ready to know what you need to do to enjoy a secure connection and a free Internet.
Use a VPN client
The first step you need to accomplish to enjoy the perks of having a VPN is to pick your VPN provider. Choose the best VPN providers, and you will not be disappointed: NordVPN, ExpressVPN, Private Internet Access.
The hard part remains in the hand of your provider. The company has to provide you VPN clients, a satisfying number of servers worldwide, unlimited bandwidth, innovative features like Kill Switch or split tunneling, and other alternative benefits. Plus, it is your provider's responsibility to make sure everything works flawlessly 24/7.
When it comes to connecting to the VPN quickly, all you need to do is install the VPN app compatible with your device and operating system (VPN on Windows, VPN on macOS, VPN on iOS, VPN on Android), login (you need to know the authentication info), and press the connect button.
Manual VPN configuration
Let's assume you have a lot of spare time, or you want to challenge yourself and learn some new stuff. If you're at this point in your life, you can definitely try and manually configure a VPN encrypted tunnel on your device (laptop, iPhone, iPad, Android phone, etc.).
The most popular OSes (Microsoft Windows, macOS, Linux, iOS, Android) offer support in this direction, and setting up a VPN is not as hard as it seems. I have already described how you can manually configure a VPN on your device, in another funtastic blog article. Check my explanation.
Additionally, you can setup a VPN connection on other devices like:
VPN routers, routers built keeping in mind the needs of VPN users (e.g., Vilfo).
VPN compatible routers, also known as VPN routers. The VPN compatible routers allow you to set up a VPN connection in the router's interface. You can either configure it yourself from the very beginning or get a preconfigured one and play with the options when you feel comfortable doing it.
Third-party firmware routers. DD-WRT routers are known as third-party firmware routers. We can say that firmware is an OS that you can flash onto a router. These routers incorporate VPN server support, and further on, with the help of your VPN provider, you can set up a VPN connection.
In the end, please allow Vlad to give you a piece of advice. Learning is good, but when it comes to using a VPN server, you shouldn't be stubborn and follow the advanced ways. I would give the same recommendations to advanced users too. Why? Because it can be time-consuming in the first place. Secondly, you are deprived of all the benefits a VPN app provides. You won't be able to use particular VPN protocols or advanced security features. So, make sure to pick wisely.
Types of VPN servers
As there are multiple species of bats, there are various types of VPN servers.
When we talk about different types of servers, the basics won't change. Usually, on a VPN server's foundation are built-up improvements, transforming the regular servers into mutants. It's like transforming a Bumblebee bat (the smallest bat on Earth) into a giant vampire bat.
The best examples of power-upped VPN servers are the DoubleVPN, Tor over VPN, Obfuscated, and P2P servers.
Let's take a closer look at each server and see why it is special.
Regular VPN server
A regular VPN server is that server that exists in any server list. This server includes no power-ups, as it uses only the standard hardware and software configuration.
The regular/basic VPN server comes in handy no matter what online action you need to perform, and as it's not implying any additional configurations is super-fast and easy to configure manually.
When it comes to its security capacities, the regular VPN server's power is given by the selected VPN protocol for the connection.
Double VPN
There are certain things that I can't get enough of. There's never enough ice cream on a hot summer day, enough chocolate on a sad and depressing night, and if you were a girl, there are never enough clothes in your closet.
When it comes to securing your online connection, there are times when you might feel that a single layer of encryption is not enough.
In such situations, the Double VPN (Double Vampire Permanent Neutralizer) comes in handy, as it can double encrypt your Internet traffic.
While doing a bit of research on this subject, you will see that the Double VPN server is explained as:
VPN on top of VPN
VPN tunnel insider another VPN tunnel
VPN chain
VPN cascading
My forever favorite is the VPN on top of the VPN name… Because it's like caramel ice cream on top of caramel ice cream.
As you might have already guessed, the Double VPN technology combines two VPN servers. In this way, your internet connection gets two encryption layers. An internet connection protected by a double VPN server can't be hacked by any hacker/ISP on planet Earth.
Tor over VPN
Tor over VPN is also called Onion over VPN. If Double VPN is VPN on top of VPN, Onion over VPN is not an actual vegetable on top of a VPN. And, also, this onion won't make your internet connection cry…
Onion over VPN is a solution developed for internet users looking to secure their connection while using Tor.
Practically, with Tor over VPN, you connect to a Tor network via a VPN server. In the first instance, your VPN app will connect to the VPN server, and then all your traffic is routed to the Tor node. The result consists in the fact that you can access Tor websites via any web browser while having your connection ultra-secured.
Obfuscated server
(The Obfuscated word looks like a typo HAHA.)
An obfuscated server uses a technique called obfuscation to bypass internet censorship and China's DPI. The Stealth VPN protocol also uses the same technique. With such an advanced combination of technologies, an obfuscated VPN server is a great option for anyone fighting for their online freedom.
P2P VPN server
The P2P (Peer To Peer) VPN servers are specially configured by VPN providers that allow P2P file sharing. Such a VPN is called a VPN for torrenting.
P2P file sharing is the fancy word for torrent download. So, to be clear, downloading torrents is not illegal and can be performed safely and without any risks, from anywhere in the world, just by connecting to a P2P server.
Advantages/disadvantages of using special VPN servers
The special kind of VPN servers may use advanced technologies and a higher level of encryption. Here are the ups and downs of picking such a server over a regular VPN server:
Double VPN – Advantages:
Two levels of encryption as when we talk about internet security less is not more.
You can have a VPN connection made via two servers from two different countries.
Your traffic is encrypted by the first server, meaning that the second VPN server won't know any information about the initial source of incoming traffic.
Your ISP won't be able to track you in any way.
No hacker will be able to decrypt your traffic.
Double VPN – Disadvantages:
Two levels of encryption might affect your speed. While using Double VPN, you can face unwanted speed drops.
If it's not configured in your VPN client, a double VPN connection is pretty hard to manually set up, so it can get messy while trying to set it up on your own.
Tor over VPN – Advantages:
The fact that you are using the Tor network will remain a total secret.
With Tor over VPN, you will have all your traffic protected, not only the one generated via the Tor browser.
Tor over VPN – Disadvantages:
You can be the unhappy possessor of an interrupted internet connection, and Tor exit nodes can be blocked.
Just like in the double VPN case, you will feel a drop in the internet connection's speed.
Obfuscated Servers – Advantages:
An obfuscated server provides you complete anonymity.
Firewalls or other filtering systems are not able to detect the fact that you're using a VPN.
The perfect option for online freedom, as we can bypass internet censorship and other online restrictions.
Obfuscated Servers – Disadvantages:
The only disadvantage that goes through my mind is that these powerful servers are not performing that well when we talk about speed.
P2P Servers – Advantages:
Allows you to download torrents safely from countries where torrenting isn't allowed.
Keeps you away from IP leaks.
P2P Servers – Disadvantages:
Compared to other solutions for P2P file-sharing, like Socks5 proxies, the P2P servers are slower, as are also encrypting your traffic.
Set up your own dedicated VPN server.

I know this might sound frightful, but it isn't. Windows or Apple's Server app offers support to set up a VPN server:
Another option is to install a VPN server on a VPS (Virtual Private Server) or a dedicated server hosted in a data center.
VPN servers unwrapped.
This is one of our many beginners' guides that shows that computer science can be fun and easy to understand.
The conclusion of this article should sound like this: No matter the VPN appliance you want to perform with a VPN (change your real IP address, port forwarding, avoid identity theft, remotely access a company's network (a task that is easily achievable by VPN concentrators too), or stay safe while connected to the public Wi-Fi network in your favorite coffee shop), this complex technology uses the same components.
The VPN server is that restless component that is always busy with wrapping and unwrapping all your internet data.
As there are multiple types of VPN servers, you need to pick the one that suits your needs. The same principle applies in the case of VPN protocols. For example, if you want to surf fast, you better choose PPTP (Point to Point Tunneling Protocol), or when you need to enjoy a secure and private internet, you better use something powerful like OpenVPN, the well-known open-source protocol.
When we talk about selecting the VPN server for your connection, always remember these things:
For surfing anonymously online, securing your connection while using a public internet network, unblocking games, or even accessing streaming services like Netflix, Youtube, and Hulu, choose a regular VPN server.
Should you need to download torrents safely, always use a P2P server.
For online freedom and ultra-security, use an Obfuscated server, a Tor over VPN, or Double VPN.
Additionally, we do not recommend using free VPN servers. They are not trustful. Many such servers are used by cybercriminals to distribute malware and gain access to your personal data.
No matter what you do next, make sure you will always stay thirsty for tech!
About the Author