I am a curious spirit wandering around the Internet, like the bats during a calm night, on the streets of Transylvania. When I am interested in a subject, I like to dig deeper and deeper, for finding complete explanations about specific subjects.
As I get the sense that you're a curious spirit too, I find myself in the position of clearing up some more VPN (Virtual Private Network) related things.
We have a special subject on today's agenda – the "Alpha and Omega" of the VPN "automated" connection – the VPN client software or app.
As you need to be (soft)Aware, let's discuss this critical VPN-related topic.
I suggest you get our priorities right, so please check the Transylvanian explanation first.
The VPN client software deBATed in the Transylvanian way.
Sometimes I find myself analyzing TomBat's actions, and I end up being amazed. I like to say that once you go BAT, you never come back.
TomBat is like the clumsiest vampire bat in Transylvania in the World. Even so, he is bloody smart, coming up with unpredictable ideas. What I'm about to tell you is unforeseen.
Remember the episode when he and GrandMaBat made BATgian chocolate for PonyBat? That chocolate was a success. Word of mouth works even in the bats' world, so many bat males wanted to surprise their girlfriends with chocolate. He seized the opportunity, and he is now a part-time chocolate dealer in Castlevania, his neighborhood.
Their chocolate traffic network is vast, and it includes GrandMaBat, of course, PonyBat, and AnonymousBat.
Like the VPN, this is not illegal, but they like to keep a low profile to avoid being overwhelmed.
They are doing such a great team because everything is well organized, and anyone knows his role and won't break TomBat's rules.
Here's how things work in his chocolate traffic network:
Tom is the brain (the VPN client software or app); he gives the chocolate order to GrandMaBat – the recipe's master (VPN protocol) and AnonymousBat – her assistant (the encryption), who then passes it to PonyBat. As her look is astonishing, she is the business promoter, so she is in charge of product placement and small-scale marketing. She manages all the traffic (the orders and the returns) as a real chocolate dealer (the VPN server) between Tom and all the other male bats interested in buying chocolate for their spoiled BATladies.
This business and production process works similarly to a VPN connection flow. The VPN app knows the rules (the settings the VPN user configures) – so is the brain of the VPN technology, and is responsible that all the components are combined to perfection. Just like TomBat, the brain behind the most bizarre chocolate traffic network in the Universe. 😊
What is a VPN client?
As I want to help you learn smart, not hard, let's look at things from a logical perspective.
The VPN client software is also known as a VPN app in everyday language.
So, what is an application, in general? What is Google Maps, for example?
Google Maps is software installed on your device, providing you a catalog of maps you can use for navigation.
Just like any other application installed on your device, a VPN app is an automated and controlled software specially developed to enable a VPN connection and generate VPN traffic.
A VPN client integrates all the VPN's components – the secure VPN protocol, plus encryption, and the VPN server.
Such software's huge advantage is the customization level allowed and the special features/options integrated within the app.
How does a VPN client work?
Communication is the key. Communication is the key, not only in the interhuman relations but in tech too. A VPN client would be nothing without its best friend – the VPN server.
Each time you enable a VPN connection, the VPN app needs to meet the VPN server. This process happens over and over again, each time you switch the server.
So, before the VPN app communicates with the VPN server, they authenticate through data packets. This process is decisive, as is the one that checks if the application is communicating with the right server.
This process happens the other way around too.
As soon as the two components communicate, the protocol and the encryption enter the spotlight, forming a whole that encrypts your data, sending the encrypted packets to the server that decrypts it and sends it to the final destination on the web… and the other way around.
The final result of this harmonious communication? An encrypted and secure network traffic connection, where all your traffic is protected and kept away from prying eyes.
Let's learn something from this relationship between these two machines.
Communicate with your friends whenever you have the chance, meet them face to face, and enjoy a glass of Transylwine (if you are over 18 or 21 years old). Should they tell you secrets, make sure to keep them just for you (just like the VPN server does with your data), and don't share it with your mutual friends. 😊
Types of VPN client software.
This may sound like a surprise, but there are different types of VPN applications.
The type of VPN client is dictated by its developer. There are two major types of VPN clients – native VPN apps and third-party VPN apps.
Native VPN app.
Just like its name suggests, the native VPN clients are installed or pre-configured within an operating system. For now, OSes like Windows, Mac, Android, iOS, or Linux are offering pre-configured/ready to use VPN apps.
Third-party VPN app.
A third-party VPN app is developed by an independent organization, not by an OS developer. These apps are intended for the most popular OSes.
A third-party VPN app can be developed by:
VPN protocol developers. Maybe it's news for you, but the major VPN protocol developers are also designing VPN apps. The most eloquent examples of protocol providers developing VPN apps are OpenVPN (an SSL VPN – Secure Socket Layer VPN), SoftEther VPN, or WireGuard, three major names on today's protocol market.
VPN service providers. VPN providers are doing a great job when it comes to developing VPN clients. Compared to other VPN app providers, the VPN service providers put on the market really complex VPN apps, combining lots of advanced VPN security and privacy features.
VPN providers are usually doing a bit of research and are trying to position themselves on a niche. This niche makes the difference between the business VPN providers and the ones who develop apps for bat bad boys like us.
Of course, each provider develops VPN apps configured for its niche.
Business VPN app vs. regular VPN app.
Business VPN client software.
What is a business VPN client? As its name suggests, a business VPN client is specially developed for employees. In most cases, a business VPN app has a simple interface because employees use the VPN for low-stakes online purposes like to secure their connection while accessing corporate networks.
What can you do more with a business VPN?
Use VPN for VOIP. As many employees travel around the world for work, they need to access certain VOIP applications like Skype. A VPN app enables their access to Skype from anywhere in the world, and, in this way, they won't miss a meeting.
Access geo-blocked business tools. Geo-restrictions and internet censorship are applied not only for Netflix and Hulu, or for video games but also online business tools. Keep in mind that a powerful VPN can bypass even the Great Firewall of China. In such a case, a VPN for streaming can do its magic when it comes to granting access to websites such as Youtube. With a VPN, you can change your IP and remotely access blocked applications, to do a good job at work, and, who knows, maybe to get a raise. 🙂
Test ads, content, and apps for different locations. For marketers, VPNs are pure gold. Marketers use VPNs, especially to change their location, to check if an ad is displayed correctly worldwide.
For such purposes, the business customers do not require any advanced features, so usually, the business VPN apps are lite, following the One-Click application model.
Regular VPN app.
A regular VPN app is developed to serve a large scale of customers. These customers can be baby bats or grown-up vampire bats. As their level of experience is different, a regular VPN app must meet anyone's needs.
In this special case, a VPN app will include a generous list of VPN servers, plenty of VPN protocols, and, of course, advanced VPN features and settings.
Why do you need a VPN app installed on your device?
In the Transylvanian explanation of a VPN client software, we've described Tom as the whole chocolate traffic network's brain.
Transposing this into the VPN appliance, the VPN app is the automate VPN connection's brain, just like browser extensions are for a proxy connection.
The VPN application is genuinely combining the components so that you won't need to invest too much work to have an active virtual private network connection. With a simple click, the VPN app will open a world of online freedom, security, and privacy possibilities.
Since this type of software exists, the VPN is no longer rocket science. With a VPN client installed on your device, you can forget about manual VPN setup or advanced technical knowledge.
The main reason why anyone should have a VPN client installed on their device is for security purposes.
A VPN creates a private scope of communication between your devices and the Internet. This VPN tunnel is actually a private network over a public network, meaning that it allows you to browse securely and freely anytime, anywhere.
Other reasons why you would want to have a VPN app on your device:
Safely browse while being connected to a public Wi-Fi network. Public WiFi hotspots can represent real threats as they may hide different online dangers like hackers or malware. Who has the time to configure a VPN manually on a device while in an airport or hotel lounge? In such situations, the mobile VPN app is pure gold, as you can keep your sensitive data safe before sending it to the public internet with just a click, anywhere, anytime.
Change your IP like a pro. There are cases when you need to change your real IP address not once but twice for different purposes. A VPN client software eases your work in such a situation too.
Connect to a series of VPN protocols. Just like in the case of changing your real IP, when you need to swing between a series of protocols, you can definitely use a VPN app.
Have access to advanced features and other security essentials. Have you ever heard about the VPN Kill Switch? This advanced feature is so useful that all VPN users must take advantage of it. Basically, the Kill Switch will kill all your applications, or even the Internet connection, in case of a VPN drop. This means that if you lose your VPN connection, your activities won't get exposed, as the Kill Switch takes care of your connection. How cool is this, right? Plus, some VPN apps also integrate the Smart DNS technology, known as the perfect solution for streaming blocked media services.
A complete and complex experience. The VPN apps are VPN providers' business cards. Usually, providers are working their ASSets off to provide a complete and complex VPN experience. The idea behind this statement refers to all the options VPN users are allowed within the apps. They can configure the client based on their own taste, create lists of favorite servers, swing between servers automatically, or enable options to avoid leaks.
On what platforms do VPN clients work?
This is an excellent question. Before picking a VPN provider, you need to know if it will be compatible with your device.
VPN app developers are creating apps compatible with the most popular operating systems.
That's why the existing VPN apps are now compatible with OSes like:
Windows (including Windows Vista or XP)
macOS (even if most of the VPN apps work on Mac, certain protocols are not supported by the OS. One example would be one of the oldest tunneling protocols – PPTP – Point-To-Point Tunneling Protocol, which is not supported by the latest versions of macOS.)
iOS (iPhone, iPad)
Android and Android TV
Linux
Amazon Fire Stick or Fire TV
Different eReaders models
When a VPN app is not compatible with a certain device (including mobile devices) or operating systems, a VPN connection can usually be set up manually.
Good examples of devices or operating systems that don't support a VPN app would be Asus Routers, DD-WRT Routers, Tomato Routers, certain gaming consoles, IoT devices, and even some models of smart TVs, like Apple TV.
VPN app vs. VPN Manual configuration.
Before there were the VPN clients, the VPN connection was manually set up on each device. This technique is used even today for the devices that don't support a VPN app.
The question is: which would be the best pick between the two options?
Swing between servers. When we talk about manual configuration, you will need to change the server each time; you will manually do it. With the VPN app's help, you can connect to a new server directly within the app with just a simple click.
Pick the right protocol for your connection. The situation with the VPN protocol is the same as in the case of the VPN server. The winner will be the VPN app. Plus, there can exist out-of-the-box protocols that usually can't be set up manually on the device within the app.
The level of customization. When you use an application, you are allowed to customize it based on your requirements. Usually, you can automatically switch the server during a connection for extra privacy or to create a list of favorite servers. When you manually configure the VPN on a device, certain limits cannot be bypassed.
Leak protection. When you opt for the manual configuration, you are not protected against any leaks, so your privacy and security are at risk.
Costs. The popular VPN services that provide cross-platform VPN apps are usually a little bit expensive. If you're on a budget, maybe you want to be thrifty, so, in this case, you can opt for a less competitive VPN and be happy just with the manual configuration.
Of course, there are free VPN apps on the market. However, we do not recommend using free services, as their security and privacy level is questionable. A paid VPN worth every penny.
Last but not least, you should know that the VPN manual configuration is not always easy-peasy-lemon-squeezy. If you are a stubborn internet user, tempted to choose this way over a VPN app, check this "bat-ifully" made article to learn how to configure a VPN connection on a device.
How to get a VPN client for your device?
When you decide to subscribe to a VPN software, make sure that your future provider is ready to support you through all the journey.
I recommend you to pay special attention to details like their log policy, how many apps it provides, if it offers a free VPN trial, or if there's any technical support involved.
As soon as you checked these major requirements and made your mind, you can download their app as follows.
The VPN apps for Windows or Linux. These apps are usually downloadable for the provider's site. Like in any other app (e.g., Skype), you will download a .exe document from the website. After that, you will need to proceed with the installation, and you're ready to go.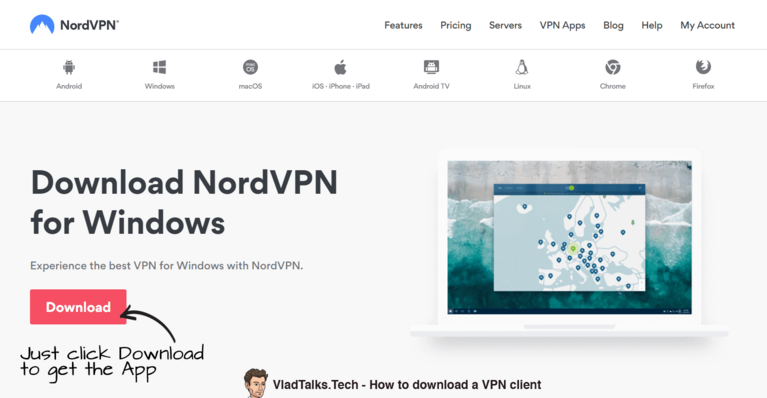 Apps for Mac, Amazon, Android, and iOS. These VPN apps are downloadable from the Mac Store, Amazon, Play Store, and Apple Store. In this case, you will need to access the store, search after "vpn", or the exact VPN provider name, and install the app on your device. Within a second, you will be ready to enjoy an encrypted connection.
The best VPN client in 2021 – my two cents.
Now that it's pretty clear what is a VPN client, you need to find the right one for you.
Without bragging, I can say that I am a VPN connoisseur, so allow me to give you two suggestions to start with.
The first suggestion will be for a VPN for PCs and laptops, and the second one will be for a mobile VPN. I hope you're not surprised to find out that it is important to use a VPN on your mobile devices. This is mandatory as, during a day, you use your phone more often than you use your laptop.
So, let's focus first on a very lite but powerful desktop VPN app provided by Express VPN.
In my opinion, Express VPN is in the top 3 VPN providers in 2021. It has great apps, but the price can be a little bit too spicy for some Internet users, yet it's worth every penny. However, this provider is offering a 30 days free trial (credit card required).
Their Windows VPN app is super simple yet complex. The connection process runs simple.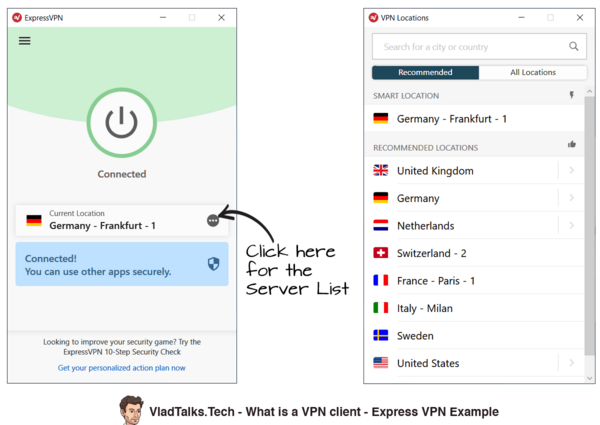 You have a generous list of servers and a decent number of protocols. When I say decent, I actually mean that you are not allowed to use unicorn VPN protocols like Shadowsocks or Stealth VPN (obfuscated VPN protocol).
On the other hand, we have ibVPN's iOS VPN app. Super-lite and good-looking VPN client, ready to connect within seconds.
What I love about ibVPN is perseverance. Man, this provider will never say no to challenges. Just take a closer look at its website. Several advanced features will hit you (Double VPN, Kill Switch, leak protection). Should you be curious to check their Windows client, maybe you'll be confused. The app is super-advanced, and it might cause you a bit of shock if you're a VPN newbie.
Elsewise, their iOS app is as pretty as PonyBat. It will surprise you with its speed and, of course, its ease of use. And oh, they also provide a 24 hours free trial, no credit card required.
The final lines of deBATe, we promise.
Who doesn't want to stay anonymous online, or to be protected against local network attacks? VPNs allow you to complete a series of online activities while staying away from your ISP surveillance or any prying eyes, providing you information security.
The number of VPN users is constantly increasing, and we totally get why. Nowadays, site-to-site VPNs are allowing employees to access the branch office's networks securely. In contrast, others use a VPN for torrenting for secure P2P file-sharing or Onion over VPN servers for maximized anonymity.
As the number of users increased hand in hand with the VPN's appliances, special VPN client software was developed to simplify the whole process.
These applications are easing the way you connect and use a VPN. Combining advanced security features, with the help of a VPN app, you can enable a VPN connection on plenty of devices, from the comfort of your home or while being on the beach in the Maldives.
Thus, certain devices don't support a VPN app. In this situation, you can set up manually a VPN on routers, use the Vilfo VPN router, or set up smart TVs by following tutorials.
If something's still unclear, have no fear! I am here to answer all of your questions. Contact us by using the contact form or by posting a comment below.
And bat the way, if you love our articles, be in the know and subscribe to our newsletter. Use the form in the footer and make the Transylvanian baby bats happy.
Happy Virtual Private Networking! 😊
About the Author