Grab your popcorn! We're about to learn what is a VPN for streaming blocked websites and how to choose the one that best meets your streaming needs.
Things have changed so much on the Internet, as is no longer the Information Superhighway it used to be. These days the Internet is more like a dirt road filled with potholes, or like an electrical installation that always seems to fail.
To fix these bat bad problems and enhance your online experience, you will need a very special toolbox consisting of patience, few technical pieces of knowledge, a VPN (Very Pointy Needle), and, of course, the popcorn I previously told you about.
The VPN stands for Virtual Private Network, a technology that, in reality, acts like a Pointy Needle, allowing you to reach "narrow areas".
Why am I saying this? You're just about to find out.
But first…
The Transylvanian explanation of a VPN for streaming.
The wedding bells are ringing in Castlevania. TomBat is about to marry the love of his life – the bat-iful PonyBat. After all, his perseverance paid off. Not only that the most beautiful lady-bat in Castlevania is about to marry him, but feelings are mutual.
It seems that you don't have to be the coolest guy around to win a girl's heart. Cleverness, a funny spirit, and a few sweet gifts will do the job.
And what happens before a wedding? Yes, exactly, a bachelor party, which in Castlevania is a BATchelor party. As it all needs to be a surprise, the bat gang was in charge of all the details, so TomBat was completely clueless.
How did all these things make PonyBat feel? Worried! Will there be booze, will there be kinky surprises, or, even worse, will there be any strippers?
Just like any girl on this planet, PonyBat overthinks the situation, and she suddenly becomes jealous.
As the other bat's girlfriends and the future bride are not invited to the BATchelor party, PonyBat needs to make sure TomBat won't cross the line, by any means.
"What should I do to bypass this stupid party restriction? I am a girl, and there is no way I can make it to the party. Of course not! Think, PonyBat, think!"
Then, a brilliant idea finally came to her mind – she will use RoboBat so she will be able to stream the wild party, live, from the comfort of her own cave.
RoboBat is the latest gimmick TomBat and AnonymousBat invented. A robotic bat was meant to help them around with different digital tasks.
As PonyBat is not only pretty but also very smart, she used RoboBat as her own drone. She is that sneaky!
She connected her phone to the drone and guided it to the party location. In this way, she was able to watch live the party that decided the faith of her relationship with TomBat. And, I assure you, TomBat was very well-behaved, and except his abuse of Transylwine, he did nothing wrong.
You should take PonyBat's example. If you want to live stream any blocked streaming channel directly on your device, you can do it with a VPN. This technology is not a drone, but it will definitely do the job.
What is geo-blocking?
Geo-blocking is one of the most popular internet censorship methods. China applies heavy censorship on its internet users, and without a VPN for China, you will have limited access to online resources there. Via this technique, certain media streaming providers can limit the availability of their service only to certain countries or locations.
What does this technique imply?
Your IP address says a lot of information about you. Just like a flibbertigibbet, your IP can't keep its mouth shut and will leak info about your location. For being able to restrict your access to their content, the media streaming giants will only need to check your IP address. Like in the case of BBC iPlayer, if you're trying to access their content outside the UK, your access will be automatically blocked and denied.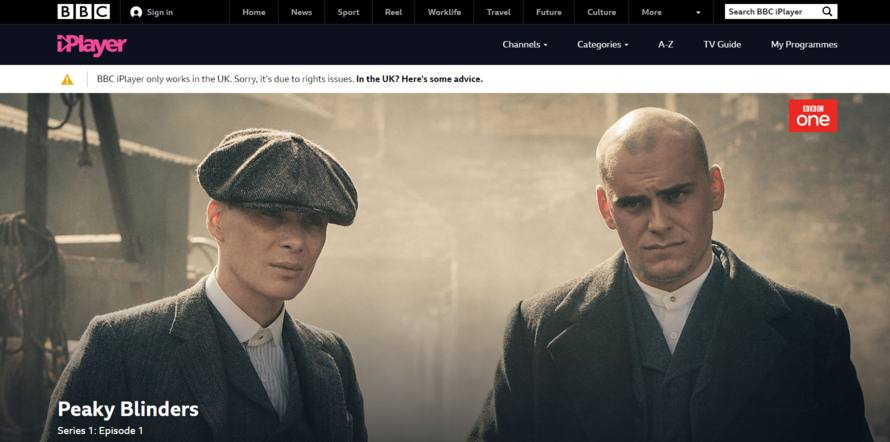 Why are huge media streaming services geo-blocked?
Lots of internet users are eaten away by this question. And the answer is not elaborated, nor very complex.
Let's take a closer look at what BBC iPlayer or Netflix do.
BBC iPlayer is available only for UK residents who pay for a UK TV license.
Netflix, on the other hand, is available in several counties around the globe, providing separate catalogs for each location.
Can we draw a conclusion? Yes! Applying geo-restriction is a legitimate decision for both of these two popular streaming services. Maybe you think I'm crazy, while actually, I am not! It's 100% normal for BBC to be available only in the UK as it's mandatory to have a UK TV cable subscription. While, just like in the case of Netflix, we also talk about copyrighted content. The copyrights allow these services to display certain TV shows, movies, or series only in some countries. So, we can say that these geo-restrictions are somehow legitimate, having a legal basis.
Still, it's a little unfair to have a subscription for a service and not be able to access it while you travel or relocate. That's why we can totally understand why VPNs for streaming are this popular nowadays.
What is a VPN for streaming channels?
I get the sense that I was able to arouse your interest in learning more about the best VPNs for streaming. That's why it's time to focus on the subject and debate all the important aspects you need to know about choosing, installing, and using a VPN for unblocking websites.
Without wasting any more time, let's grab our popcorn and dig into the subject.
A VPN is hype and valuable technology that helps you accomplish a few important things that will enhance not only your online experience, but will also help you ensure your online security, privacy, anonymity, and freedom via solutions like Double VPN or Tor over VPN.
The most important things you can do with a VPN are:
Encrypt your web traffic.
Bypass firewalls.
Bypass internet censorship and geo-restrictions.
An idea that wanders the internet these days is that for accessing blocked content, you can use proxy technology. There's nothing wrong with this affirmation, however, an important detail is missing.
So, follow me! You need to access the websites you pay for (Netflix, Hulu, BBC iPlayer, Disney+, Amazon Prime Video, HBO Max) when you travel for different purposes, meaning that besides the possibility to change your IP and access blocked content, you also need a highly-secured Internet connection.
Therefore, the best way to unblock websites in complete anonymity and security is to use a VPN.
Why? Here's the secret!
How does a VPN for accessing streaming websites work?
A VPN combines a series of components that will take your overall online experience to the next level.
As a result, anytime you will enable a VPN connection, you will connect to a VPN server first. The VPN server, helped by an encryption standard and a VPN protocol, will encrypt and safely guide your data to its destination on the web. As this process is reversible, all your online activities are encrypted and private, meaning that your ISP (Internet Service Provider) or any other curious entity won't be able to lay its eyes on your data.

Other options that help you access BBC iPlayer, Netflix and Hulu anywhere in the world.
Let's bring to light other options that you have for streaming your favorite movies, TV shows, and documentaries from any place in the world.
As the most important thing you need to do to bypass restrictions is to change your IP address, you will need to find tools or technologies that can help you do so. Here are a few great solutions you may wanna try:
Proxy technology. A proxy is like a low-cost VPN. A VPN provides a brand-new IP address, complete anonymity, security, and encryption, while the proxy can change your IP, and… that's all. Plus, based on the fact that it does not imply any encryption at all, the proxy will not affect the speed of your connection, allowing you a flawless streaming experience.
SmartDNS technology. Compared to the proxy or VPN, SmartDNS will not encrypt your traffic or chance your IP. Instead, it will do some magic and will trick streaming websites into seeing your location as a legitimate one. In very easy terms, we can say that with the SmartDNS you can spoof your location like a high-skilled magician. Easy-peasy-SmartDNS-squeezy.
Use a remote-control application. This may sound really dumb, but it's a highly effective solution. So, if you travel for a short time and need to stay up to date with the latest episodes of your series, you may want to install on your home computer an RDP app like TeamViewer. The app will allow you to remotely access your home computer located in the UK for example, a fact that grants you access not only to your personal documents but also to any online service you may need to access with a British IP.
Why are Netflix and BBC iPlayer blocking VPNs?
Did you know that millions of people living outside the UK use a VPN to unblock BBC iPlayer?
Just the legal basis imposed by copyrights is a good reason to block VPN access to media streaming services, so these huge providers can avoid infringements.
Media giants allocate a lot of resources like money or countless hours of work to develop and implement algorithms able to detect and block VPN usage.
As they are unstoppable, the task of keeping pace with their updated algorithms became a pretty challenging task for VPN providers. That's why there are only a series of VPN services on the market that can provide a seamless streaming experience.
What's the best VPN for streaming?
Sorry to spoil your expectations, but when it comes to VPNs, there's no such thing as THE BEST VPN. There are a lot of VPNs like Surfshark VPN, Buffered VPN, IPVanish VPN, Norton Secure VPN, or Hotspot Shield that may work for streaming sports channels or media services. Even so, the performance of a VPN is influenced by many factors and there are a few important highlights that may indicate that a VPN works for bypassing geo-restrictions and unblocking websites.
Here are the most important things a VPN for streaming needs to provide to be able to bypass Netflix's advanced blocking algorithms:
The number of VPN server locations. Let's say that you may want to access Netflix Japan. For this, you will need not one, but plenty of VPN servers located in Japan, so you can be sure that your mission can be accomplished. Moreover, the most common situation when a media streaming service blocks VPN is when a user connects to the VPN with a shared IP address. This means that the VPN server you connect to shares the same IP address with hundreds of other users. Such a thing can happen in the case of using a bulk IP address, which is easily detectable by Netflix or BBC player. Therefore, the VPN servers' quality matters.
VPN apps. You can always use a VPN app to enable a VPN connection like a Transylvanian guru. Of course, there are other ways you may follow to enable a VPN connection. But who has the time to manually set up a VPN connection on Windows, VPN on Mac, VPN on iOS, or even VPN on Chromebook while on vacation or in an airport, during a layover? A mobile VPN software makes miracles as with a single click on a button, you can enable the world of countless online possibilities.
Performance and reliability. Buffering/connection interrupted – are two mighty online vampires lurking at the internet's corners, ready to jump in front of you, as soon as the VPN connection drops. Therefore, another important aspect you must take into consideration is the overall performance of the VPN and the stability of your connection.
The VPN protocols selection. When it comes to VPNs, the size of the features list matters. The VPN protocol dictates not only the speed of the connection, as this component is also responsible for your… online freedom. Mainstream protocols like PPTP or L2TP are great when you want to surf fast, but when it comes to bypassing internet censorship, they are not the best options. Therefore, if you live in a country with high censorship and want to unblock streaming websites, you have double trouble. A powerful VPN protocol like Stealth VPN (which uses the obfuscation technology), OpenVPN, or Shadowsocks can help. So, don't forget to scan your provider's feature list, and look for out-of-the-box features.
VPN trial. Not many VPN providers allow their potential customers to test the service before subscribing. Signing-up for a free VPN trial is the smart thing to do, especially when we talk about getting a VPN for streaming. If a provider does not allow a free trial, it should clearly provide a money-back guarantee policy, that may save you from misery, in case you will face connection issues.
Customer support. Yes, VPNs are fun and stuff, but from time to time, these services can make you wanna throw your laptop out of the window. In such a situation, a customer support rep is really helpful and ready to solve your issue within minutes. The best VPNs for streaming offer live customer support, so that's another thing you should aim for.
Even if there's no such thing as the best VPN for torrenting, streaming, gaming, or different other online activities, there are a handful of services on the market that do a pretty good job.
As Transylvanians, we are honest and helpful, so we won't keep this information for ourselves. Sharing is caring, so here's a list of well-performing VPNs for streaming sites or media services:
NordVPN
NordVPN needs no further presentation as you can read about this service on almost all reviews-specialized websites. It made our list as this popular provider can access the websites beyond the wall (if you know what I mean). And if you don't know what I mean, you never watched Game of Thrones. The good news is that you can do it right away with your HBO Go subscription.
NordVPN offers a complete service with an impressive experience on the market, providing VPN, as well as, and SmartDNS solutions. It provides access to high-speed servers, has a strict no-logs policy, offers live chat support, and I believe is one of the best streaming VPN providers.
CyberGhost VPN
CyberGhost VPN is a powerful VPN provider, and it's a project started in Romania. So, vampires and geo-restrictions don't scare this VPN either. 😊
CyberGhost VPN provides fast speeds, simultaneous connections, a powerful Windows VPN client, filled with features, and super-easy to use.
When it comes to unblocking services, CyberGhost can unblock Netflix or BBC iPlayer, meaning that you will be able to access the streaming media services you're paying for wherever you are in the world.
ExpressVPN
ExpressVPN just works and… unblocks. In my opinion, is one of the most stable VPNs on the market, with a perfect VPN server network distribution. As they provide plenty of servers in popular locations around the world, it can help its users easily access a series of blocked streaming websites. And, this is something valuable, it offers a 30-day money-back guarantee. Thus, you may subscribe confidently and, if it does not unblock the streaming platforms that you are interested in, you may simply ask for a refund.
And, yes, you may use ExpressVPN to unblock BBC iPlayer outside the UK even on your iOS device.
Streaming FAQs.
The whole VPN for blocked websites concept may be intriguing. Plus, there's a different discussion about copyright infringement, so the following info may answer your questions.
Is a VPN for unblocking streaming websites legal?
A VPN is legal by default and is completely legal to use to unblock websites like Netflix or BBC iPlayer. Still, due to their own regulations and decisions, these services may opt to block VPN usage, but using a VPN won't cause you any direct problems.
How can I unblock a streaming service with VPN?
The VPN is a complex technology capable of bypassing geo-restrictions. To be able to unblock any streaming website, you will need to connect to a VPN server in the desired location and access the specific website you want. If you use a VPN server with a dedicated IP or any other VPN server that does not have a shared IP address, you can consider the job done.
What happens if I am blocked by the media streaming provider?
Anytime your access will be blocked, you will face an error that says that the service is available only from a certain country. You should chill, as this does not mean that you're banned for life. In such a situation, you must clear your browser cache and try your luck again, by picking a different server or even a different browser.
Do I need additional software to use a VPN for Netflix or BBC iPlayer?
Firstly, you need to establish a VPN connection. This thing can be done by setting up the connection manually or in a simple way, via a VPN client. As soon as the connection is successfully established (you can check this by testing your VPN performance), you may access the service you need to unblock and enjoy the awesome experience of online entertainment.
Can I access Netflix or BBC iPlayer with a VPN, directly from my SmartTV?
You sure can. Some SmartTVs support VPN apps or manual VPN configuration, meaning that you can enjoy your favorite shows on a huge screen too, not only on Windows, Mac, iOS, and Android devices. If you have an Android TV or other brands of Smart TV, you can test this right now!
Are there VPNs that never get blocked?
Hell NO! Any VPN can get blocked by advanced blocking algorithms. Just remember that you don't need to panic. Just disconnect from the VPN, clear your cache, and try again. Good luck!
Let's rewind.
Learning can be as fun as watching your favorite movie. As we need to make sure that we don't miss a thing, let's rewind and recap.
Online restrictions can frustrate any internet user. Just imagine that you're traveling for 3 weeks when a new season of your favorite series is launched. All your friends are sending spoilers in WhatsApp groups, and you're not able to access Netflix or BBC as are geo-restricted in the country you visit.
With a VPN you can circumvent restrictions and watch your favorite movies from a beach in the Maldives or from the foot of the Himalayas, if you're connected to a public WiFi, of course.
Even if the media streaming giants acknowledged the VPN traffic and decided to block it, there are powerful VPN services that can bypass restrictions. Your task is to do a bit of research and find the VPN that works for you. From that point on, you're a few clicks away from watching your favorite shows.
Let's not forget about the other benefits of a VPN like the private internet access you can enjoy anytime, the unlimited bandwidth, and security features like Kill Switches or DNS leak protection that are keeping your data secure and your online activity anonymous.
Is there any popcorn left, because you can start to stream videos right away!
Ready, steady, stream!
About the Author