Sometimes we need a little magic, don't we? A magic wand, an enchanted switch, or Harry Potter's invisible cloak would prove to be more than helpful for turning invisible when you have an awful hair day, for completing your tasks as fast as a "hocus pocus," or for avoiding unpleasant situations in a blink of an eye.
The magic is all around you, and you just have to find it. No, you won't find magic wands hanging on trees or invisible cloaks at the mall, but you will find things and persons who will do magic for you. And, folks, I have the best example – a VPN Kill Switch.
If you're WANDERing what is Kill Switch, what VPN service provides this feature, or when to use it, scroll and read, as I guarantee you'll find pretty useful information in this article.
Make sure you start properly by taking a look at our Transylvanian explanation.
Enjoy!
What is Kill Switch VPN? The Transylvanian story.
Do you know what I hate most of all in the entire world? To stub my toe on every damn piece of furniture or bed caster in my castle. And I am sure you know what I mean.
Before installing my double pane windows (I told you about them in one of my articles), I woke up almost every night because of my noisy bat-neighbors. Whenever this thing happened, I used to be full of rage and anger, rushing with the speed of light to the window to drive them away.
Unlike me, karma never sleeps, so I was unlucky enough to stub my toe on the corner of my office desk almost every time. The pain and frustration started to be unbearable, so I needed to find a solution to prevent this thing from happening. Only if there was some magic trick to enlighten my way to the window.
Then, the idea kicked in. A MOTION SENSING LIGHT BULB. This solution could do the work, as it's clearly sensing when the danger is approaching and, of course, is preventing me from other late-night painful accidents.
No sooner said than done. I headed to the closest store, purchased the trickery, installed it all by myself, and enjoyed the perks of having a switch that saves me from pain.
And, folks, this is exactly what Kill Switch does. It's detecting when something fishy is happening, and it takes care of your connection or apps before online dangers hit you (not in the toes, but where it hurts the most – in your online security and privacy).
What is Kill Switch?
As time passes, software and devices become more and more intuitive, and not only in interaction, but their name also gives a hint on what the thing is doing.
A great example is the VPN and, it's super easy to understand that this technology is a Vampire Permanent Neutralizer. Joking, VPN stands for Virtual Private Network and, as its name suggests, is a technology that enables you to create a private network over a public unsecured network.
Yet, I am sure you already knew this since you're digging for information about Kill Switch VPN. What does its name suggest at first sight? A switch that kills something, right? And this is exactly what this feature does.
In IT, Kill Switches are used to shut down the internet connection or a list of programs anytime a specific unprogrammed event is happening. The VPN Kill Switch is like an emergency e-stop for your connection.
VPN is a trustworthy and valuable technology used for encrypting and securing your internet connection. Yes, that's true that there are many other appliances of such software like bypassing internet censorship, bypassing China's blocking algorithms, accessing streaming websites and games from any corner of the world, or for secure P2P activities.
Therefore, the VPN Kill Switch is a mechanism used to cut off your internet connection or close a list of applications to avoid having your online activities exposed.
You can now make a connection between my Transylvanian story and the real Kill Switch deal; both my motion sensor light and the Kill Switch detect danger and prevent bad things from happening.
Now that we know the basics, let's dive into the deep sea of tech knowledge.
Why is Kill Switch VPN so important, and how does it work?
One of the main things VPN does to ensure your online anonymity and security is to hide your real IP address provided by the ISP (Internet Service Provider). To do this, a VPN combines three main components – a VPN server with a VPN protocol and an encryption standard.
When you enable a VPN connection, you automatically connect to a VPN server in the desired location. The server assigns you its corresponding IP address, and this way, your online activities appear to be generated from the server's location.
Moreover, helped by the VPN protocol and the encryption, the VPN server encrypts your traffic and transports it securely to its destination on the web. As this process is reversible, all your internet traffic is anonymized, encrypted, and secured.

When you're looking for such a high level of privacy, you clearly don't want to have any of your activities exposed. I am sorry to break it to you; a VPN connection can drop, and you surely want to avoid having your identity leaked. And no, you don't have to be a bad guy in desperate need of covering his bad online intentions. You have to be a responsible internet user who knows that internet privacy is as important as real-life privacy.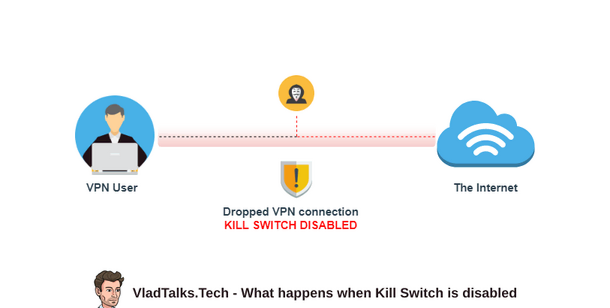 The great thing is that when the VPN kill switch is activated, it is constantly checking your VPN connection. In case it identifies a connection drop, it automatically stops your internet access or the selected apps. You can easily see a resemblance between a VPN kill switch and a firewall.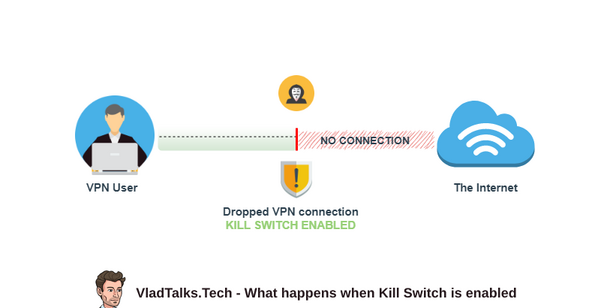 Keep in mind that the VPN kill switch is a VPN feature available in VPN apps, not a VPN component; that's why you need to make sure you enable it first.
When will the VPN kill switch activate?
To activate, the kill switch feature needs to be enabled. Yes, I am obsessively repeating it because it's an important thing you should not forget.
So, after you make sure Kill Switch VPN is enabled, it can activate in cases like:
An unexpected VPN disconnection occurs from reasons like poor VPN performance, server overload, poor Wi-Fi signal, etc.
The Kill Switch VPN can also activate if you instantly switch the servers without disconnecting from the server you're connected first.
Kill Switch can also sense if you're experiencing a poor connection and activate its function before you end up exposed.
Types of VPN Kill Switch.
Until we can find invisible cloaks and magic wands at the mall, we should be happy with the fact that life gives us multiple choices. And so does the VPN kill switch. Therefore, when it comes to the kill switch VPN feature, you can choose between two options:
Internet kill switch (or system-level kill switch). This type of kill switch takes care of your internet connection. So, if it's properly working, the internet kill switch detects the VPN disconnection and automatically shuts down your network activity. Everything will be back to normal as soon as your VPN tunnel is reestablished.
Application kill switch. Just as its name suggests, the application kill switch allows you to predefine a list of applications that need to be closed as soon as your VPN connection fails. Most internet users pick this VPN kill switch type in combo with torrent clients or e-mail apps.
Who needs to use the network lock option?
The VPN kill switch is also known as the network lock feature and is a must-have for all VPN users. It is not rocket science to understand that if you use a VPN, you don't want any online data breaches. That's why kill switch or data leak protection options exist – to assure you that even if your VPN may glitch, you're still protected by its additional security features specially developed for unfortunate situations like unexpected VPN connection drops.
Yet, if I have to categorize, here's who needs to use VPN kill switch:
Torrent users. Downloading torrents is legal as long as you make sure you're not breaking the DMCA's rules. Even if you keep your torrenting on the legal side, you still need the extra protection provided by the VPN. That's why connecting to a VPN server is essential, and making sure you're staying connected is mandatory. So, act responsibly.
People who're looking to ensure their online anonymity. Connectivity issues can put you in front of many online dangers. As it's our own responsibility to make sure we stay safe even in the online world, we must turn our attention to features like the Kill Switch, which helps us take our online activities to the next level.
The best VPNs providing the Kill Switch feature.
I must tell you a secret. I have lists of favorite things made in categories. Favorite things bring that little sparkle of magic in your life that I was talking about at the beginning of this article.
Most precisely, this is what I am talking about:
Favorite person – that person who can put a smile on my face even on the shittiest day.
Favorite food – that food you can never say no to, even when you're on a diet.
Favorite place – that place where you feel safe and free.
…………….
…………….
…………….
…………….
(ONE ETERNITY LATER) Favorite VPN – that VPN you can put all your trust into.
And since I am not here to tell you how much I love my BFF or how I can never resist a yummy, good-looking, and juicy burger, let's focus on the topic of the chapter – the best VPNs that provide a Kill Switch option and which ones are my favorites.
Make some noise for one of the best VPNs in 2021. It's the first on my list for a series of good reasons like great VPN performance, top-notch VPN software, and an impressive list of VPN features, among which you can find the VPN Kill Switch.
Nord VPN provides both types of Kill Switch, and the feature is available on their VPN client for Windows, macOS VPN, iOS VPN, and Android VPN apps.
Therefore, giving NordVPN a chance is something you should have in mind if you're looking for a VPN provider who puts a lot on the table.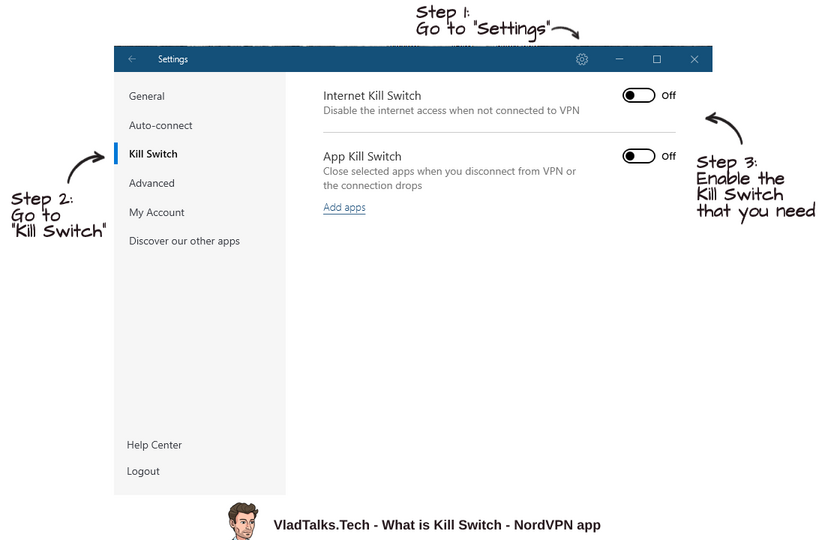 CyberGhost is a killer VPN. In their portfolio, you can find lite apps, reliable connections, plenty of servers, and a free VPN trial.
Regarding Kill Switch with CyberGhost, you can enjoy it on all your devices running operating systems like Windows, macOS, Linux, iOS, and Android. Keep in mind that this feature is automatically enabled in their app, so no additional measure is needed to be taken to enable it and make sure your connection is secured.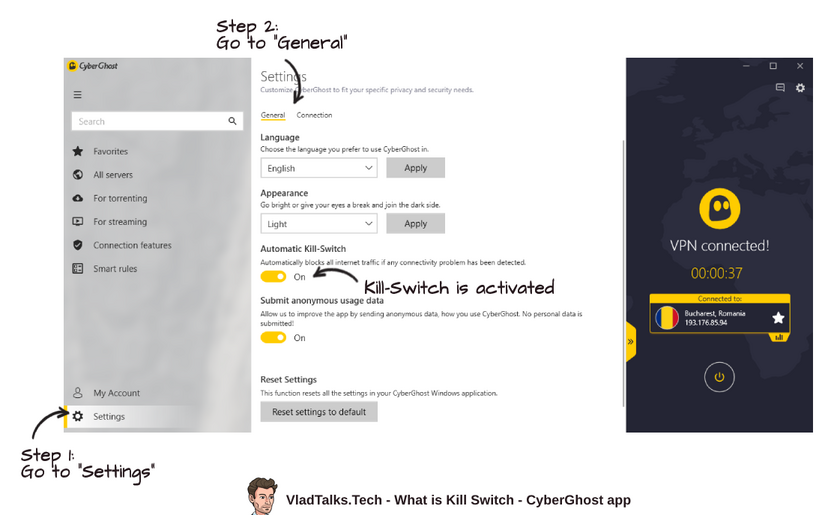 Surfshark offers the kill switch option on its Windows, macOS, iOS, and Android apps. Should the VPN connection unexpectedly drops, the app turns off your internet connection. Thus, the kill switch protects your data until you get reconnected.
To activate the Kill Switch on Surfshark apps, tap or click on the Settings menu and toggle the switch next to the Kill Switch option. That's it!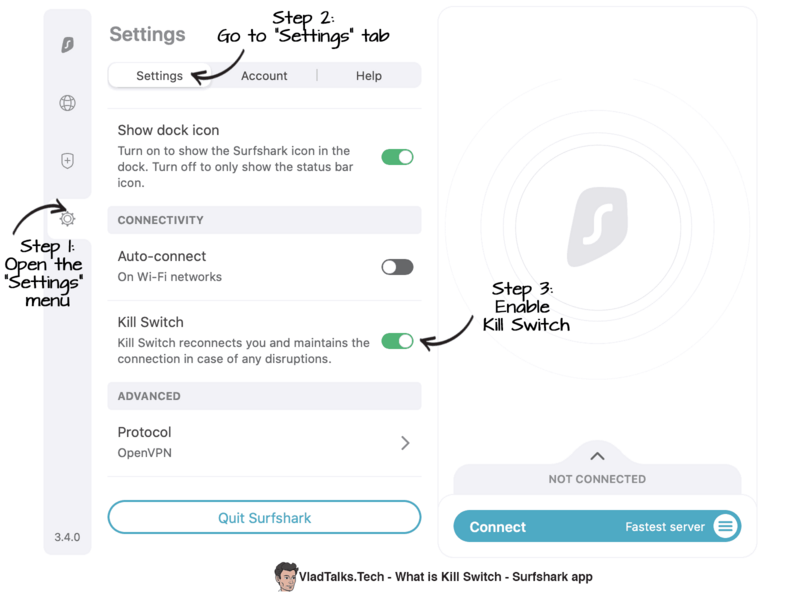 How to test if the VPN Kill Switch is working properly?
The whole point of using a VPN revolves around the idea of online security. Starting from this affirmation, we can easily say that it is recommended to activate your critical sense and question your VPN performance. It is known that you should always test your VPN before buying it by taking advantage of the free VPN trials some services allow, and you need to test that the VPN kill switch does exactly what it is advertised doing.
Here's a possible scenario for testing the Kill Switch performance:
Open your VPN app.
Connect to the desired server.
Test your VPN performance and check if you're successfully connected. You can even perform a VPN speed test to see if the VPN affects your connection in speed.
Visit a website or open your Torrent client (based on what type of Kill Switch you use).
Disconnect from the server without closing the app or close your internet connection.
If the Kill Switch notification pops up, then your VPN Kill Switch is working as expected.
You're welcome!
I used ibVPN to perform a test myself and, as you can see in the image below, as soon as there was a disconnection, Kill Switch observed that something was wrong, detected the disconnection, closed my app, and protected me. Thumbs up, ibVPN!
Are you ready to close the book on this subject?
On a somber note, we can say that the Coronavirus pandemic teaches us how to embrace a new reality. The new reality is clearly a challenge some of us never faced before. It is a new journey all the world is taking, and the purpose is to flatten the curve, fight against the threat, and foresee the future.
In this whole new context, we are more and more connected to the online world, and we see it as an escape not only from reality but from losing our jobs (as some of us can work remotely), keeping in touch with our loved ones (since we were locked in our houses for a while), and so on.
Knowing all these things, we are expected to take measures and start thinking about our online security and privacy since the things we do online are private.
Luckily, there are "vaccines" known as antiviruses and VPN for all online viruses and threats.
Make sure to act responsibly and use these weapons that are just a click away. Power up all your activities with features like VPN kill switch, Shadowsocks, split tunneling, or leak protection, use robust protocols (OpenVPN or WireGuard), maximize your privacy while using Tor, and you will not worry a day in your life about online security.
And, don't forget to bring a little joy to all the Transylvanian baby-bats, by subscribing to our newsletter below.
That you, you're magical!
About the Author