May your Chromebook be a lightweight laptop, but that does not mean you have to be light on security and privacy. As your device is connected to the Internet and the Internet is no longer a safe place, you need to get a VPN for Chromebook.
The latest Chromebooks are able to run Android apps. Thus, solutions to get connected to a VPN are at hand. Simply, download a VPN app for Android, and you are ready to browse the Internet safely.
Additionally, the Chrome OS makes it easy to create a VPN connection using the built-in VPN client. This article explains how to get a VPN for Chromebook, to set up an Android VPN app, how to set up a manual VPN connection, and lists two remarkable Chromebook VPN services.
How to use a VPN on Chromebook – Is there a spell here?
When not checking our Instagram account, PonyBat is an avid reader. As she just finished a book on Internet censorship (sic!), she sent TomBat to get her an easy read from the library of Vlad's castle.
And here is TomBat flying around for inspiration in a dark room full of books.
Suddenly, he felt some kind of attraction coming from the top shelf. He spotted THE book and read the title on the cover: "A Discovery of Witches". For a moment, he thought it was a good pick for PonyBat, but, when he opened it, he had a huge surprise: there were no leaves between the covers. A device with a shield-like drawing on it was shining mysteriously.
TomBat rapidly flew to Vlad:
"Master Vlad, what is this?"
"Ooo, that is my travel book."
"But, this is not a book!"
"Well, it is a Chromebook. And it is already prepared for traveling. As the manuscript from 'A Discovery of Witches' was protected by a powerful spell, my Chromebook is protected by a strong VPN. It is what I need to be safe while connecting to the Internet from random castles."
"Very impressive, Master Vlad! Very impressive!"
Now, let's find out how to get a VPN spell on your Chromebook.
How does a VPN work on Chromebook?
A Virtual Private Network or VPN serves as a buffer between a computer and the Internet. When browsing the Internet with a VPN, a computer (in this case, the Chromebook) firstly connects to the VPN server using an encrypted connection (the level of encryption depends on the VPN protocol).
Once the data reaches the VPN server, the encryption is stripped, and the data is sent on to the Internet. The response received by the VPN server is then encrypted and sent back to the VPN client (the Chromebook).
Why do you need a VPN on your Chromebook?
Chromebooks are more secure than devices using Windows. Viruses are mainly built to attack computers that use Windows. As a result, Chromebooks generally don't need antivirus software.
Chromebooks have limited storage and specs and are best used for browsing the web and answering emails. The operating system is sound from a security viewpoint.
Network-based threats that are OS-agnostic, whether they be simple snooping or man-in-the-middle attacks, can be used to attack Chromebooks.
The advantage of connecting to the Internet using a VPN is that it masks the origin IP address and traffic. The encryption of the initial connection means the requests coming from a specific device, or who they are coming from, can not be tracked. The connection appears to come from the VPN server.
Thus, while using a VPN, the communication between the Chromebook and the Internet is encrypted and protected. A Chromebook VPN also provides online anonymity (it hides your IP address) and helps you unblock restricted websites by changing your virtual location (a valid workaround for China too), or it helps you secure your torrenting activities.
To sum up, a VPN for Chromebook offers many benefits:
Data encryption.
IP address hiding while browsing the Internet.
Restricted websites unblocking.
Protection while using public Wi-Fi connections.
How to get a VPN for Chromebook
Chrome OS is not Android, but it looks somehow similar and has a lot of functions you may be accustomed to from your Android devices.
Similar to Android, the Chrome OS offers access to its own built-in free VPN client. Thus, you may easily set up a VPN connection from your Chromebook by manually filling in the required parameters. However, this approach is not necessarily the best one. A more user-friendly solution is to install Android VPN software.
But, firstly, to be able to set up a VPN connection, you need access to a VPN server, which means that you need to know the server address (IP address or name) and the authentication credentials (username, password, security certificate).
On your Chromebook you may:
Download and install an Android VPN app offered by a VPN service;
Set a manual connection and access a VPN server managed by your company or school.
How to set up a VPN for Chromebook
As the Android apps can run on Chrome OS, the fastest and most straightforward way to set up a Chromebook VPN is to download a VPN app from Google Play. Easy to do. No technical knowledge is required.
If you need to connect to a VPN server administrated by your company or your school, you will need to set up the VPN connection manually or to install a third-party application (e.g., the OpenVPN client app).
There are three main ways to protect a Chromebook with a VPN: using Android VPN apps, using Chrome browser VPN extensions, or configuring Chrome OS' VPN client manually.
Use an Android VPN app from a VPN provider
Using an Android VPN app on your Chromebook is the most reliable way to secure all your web traffic. Simply download the VPN app you want to use from the Play Store and activate it:
Open the Play Store.
Type "vpn" in the Search box.
Choose a VPN client app, install it, open it.
Next, if required, create an account and subscribe. Further, select a location or server and connect to the VPN.
The first time the application tries to connect to the VPN, it requires explicit permissions. It is a security measure to protect your private data.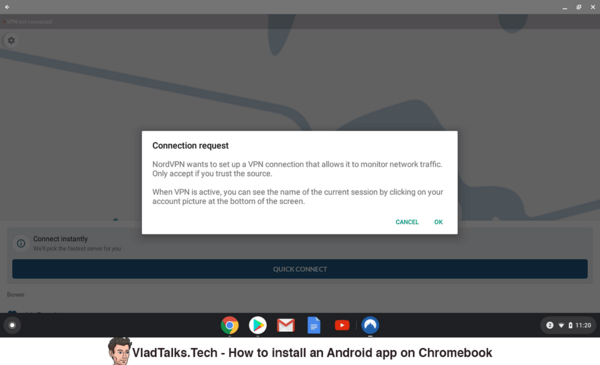 You should only click OK if you trust the VPN provider. If you don't, you should better uninstall the app and take a look at the services I recommend below.
A problem with using an Android VPN app on your Chromebook is that older Chromebooks don't support Android apps. The list of Chrome OS devices supporting the Google Play store is growing, but if you have a device that is not on the list, you won't be able to set up a VPN on your Chromebook by using an Android app.
If your device is supported, you will need to have Chrome OS' latest version. You must also use the Settings menu to activate the Google Play store. Open Settings, search Google Play, and switch it on. Note that users with corporate Google accounts may not have the right to activate the Google Play store.
Use Chrome browser VPN extensions
The simplest way to secure web traffic is to use a Chrome browser extension. Several VPN services have Chrome browser extensions. Simply select one from the Chrome Extensions Webstore and install it.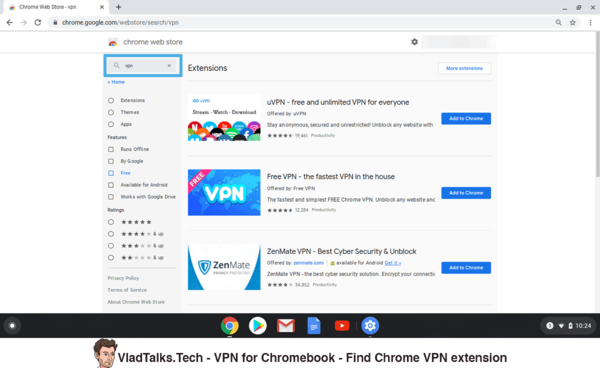 It should be noted that a Chrome VPN extension will only secure traffic from your web browser and not network traffic from other apps. Make sure you understand the differences between VPN apps and VPN extensions.
Did you know that you may use Chrome VPN extensions on Microsoft Edge as well? Thus, if you have the Edge browser installed on your Chromebook you may install and use your preferred Chrome VPN browser extension with the Microsoft browser.
Manually configure a VPN connection on Chromebook
Although using an Android VPN app to set up a VPN on your Chromebook is the preferred solution, manual configuration is the next best. If your Chromebook can't run Android apps, it may, in fact, be your only option. Doing so does, however, require some work.
When you set up a Chromebook's VPN connection manually, you have two options: L2TP/IPSec or OpenVPN. Both of these are VPN protocols, but they use different methods to create a VPN connection. Of the two, OpenVPN is probably better due to it being open-source. This means it's been checked extensively for any potential vulnerabilities. It also has a reputation for being reliable and fast.
Before starting to configure a manual connection, make sure you have access to the VPN server credentials (server address, username, password):
From the Home screen, go to the Settings app.
Select Network.
Click on Add connection and Add OpenVPN / L2TP.
Enter the Server hostname (VPN server name or IP address) and the Service name (choose a name for your VPN connection).
Select Provider Type. Choose the VPN type or protocol (OpenVPN, L2TP/IPSec + preshared key, L2TP/IPSec + user certificate). If you don't know what to choose, you should ask the VPN administrator.
Type your authentication login, i.e., your Username and Password.
For L2TP/IPSec + preshared key, you also need to type in the Preshared key. For L2TP/IPSec + user certificate and OpenVPN, you may need to install and provide certificates. You may find more details here.
Tap Connect. If the server information and the credential are good, you will get connected.
To turn the VPN off, click on the bottom right of the screen, click on the VPN icon, and click on the Disconnect button next to the active connection.
Test run your VPN connection
Once you have successfully connected, don't forget to test your VPN.
The quick test consists of the following:
At the bottom right, select the time. Check the VPN status. It should be ON.

Check your public IP address with an IP locator website.
If the VPN status is OFF and the IP checker website shows your real IP address, you should try to re-connect. If the issue persists, you need to contact the VPN provider or administrator.
How to use a VPN on Chromebook with a router
Connecting to a VPN router is a quick method to get access to a VPN. However, you should remember the connection between your Chromebook and the router is not encrypted.
The most important benefit of using a VPN router is that you don't need to install any VPN app or set up anything on your Chromebook.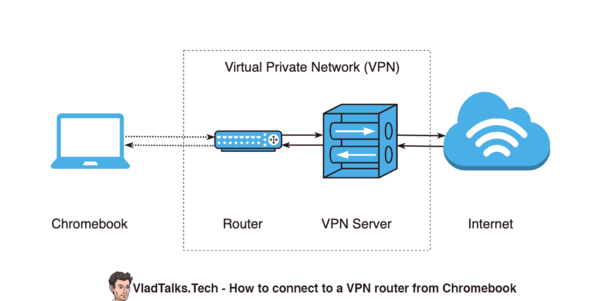 The setup of a VPN on a router is not difficult, but you may need some technical skills to understand the steps described in the tutorials. And here is how to do it:
After the setup is completed, all you need to do is to connect your Chromebook to the router (Settings > Wi-Fi > select the network exposed by the router). Hurray, you are now connected to the VPN.
The Best Chromebook VPN services
As you may install Android VPN apps on your Chromebook, you have access to a plethora of free apps. However, here at VladTalks, we do not recommend free VPN apps and lifetime subscriptions due to security and privacy concerns.
When we enlisted the best Android VPN apps, we took into consideration the reputation, logging policy, performance/VPN speed, reliability, and support offered by the VPN providers. As one of the options to quickly change your IP address on Chromebooks is to use VPN extensions, we chose VPN services that also provide access to excellent browser extensions.
NordVPN
The NordVPN app for Android works smoothly on Chromebooks that are able to run Android apps. It is fast, secure, and it comes from a trustful provider.
Additionally, NordVPN exposes a great VPN extension that you may use for unblocking restricted websites or hiding your public IP address while browsing the Internet with Google Chrome.
The first step is to create a NordVPN account. Then you may log in to the app or to the Chrome extension, and press the Connect button. It selects the closest server to your location and creates a VPN or proxy connection.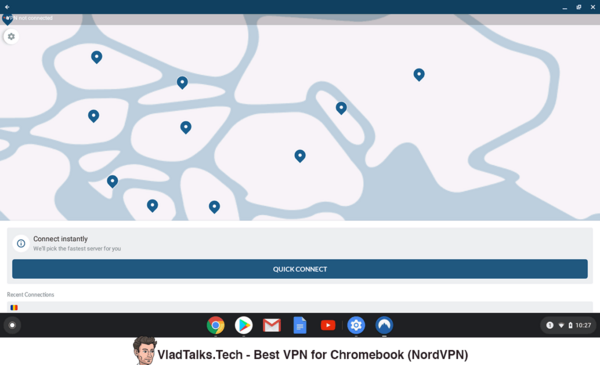 CyberGhost
The CyberGhost Android app is smooth and fast, but the nicest feature of CyberGhost is that it offers the Chrome VPN extension for free. As it comes from a trustful provider you may use it with confidence.
Build safety habits – How to use a VPN on Chromebook on a daily basis
You probably use your Chromebook mostly to navigate the Internet, watch streaming channels and check your emails. You probably take it with you while traveling (as Vlad does). But, do you protect your data?
You need to take care of your private data and you need to do it every day, everywhere you go.
Using a VPN on your Chromebook is not a geeky approach to online security. It is a must-have and you should have a VPN at hand.
Make sure that you:
Have a VPN app or VPN extension installed on your Chromebook.
After you find a worthy VPN provider and you find out about a VPN deal subscribe to the annual plan. Thus, you make sure you have the account active when you need it.
Enable the Always-On VPN feature (if available) to ensure that all Internet traffic on your Chromebook will go through the VPN tunnel.
Do not install VPN apps from obscure VPN providers. Take your time and inform yourself or ask a friend.
Summary
Although Chromebooks generally don't need antivirus software and are more secure than devices using Windows, they are still vulnerable to network-based threats that are OS-agnostic.
Protecting yourself against these is easy to do by using a VPN. It can be implemented by using a Chrome browser extension, using an Android app, or manually configuring the VPN client.
Of the three methods, using an Android app is probably the best, providing your Chromebook is supported and runs the latest version of Chrome OS.
Finally, I am sure that you will need more tips on how to use a VPN on your devices. Subscribe to our newsletter (below) and we will send you regular and funny updates. You will make a Transylvanian baby-bat happy. 😃
About the Author