Let's take a moment to think about childhood, shall we? I can bet that most of the memories that come to your mind are play-related. And that's great, because playing helped us develop our creativity, imagination, dexterity, and it clearly contributed to our emotional strength.
While growing up, we switched from playing hide and seek to playing Uno, Catan, or Beer pong while in college. With the Internet's incontestable expansion, we switched from playing to gaming. And guess what! The online gaming industry is now bigger than movies and music industries combined! No wonder why games are now released on a conveyer belt.
Since there are online restrictions applied for streaming services like, Youtube, BBC iPlayer or Netflix, it is somehow expected that such bans are applied to games as well.
The great thing is that for most of the online restrictions that exist on the Internet, with the help of Shadowsocks or a VPN with obfuscation options, you can touch the untouchable. When it comes to accessing online games, a VPN for gaming does an impressive job of bypassing internet censorship and the GFW with just a click.
This article extensively explains what is gaming VPN, why you need one, and what is the best VPN for gaming.
Before reaching the hot topics of this article, let's enjoy a cool Transylvanian explanation of what is gaming VPN.
What is gaming VPN? The Transylvanian explanation.
In Transylvania, the lockdown seemed like it will never end. As responsible citizens, we respected the Government's regulations as strictly as possible, and three months later, we can say that we (almost) won the war with the pandemic.
By far, one of the collateral victims of this pandemic was TomBat, who got to spend all the past months in PonyBat's exclusive company.
The first weeks? Heaven on earth. They spoiled each other, and they made the most out of every moment. Until one day, when frustration kicked in and PonyBat turned from the sugar plump candy girlfriend into a maleficent dark fairy. She suddenly had high requirements and expected TomBat to turn into her full-time chore-slave.
He gladly did the dishes, until doing the dishes turned into dusting, doing the laundry and vacuuming, tasks that prolonged until late night hours.
This radical change in PonyBat's attitude found TomBat off guard, as he had no more time to play his favorite online baseball game. He loves playing baseball on his mobile phone, as baseball implies a baseball bat. I hope you can see what I did there.
Anyhow, he came up with a solution to trick PonyBat into leaving him alone. So, after finishing his afternoon chores routine, he pretended to be really tired and in desperate need of a nap.
To trick PonyBat into thinking he's sleeping, he hid a pillow under the blanket, so he created the idea that he is in the bed, while, in reality, he was hiding under the bed playing his favorite baseball game.
Since he successfully completed the lockdown period with PonyBat and many levels in the online game, I get the sense that PonyBat never discovered his trickery.
This example applied in the real world describes exactly what gaming VPN is and how does it world.
Therefore, anytime you enable a VPN connection (TomBat's trick, in our story), you trick a website (PonyBat) into seeing your location like an eligible one (on the bed, not under the bed). So, if a certain game is available only in the USA and you're located in Germany, with a VPN, you can change your IP address, and trick websites into seeing your location as an accepted one.
Only if tricking our parents when we were kids was as easy as using a VPN is, right?
Let's quit playing imaginary games! What is gaming VPN in RL?
I am pretty sure you already heard about VPN technology, and even if you're not 100% sure what it is or how it works, you might be familiar with the term.
Well, VPN stands for Virtual Private Network, which is a complete solution for privacy, anonymity, and online data security. Things can get pretty dark on the internet with all the cyberattacks, internet censorship, and ISP surveillance, and coming up with such a solution like VPN was somehow expected to happen at some point.
Even if the VPN started to gain popularity only a few years ago, this technology exists for a long time. Developed as a solution to allow corporations to safely access their networks, the VPN became popular due to its impressive list of advantages and appliances.
From busy businessmen, creative marketers, avid streamers, to overly-protective grandparents, a huge number of internet surfers use a VPN ATM.
Therefore, when we speak about the VPN, we automatically refer to software that allows internet users to enable a private scope of communication between their device and the World Wide Web. As all VPN connections imply encryption, all the data transmitted over this connection will remain private, secured, and away from prying eyes.
How does gaming VPN work?
As already mentioned, with a VPN, the sky is the limit. That's why you may stumble upon different VPN names like VPN for streaming, VPN for torrenting, Tor VPN, and many more. The thing with these names is that these are specialized VPNs that help users accomplish different online goals like accessing blocked streaming websites, download torrents securely, and maximize online privacy while using Tor.
No matter what type of VPN we are discussing, the working principle is exactly the same.
Therefore, in order to properly work, a VPN for gaming combines three main components – a VPN server, a VPN protocol, and an encryption standard.
Anytime you enable a VPN connection, you automatically connect to the VPN server, which assigns you a brand-new IP address. Helped by the VPN protocol and the encryption standard, the VPN server encrypts your traffic and securely transports it to its destination on the web. As this process is reversible, not only the data that is sent from your device is encrypted, but the one that comes as a response is encrypted too. In this way, we can talk about complete anonymity, security, and privacy.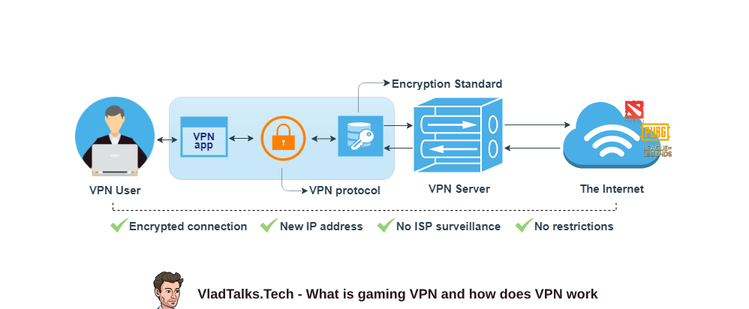 So, if you're located in a country where a game is not available, you just need VPN software on your device. Pick a server located in the country where the game is accessible, and let the VPN do its game. Within seconds, you will be able to break the censorship spell and enjoy games like PUBG, LOL, or Dota.
Advantages of using a gaming VPN.
A VPN is like a game power-up. Besides the fact that it is really easy to use it on your PC or laptop and it's a valuable investment, here's what other benefits a VPN for gaming brings along:
Download, play or even buy games that are not available in your location.
Ensure your online anonymity, encrypt your gaming traffic, and play games in complete security anywhere in the world.
Avoid having your bandwidth throttled.
Avoid DDoS attacks or any other online threats that may interfere with your gaming activities.
Reduce ping times and improve lag by connecting to high-performance VPN servers, as a VPN may increase Internet speed.
Install the VPN on your VPN router and enjoy your favorite games directly from the gaming consoles that otherwise don't support a VPN connection.
Disadvantages of using a gaming VPN.
Before unlocking the next chapter of this article, I have to highlight the downs that come along with using a VPN.
The best VPN for gaming is not free, meaning you will have to take some money out of your pocket. Even so, avoid free VPNs by any means (as well as lifetime VPN subscriptions), as such services are hazardous.
You may experience speed drops. Because of the high encryption level, you may experience VPN speed reduction while using the VPN. To overcome this inconvenience, you can opt for a lighter encryption protocol like PPTP, or if the situation allows, you can go for WireGuard, a super-secure protocol that does not affect speed as much as OpenVPN, for example.
Not all devices and gaming consoles support VPNs. Even so, this situation can be easily solved with the help of a VPN router like Vilfo.
How to use a gaming VPN?
Dota lovers, I am sure you know how easy it is to cast a spell during a game. Using a VPN is just as easy.
To enable a VPN connection on your PC or gaming laptop, you just need a VPN installed on your device. A VPN app is automatic and controlled software that helps it's users enable a VPN connection and generate VPN traffic.
Yet, the mission becomes impossible when we talk about gaming consoled that do not support VPN software or manual VPN configuration.
In such a case, a VPN router proves to be really helpful. And if this is your case, there is an extensive explanation on my blog on how to easily configure a VPN connection on your router. Make sure to check it out and learn how to level up your mainstream internet connection.
With a powerful VPN, you can play with your connection.
For some internet users, having all their traffic router via the VPN server is not necessarily a desirable approach. You must know that VPNs come with plenty of advanced features that help you enhance your online experience while surfing the web.
Some great examples are the security features like Kill Switch (application kill switch and internet kill switch), DNS leak and IP leak protection, and even WebRTC leak protection.
The cherry on top of such features is split tunneling, a feature that allows you to split your connection and decide what data goes through the VPN server and what data goes via your regular internet connection.
While gaming, this feature proves to be really useful, as you probably want to access only a restricted website, and the rest of your traffic needs to be left untouched by the VPN.
Therefore, when you opt for a top-notch VPN service, you can enjoy a series of features that take your overall online experience at the next level.
What are the best VPNs for gaming?
The performance of a VPN is influenced by many factors such as the server load, the distance between your real location and the server's, and even by your normal internet speed. That's why, to create a list of best gaming VPNs is almost mission impossible.
Even so, before making a decision and choosing the VPN to put all your trust into, it's important to test the VPN by yourself. For that, a VPN trial can prove to be really helpful.
You can start your VPN journey by testing the following two great VPNs for gaming that I regularly use:
ibVPN is like a dinosaur. This provider has an impressive history on the market, and puts on the table out-of-the-box features not many providers support. What I love about ibVPN is their constant commitment to their customers, their perseverance, and their obsessive attention to details. ibVPN works on the most popular operating systems and comes with a complex knowledge base filled with useful tutorials on how to manually install VPNs on different devices, even on gaming consoles.
As this provider supports a 24 hours free trial, you must give it a try and draw your own conclusions.
To use ibVPN for gaming purposes, just open their app and look for the specially created gaming servers. Connect to the server and enjoy the perks of surfing like a pro.
Note: Even if their Windows app may look complicated, you should give it a chance and try all its useful features.
CyberGhost has over 6 years of experience in providing anonymity, security, and privacy solutions for people around the world. CyberGhost is suitable for the most popular operating systems on the market, and all of its apps are lite and super well looking. A huge plus of CyberGhost is that it provides the popular split tunneling feature, meaning that you can play with your connection as much as you want.
Just like ibVPN, CyberGhost provides a free trial, so hurry up, install the app, connect to a server, and enjoy your favorite game.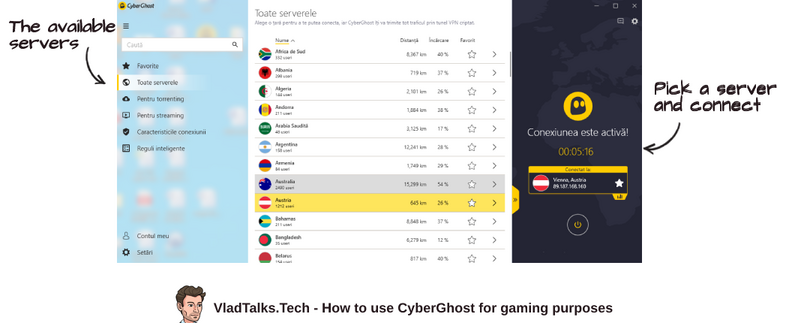 Bonus – NordVPN. Even if you're new with VPNs, I am sure you already heard about NordVPN. This provider has a top position on most VPN reviews websites. NordVPN's peformance is flawless, the apps are all intuitive and easy to use, and it does a great job at unblocking streaming services too.
Unfortunately, NordVPN does not provide a free VPN trial, but I promise that if you decide to buy it, you won't have any regrets.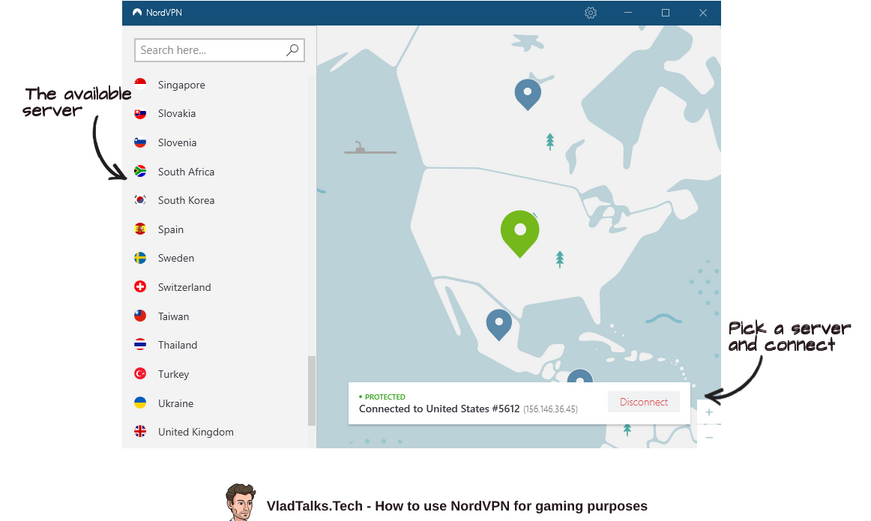 Gaming VPN FAQ.
Even if using a VPN is really easy for the end-user, especially since VPN apps do all the work, the whole concept is complex, so additional questions are more than normal.
Here is a list of the most popular gaming VPN FAQ:
Will I be able to access any geo-locked game?
Geo-blocking is one of the most popular internet censorship techniques. Just like streaming services, games are blocked too. A powerful VPN is usually able to bypass restrictions and enable your access to hype games. Keep in mind that, just like streaming services, not all VPNs succeed in the unblocking mission. That's why testing is essential. Good luck!
Will the VPN boost my gaming experience?
It depends on what comes to your mind when you think about boosing your gaming experience. The VPN helps you secure your connection and it provides access to blocked content but, in some cases, it may slow down your connection speed.
Will the VPN protect me against DDoS attacks?
A VPN hides your real IP address. Considering the fact that DDoS attacks target your IP address to bring your connection down, technically and theoretically you're safe and sound, as your real IP address is replaced with the server's IP.
Can I use a gaming VPN for different purposes?
Yes, of course. You can use your gaming VPN for streaming and P2P activities, or simply to encrypt your regular internet traffic.
What happens if I change my mind and no longer want to use a VPN?
In this case, you need to simply uninstall/delete the VPN from your device. This operation can be performed within seconds, no matter if we talk about VPN on Windows, VPN on macOS (learn how to remove the VPN from Mac), or Android devices.
It is legal to use a VPN for gaming?
VPN technology is legal and safe to use. Yet, there are a few countries regulating VPN usage. Check this article and learn everything you need to know about this topic.
Do you have any other questions?
I love answering tech questions. Make sure to drop me a line in case you need additional details. If you're too shy to write an e-mail, just sign-up for our newsletter and stay up to date with the latest VPN news.
The game is not over yet.
Mission accomplished! You successfully completed reading a damn long article discussing the basic details any gamer should know about a VPN for gaming.
Before closing this subject, I feel the need to mention that we should be aware of all the things that happen on the internet. The World Wide Web is filled with many dangers, therefore, we should act responsibly and get a VPN not only to enhance our gaming experience but our overall online experience.
About the Author