Influencer – the word that has been used in English since the mid-1600s, faced a meteoric rise in the last couple of years. The power of the word influencer rose hand in hand with Instagram, where everyone is an influencer. By the way, I am an influencer, too, as I try to raise awareness on the importance of a VPN in 2020. Besides, I own an Instagram account myself, so allow me to influence you into following me. 👣
Anyway, not only people influence people. In IT, the performance of a component influences the overall performance of certain software or application.
The same principle applies when we talk about VPN technology.
The VPN is the key that opens the door to infinite possibilities, from online privacy and security to complete anonymity. The way its components work influences the overall performance of the service.
But which is the top influencer between the VPN server, the encryption standard, and the VPN protocol?
Well, let me reveal the mystery. The prize for the influencer of the year in a VPN connection goes toooooooooo (drum roll) THE VPN PROTOCOL.
As there are plenty of VPN protocols, which is the most experienced VPN protocol influencer on the market? The OpenVPN protocol.
In this article, you will find out what OpenVPN protocol is and why it is the most influential VPN protocol these days.
OpenVPN explained in the Transylvanian way.
In Castlevania, September is the most anticipated month of the year, as bats get to enjoy their favorite fruits.
PonyBat spends a lot of hours on InstaBat (the Instagram for bats) to check the latest recipes posted by her favorite food influencers – Batonna, Batney Speaks, and Batyoncé.
By following the recipes posted by these InstaBat divas, PonyBat can cook the most delicious pies and tarts for TomBat.
Her favorite influencer is, by far, Batyoncé, and I totally get why. Batyoncé has the most followers, due to the fact that she posts high-quality content. Plus, she uses the proper hashtags, so PonyBat can easily check her latest #AppleTartRecipes.
These are the most important 3 elements any influencer should aim to accomplish.
Let's look at things from the VPN perspective.
In the VPN world, the VPN connection's top influencer is OpenVPN.
Here's why:
Followers – OpenVPN is (still) the most popular VPN protocol in 2020.
Quality – OpenVPN is popular for an excellent reason – the high-quality VPN connections it provides, as it is super-stable.
#security – hashtags are essential on Instagram, and OpenVPN knows everything about #security, as it uses the OpenSSL library to provide encryption for your data and the control channels.
What is the OpenVPN protocol?
We like to learn smart. That's why, for starters, we need to make sure we understand what a VPN protocol is.
So, a VPN protocol is a successful mix between transmission protocols and encryption standards without wasting any more time. In elementary words, the VPN protocol (or tunneling protocol) is an important influencer for your connection, as it leads the data between your device and the VPN server.
OpenVPN is actually both a VPN protocol and software that is capable of securing point-to-point and site-to-site connections.
Besides being the most popular protocol, OpenVPN is the only open-source VPN protocol that has his own open-source application.
All the credits go to James Yonan, the person who programmed and released OpenVPN back in 2001. As in 2020, OpenVPN turns 19, we all need to drink a glass of Transilwine to celebrate all the benefits OpenVPN brings to the online world. Cheers!
How does OpenVPN work?
OpenVPN works bloody-good! Just like PonyBat needs to follow a recipe while baking the yummiest pie in Castlevania, OpenVPN needs to follow a recipe for success to provide you a secure VPN connection.
Here's why OpenVPN can create a secure tunnel between the VPN client software and the VPN server.
To transmit data over the internet, OpenVPN uses either UDP or TCP protocols. TCP (Transmission Control Protocol) and UDP (User Datagram Protocol) are transport layer protocols that run on top of the Internet Protocol (IP). Moreover, TCP is a connection-oriented protocol, while UDP is a datagram-oriented protocol.
The fact that UDP does not perform error checking during the connection makes it faster than TCP. This is the reason why the OpenVPN Access Server tries to establish the connection via UDP first. In case the connection is not possible, OpenVPN will establish the connection via TCP.

OpenVPN uses the OpenSSL library to provide 256-bit encryption for data and control channels. OpenVPN runs a custom security protocol that utilizes SSL/TLS for key exchange.
For extra security, it can also use HMAC packet authentication known as HMAC Firewall.
OpenVPN compatibility.
The compatibility of a VPN encryption protocol with different operating systems or devices is critical.
If you don't own a Godzilla device with a unicorn operating system, then you're in the safe zone.
OpenVPN client is compatible (or it can be set up) on the following platforms: Linux, FreeBSD, Solaris, OpenBSD, NetBSD, macOS (learn how to set up OpenVPN on Mac), QNX, Windows XP (and later), Windows Mobile, iOS (learn how to set up the OpenVPN app on iPhone/iPad here), and Android (learn how to set up OpenVPN on Android).
Keep in mind that even if OpenVPN is open enough, it is not compatible with VPN clients that use IPsec over L2TP or PPTP VPN protocols.
Is OpenVPN secure?
In Transylvania, we eat a lot of garlic to keep vampires away, and we use the VPN to easily hide our IP address, change the virtual location, bypass internet restrictions, and encrypt our traffic.
Is OpenVPN strong enough to keep the online dangers away? Well, let's find out!
One thing is sure, OpenVPN is believed to be one of the safest VPN protocols nowadays. The 256-bit encryption and high-end ciphers (AES, Camellia, 3DES, CAST-128, or Blowfish) provide their security . This fatal combination ensures you the peace of mind that your files are impossible to decrypt. Plus, based on an audit performed in 2017, OpenVPN had only a few minor bugs that were fixed right away.
So, my friend, I highly recommend OpenVPN for your security and peace of mind.
Is OpenVPN fast?
You must know that I am an honest man, and I don't intend to lie to you or mislead you. OpenVPN is super secure, but speed is not something OpenVPN excels at. As mentioned before, this transmission protocol uses the highest level of encryption possible and advanced methods for encapsulating your data, facts that imply a lot of resources.
Should you try to use OpenVPN and get an unsatisfying speed, make sure to switch your connection to OpenVPN UDP. Just like I already said, UDP does not perform error checking, so the overall speed and performance of your connection may improve. Of course, many other factors may affect OpenVPN's speed, such as the servers' overload, the distance between you and your ISP, and even the hardware components involved in the connection.
Advantages of using OpenVPN.
OpenVPN opens the door to online security and privacy, that's for sure.
Here are other positive aspects OpenVPN is characterized by:
OpenVPN is an open-source VPN protocol. Why is this important? Anyone interested in benefiting from all the positive aspects of OpenVPN can use the protocol without paying a penny. Besides the official OpenVPN team, other developers can test or research OpenVPN's performance and implement all kinds of improvements.
Security. OpenVPN provides 256-bit encryption and high-end ciphers. What does this mean? Complete privacy, security, and anonymity with your ISP and any other third party that may want to spy on your data.
Compatibility. As OpenVPN runs on different kinds of devices and platforms, it is suitable not only for advanced users but also for newbies.
OpenVPN is powerful. Deep packet inspection and firewalls are easily bypassable with OpenVPN, as it combines both TCP and UDP, making your VPN traffic look like regular HTTPS traffic.
OpenVPN supports Perfect Forward Secrecy, a very secure encryption method that helps you fight against multiple online dangers.
Split tunneling. OpenVPN can be easily used for implementing VPN split tunneling, as explained here.
Disadvantages of using OpenVPN.
Another thing that is great about OpenVPN is that it has plenty of upsides and only an insignificant number of downsides.
Here is a small list of things that put OpenVPN to shame:
Speed. OpenVPN is not so great when it comes to speed, but it happens to be the greatest when it comes to security. I am not even sure if this is a downside or an upside… well, I think it's all about the perspective you decide to look at things from.
OpenVPN requires additional software to work. So, even if OpenVPN is compatible with multiple operating systems, it doesn't come preinstalled or preconfigured on the device.
Complex manual set-up. You can benefit from all the advantages OpenVPN brings by setting it up on your own or by getting VPN software provided by a VPN service. If you're a folk in the first category, get ready, as a list of complex and complete instructions are waiting for you.
How to use OpenVPN?
I am glad that we're on the same boat, and you find OpenVPN usable, just like TomBat finds PonyBat kissable. If you're not aware, this part is written by TomBat, as a love statement to PonyBat… only if she would stop following all those influencers on Instagram and start paying attention to these useful blog articles.
Now that you know what Open VPN protocol is let's learn how to use it. Here are your 3 options:
Connect to OpenVPN via a VPN provider's VPN app.
Configure an OpenVPN connection manually.
Enable an OpenVPN connection manually without having a VPN provider.
Connect to OpenVPN via a VPN provider's VPN app.
Diamonds are a girl's best friend, and virtual private networks are our best friends forever. If you're lucky enough to find a VPN provider that meets your needs, you will be able to enjoy VPN encryption, secure VPN tunnels, and an OpenVPN encrypted connection with just a click.
A VPN app or VPN client is an automated and controlled software that helps you enable a VPN connection without much hassle. In straightforward words, when you decide to use a VPN app, all you need to do is to pick the desired VPN protocol from the encryption protocols list and the VPN server. The last step is to press the big connect button, and, in a blink of an eye, you can browse securely, unblock social media and streaming websites, accessing Youtube, gaming websites, secure your P2P file-sharing activities, and bypass firewalls. Don't forget to test your VPN to make sure you avoid the mighty leaks!
Thus, if you need to enjoy a secure protocol, like OpenVPN, all you need to do is to install a VPN app, and you're all done. Internet security, privacy, and anonymity at your fingertips – literally.
Just check the example listed below. For this representation, we chose a VPN service we consider one of the fastest VPN on the market – ExpressVPN, and their Windows VPN client.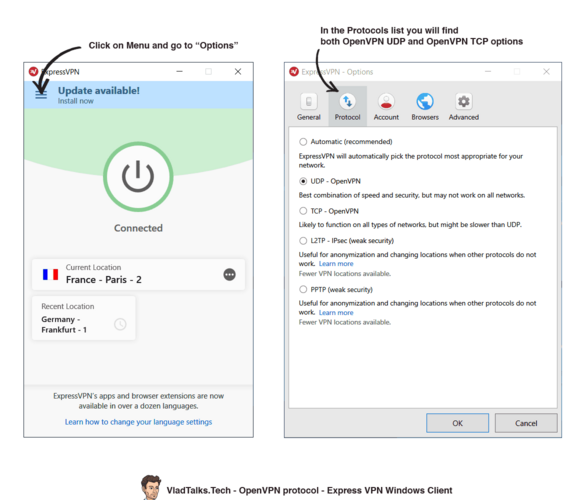 See? It is as simple as that! And, trust me, VPNs are more useful than the diamonds are! Use them smart, not hard!
Configure an OpenVPN connection manually.
You're stubborn, aren't you?
Aren't you convinced yet that a VPN app is making your life easier? Configuring OpenVPN while you have a VPN subscription is not a great idea unless, of course, there's no app available for your device. This may be the case of VPN routers or special OSes like pfSense.
To make an idea on how to set up an OpenVPN connection for a VPN router with DD-WRT firmware, check this comprehensive tutorial CyberGhost provides for its users.
Still, if you're interested in how to use OpenVPN on a Microsoft Windows device with Windows 10, here's a tutorial provided by NordVPN, probably the best VPN available.
Be prepared to download the OpenVPN GUI application, the configuration files, and many more.
Aren't you scared yet? No? OK!
By the way, anytime you will want to switch the server, you will need to follow the manual setup again and again and again.
What can I say more? Good luck, you curious spirit!
Enable an OpenVPN connection manually without having a VPN provider.
Are you a Transylvanian? I am asking this because you're fearless. Are you sure you know what you're about to do? Setting up an OpenVPN connection manually is for advanced users only! If you want to enjoy a VPN connection and surf securely, trust me, you want to skip this step.
OpenVPN explains on its website all the steps you need to follow. Here is the manual setup tutorial.
And here is an image with all the things you need to acknowledge before starting. What do you think about the OpenVPN server setup information?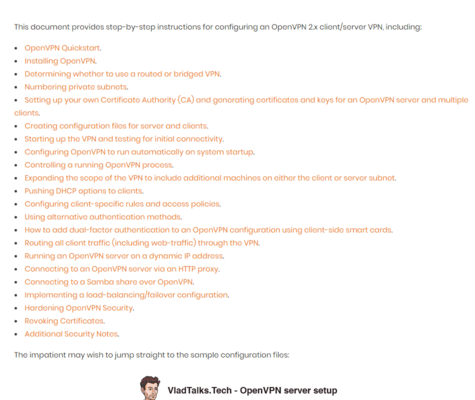 Alternative options to OpenVPN.
There are a handful of VPN protocols on the market. Now that you know what is OpenVPN protocol, you may be curious if there are better alternatives for it.
The truth is that there are other highly-performant VPN protocols, but the king remains OpenVPN, in my opinion.
Based on security, compatibility, and connection speeds, here are other good examples of VPN protocols you can try.
SSTP (Secure Socket Tunneling Protocol)
SSTP has a history on the market and, just like OpenVPN, is considered one of the most secure VPN protocols. SSTP offers 256-bit encryption for the VPN connections and is as fast as OpenVPN.
The big downside of SSTP is that it is compatible only with Windows and a recent version of Ubuntu. This being said, if your own a device operating on a different platform and want to use a VPN on Mac, for example, SSTP is pretty useless to you.
PPTP (Point-to-Point Tunneling Protocol)
PPTP is an old vampire you want to avoid in case you need a highly-secure and private tunnel. PPTP is super-fast, as it uses a light level of encryption (only 128-bit), but this represents a huge NO for your security. PPTP can be used on various operating systems, but it is no longer available for the latest macOS versions. So, if you need to surf freely or easily hide your IP address, then PPTP is always a good idea.
L2TP (Layer 2 Tunneling Protocol)
L2TP is another popular VPN protocol supported by the majority of VPN providers. With great encryption, acceptable speed, and a satisfying list of compatible platforms, L2TP may seem a good option to try.
Stealth VPN
As you may have seen, Stealth VPN's name is slightly different from the names of the protocols already presented.
Stealth VPN borrowed its name from the Airforce, as stealth is a popular term used to describe Airforce planes. Just like these planes, Stealth VPN can bypass firewalls without being detected. Using a technique called obfuscation, Stealth VPN can make your VPN traffic look like regular web traffic. This advantage may represent a huge plus for people living in countries like China or Egypt and fighting internet censorship daily. The secret is that Stealth VPN uses OpenVPN encryption, as it offers the best combo between encryption, speed, and compatibility. So, we can say that Stealth VPN is like an upgraded version of OpenVPN that you can try in case you face DPI and internet censorship.
WireGuard
WireGuard is a new VPN protocol that seems to be faster than OpenVPN. It is regarded as the future of VPN protocols due to its simplicity and speed.
Let's jump to a conclusion.
What do you think? Do bats jump or fly to conclusions? I will need to ask TomBat, as I don't really know what's the concrete answer.
However, when it comes to concluding the impact OpenVPN has on your overall online experience while using a VPN, one thing is for sure. OpenVPN is the right choice to make for online security, anonymity, and privacy.
There are other options you can try, but keep in mind that OpenVPN is both an open-source VPN protocol and a VPN software you can use to enable a VPN connection.
Even if OpenVPN reached its legal age, you don't have reasons to believe that it's an outdated technology. On the contrary, OpenVPN's basis consists of countless hours of development and continuous improvement, making it the VPN protocols community influencer in 2020!
Happy Virtual Private Networking, folks!
About the Author