Youtube is, by far, one of the most popular websites. Since its purpose is to give voice to everyone interested in making a statement, Youtube became the perfect tool for artists to show off their work and, lately, for vloggers to speak their minds out.
Similar to BBC iPlayer, Netflix, or Spotify, Youtube is not available worldwide, or the content available in the U.S. may not be the same as the one available in Romania. A Youtube VPN can prove to be really handy in case you're interested in checking out what Youtube has in store in other countries or for getting access to Youtube Premium, a service that is available only in certain countries around the globe.
And since you're here, let's test if this Youtube video presenting magnificent places of Romania/Transylvania is available in your location. Check the comments section too. I bet people's feedback will make you wanna buy a ticket and visit my country.
I am not here to speak about tourism, so that I will introduce you to the Youtube VPN solution through my traditional Transylvanian story.
Enjoy!
The Transylvanian explanation of what Youtube VPN is.
Even bats love to go to the theatre. When TomBat was an adolescent, occasionally, spectacular plays were held for each bat colony in Castlevania. As the seats were limited, for getting a ticket, bats had to prove that they live in the region where the plays are taking place.
Given that, at that time, adolescent bats did not have many places to go out, each theatre play was something worth attending. Since you could make it in only by showing your ID, TomBat and his friends had to find a solution to trick the system.
In Transylvania impossible means that you haven't found a solution yet. And Tom was motivated to find one.
In TomBat's neighborhood lived a genius bat that helped the community with several tasks before. Therefore, he was TomBat's solution so he visited the geeky bat, and explained to him why he seeks his help.
Not long after that day, TomBat heard an ultrasound emitted by his neighbor, and he knew that it is time to pay him a new visit.
The geekybat made three IDs with a fake location so TomBat and his friends can make it in at the next play.
When the time of the play came, Tom and his mates gathered up their courage, took the IDs, and headed to the theater.
At the entrance, the BodyguardBat made sure to check the IDs of each bat, before handing them the ticket and allowing them to get in.
As TomBat and his friends had an ID proving their location as an eligible one, they made it in without a struggle.
This is pretty much how a Youtube VPN works. Let's say that you live in the US, but you're curious to see what's trending on the Romanian Youtube. You need a VPN, connect to a VPN server located in Romania. And this is how simple you trick Youtube into seeing your location as an eligible one.
Disclaimer: things trending on the Romanian Youtube as pure trash, so you better try your luck with a Youtube version from another country!
What is Youtube VPN, and why is it so popular?
Youtube puts media in the New Media Age. And as most of the cool tools like Google Translate, Chrome, or Maps, Youtube is provided by Google, the king and the ruler of the Internet. P.S.: Google, I hope you're reading this and place my blog in the first positions on Google Search. Yeah, this is how great at SEO I am. But let's leave SEO in specialists' hands, and get back to the subject I master – the VPN.
Since Youtube creates a perfect environment where artists, activists, vloggers, and freaks gather, it is somehow normal to attract people's attention and interest in checking everything that's trending on the platform. As happens to most social or streaming websites, Youtube is geo-blocked in some countries, or there's content available only for certain locations.
You must know that if there's a will, there's a way, and the solution for you is to use a Youtube VPN.
Youtube VPN uses VPN technology to create a private means of communication between you and Youtube. The easy-to-use solution helps you change your IP address and trick Youtube into seeing your location as an eligible one. The final result of this workaround is you can access whatever you want, whenever you want.
If it happens to you to be a curious spirit wandering the Internet for the latest tech news, you might have heard similar terms to Youtube VPN, like gaming VPN, torrenting VPN, obfuscation, or even more specific ones like BBC iPlayer VPN or Netflix VPN. You must know that these are not special VPNs that work only for gaming, torrenting, or streaming websites. When you put Netflix, Youtube, or gaming near the VPN word, it means that a specific VPN does a great job at unblocking these websites, and it can be used for all the tasks you have in mind that require a VPN.
Why is Youtube geo-blocked?
The geo-blocks applied to Youtube are not that hardcore, as in the case of BBC iPlayer, Netflix, or Pandora. There are a few countries where Youtube is not available due to the government's censorship or due to copyright restrictions. Besides this, each Youtube user can make his videos available only to his region or preferred countries. When this thing happens, you get a notification saying, "The uploader has not made this video available in your country." If you're a fan of that account, this situation can feel a little bit frustrating.
On the other hand, Youtube is also restricted on a small scale, let's say. For example, schools and universities can block Youtube access to make sure students are not distracted by videos during classes, and companies may also restrict Youtube at the workplace to ensure the highest level of productivity possible. I somehow can understand this last situation, as it happens for me to look for a tutorial on Youtube and end up watching Slow Loris eating rice balls.
No matter what type of censorship you're dealing with, when it comes to unblocking Youtube, a Youtube VPN can prove really helpful. So, let's see how this solution works.
How does Youtube VPN work?
Youtube VPN is a regular VPN that worth every penny and does a great job of allowing you to watch EVERYTHING that Youtube has to offer. Therefore, the mechanism moving its gears is no different than the one used by a usual VPN. To activate a VPN connection, you will need a VPN app or the VPN manually configured on your device. VPN software is my favorite since VPN providers have in store apps available with the most popular OSs and devices. Moreover, when you use a VPN app, you can always swing between protocols, VPN servers, and activate extra privacy and security features with just a click.
The working principle of a Youtube VPN is as simple as it follows: you connect to the VPN server (no matter if you use a manual setup or an app), the VPN server receives your data and, helped by the VPN protocol and the encryption standard, it encrypts your data, and it securely transports it to its destination on the web. The same thing happens when the data is sent back as a response, meaning that the whole VPN connection is encrypted from an end to another and, also, back and forth.

The whole process described in words may sound complicated, but, in reality, it happens in a blink of an eye. It's like bats' ultrasounds – you can't hear it, but it's there. As simple as that, you can gain access to Youtube in all its forms, meaning that you will be able to unblock Youtube Premium (Red), Youtube TV, and Youtube Music.
How is Youtube VPN affecting my speed?
On the Internet, speed is everything, especially when we talk about streaming our favorite media content. The speed of your connection is crucial when it comes to accessing Youtube. Therefore, many users may ask themselves if a VPN affects your connection's speed, as this technology implies encryption. As per a study I have conducted, I was able to prove that a VPN may, in fact, improve the speed of your connection. Of course, there are many variables to look at, like your regular speed, how performant your VPN is, the distance between you and the server location, server load, and so on.
However, the fact that a VPN affects your speed is no gospel. You always have to test a VPN before actually paying for it, so you can check all by yourself if you're happy with its overall performance and additional features like split tunneling or Kill Switch.
Can I use proxy instead of Youtube VPN?
Like the VPN, proxy technology became popular among internet users. Since it does a great job of anonymizing your traffic, it was also used as the base technology for developing solutions like Shadowsocks.
Proxy technology is a solution that you can keep in mind, as it is capable of changing your IP address and give you access to geo-blocked content. Compared to the VPN, a proxy offers no encryption, meaning that hackers or your ISP can see in plain text everything you do online.
Several VPN providers focused their attention on developing complete privacy and security solutions and included proxy technology in their list of features. They are referring to the proxy as VPN browser extensions or VPN browser addons. This terminology is somehow wrong, in my opinion, as users may think that such extensions provide military-grade encryption too, which, in fact, is not true. However, proxy browser extensions are easy to use and super effective at changing your IP address and giving you access to blocked content worldwide.
A great example of an easy to use proxy extension would be NordVPN's solution. By taking a closer look at what they state on their website and in the extension interface, it seems like they use Transport Layer Security (TLS v1.2), a cryptographic protocol that provides end-to-end security. So, thumbs up, NordVPN, for going the extra mile for your customers!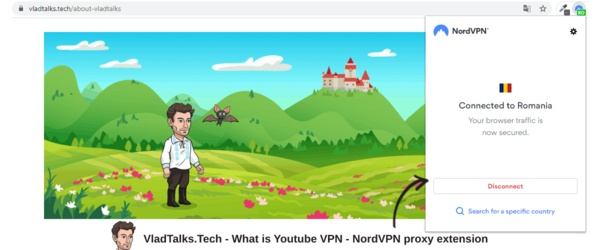 Youtube VPN vs. proxy.
If you're not really sure what to choose between VPN and proxy, let's take a look at things from a different, simpler perspective.
| | |
| --- | --- |
| YOUTUBE VPN | PROXY |
| It is easy to use | It is easy to use |
| It changes your IP | It changes your IP |
| It helps you access blocked websites | It helps you access blocked websites |
| It encrypts your traffic | Uses no encryption |
| It may be pricy | It has reasonable price |
What is the best Youtube VPN?
Luckily for all of us, Youtube's VPN detection algorithms aren't as advanced as Netflix's or BBC iPlayer's. Therefore, there is a handful of Youtube VPNs you could opt for when trying to enjoy forbidden versions of Youtube. Here's a selection of my favorite VPNs for this task:
Express VPN
One of the best VPNs based on its overall performance is the Express VPN. As many of you may expect, Express VPN does a great job in unblocking media streaming websites, including all Youtube's versions. They even like to brag about how great they are at this task through a special page created on their website, where they describe why Youtube is blocked and how their service helps users overcome censorship. The VPN provider has a list of 160+ lightning-fast VPN servers located in the most-wanted countries worldwide. So, if you have the budget, Express VPN is clearly the top-pick for every folk interested in getting a VPN.
NordVPN
I guess there's a trend among providers of having a page where they are extensively presenting what they're good at. Just like Express VPN, Nord VPN is another provider that has a page dedicated to their Youtube VPN solution.
NordVPN is great, not only when it comes to bypassing Internet censorship but also when we speak about their experience while you're using their apps, the impressive number of 5400 VPN servers, and the great prices they spoil their customers with. NordVPN offers a perfect balance between price and super-high quality.
CyberGhost
And yes, CyberGhost has a Youtube VPN page all by itself too. CyberGhost is a Romanian VPN solution launched in 2011 that gained a lot of popularity during the time. Based on its fast-growing trend, the VPN solution has been acquired by Kape Technologies that is currently the provider's parent company.
Even if CyberGhost is now Romanian only in theory, I still like to call them our neighbors and highly recommend their service, as they do a really great job at contributing to users' privacy, security, and anonymity. If I was able to arouse your interest in them, you could try the service right away, as they offer a 24 hours VPN trial. So, are you ready to check what is trending on Youtube in other countries?
Get creative with Youtube VPN!
You never get bored on Youtube. Plus, the platform is a great place to share your thoughts, opinions and make your voice heard. No, really, you can make your voice heard, literally, as producers found many popular singers on Youtube.
If this is not a good argument to make you want to explore more of what this media website offers, then I don't know what is.
Before exploring its portfolio, be aware that you may not explore it at its full potential since some content can be geo-blocked. In such a case, a Youtube VPN will come in handy, and it will open for you an Internet without restriction.
A Youtube VPN shouldn't scare you because it is super easy to install and use. Do you know what else is super easy? Subscribing to my newsletter and staying up to date with the latest trends in tech. Use the form below and be in the know!
About the Author