1991 was an epic year, as two legends were born that year – the Internet and me as we know it today.
So, here's how things changed…
Growing up, there was a constant bat-tlefield between my mother and me. She's overly-protective, so she came up with all sorts of restrictions daily. Of course, these "restrictions" affected me in a very positive way, a thing that I was able to realize only a while ago.
However, I think that the odds are not in my favor, as today I face different types of restrictions.
These restrictions are none other than the ones that exist online, on the Internet – the mighty online restrictions and internet censorship.
So, it seems that my brother from another mother, aka the Internet, ended up experiencing limitations that take many forms, even if it was born free.
"Information superhighway" is a popular term used to describe the Internet in the early 90s. However, things changed ridiculously much, as geo-restrictions are transforming the Internet from a highway to a dirt road filled with potholes (just like the roads of the beautiful Viscri village, from the heart of Transylvania).
Geo-restrictions, online filtering, firewalls, DPI, online blocking, or throttling blend all into a giant called Internet Censorship.
By the way, if internet censorship would have been developed in Transylvania, it would look like an old and powerful vampire, lurking at the internet's corners, always blocking requests.
In 2021 more and more internet users face such restrictions. If you're having the same problem, have no fear, Vlad is here to explain how a VPN can help you circumvent internet censorship.
Internet censorship – the Transylvanian explanation.
The things work pretty great between PonyBat and TomBat. Since they're in such a promising relationship, the situation may end-up with a sumptuous wedding, with figs at the main course, chocolate for dessert, and apple juice to quench guests' thirst.
But, before the big moment happens, you must know that not only TomBat is full of care and attention, but PonyBat too.
As her job as a part-time marketer in the chocolate traffic network business takes up only half of her day, she waits for TomBat, each day, with fresh and yummy food.
Since TomBat was never preoccupied with his body shape, he eats a lot.
She is not only happy to watch over TomBat while he eats, but she may end up tasting quite a lot from the food she cooks with love and passion.
Guess what happened! She gained some weight, and TomBat is not happy about it. That's why he insisted that she should stop watching The Vampire Diaries series every night, and instead, she should work out (aka fly 10000 m every day).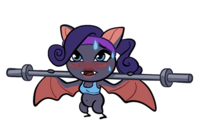 Working out is something that PonyBat hates. In the past, instead of working out, she chose to go to the bat salon (called Upgrade me Battifully) and get her mani and pedi done.
Do you know what this story brings to my mind? The way things work on the Internet.
So, if you're living in a highly restricted country, you may face internet censorship or different kind of online restrictions.
So, if you're PonyBat (the Internet user) who wants to watch a movie on Netflix and live in a country where Netflix is unavailable, you will face a restriction (like the one applied by TomBat).
What happens next? Instead of enjoying Vampire Diaries online, you end up looking at a black screen with a disappointing error.
Luckily, there's a solution for you and PonyBat.
So, here's how we do things in Transylvania.
PonyBat found a way to soften TomBat's heart. So, anytime he brought the working out subject in the discussion, she would soften his heart using the most powerful thing that could hypnotize TomBat – a bowl of freshly picked cherries. The cherries drive TomBat crazy, and he would completely ignore the "you need to lose weight subject."
Just like the cherries, when you put a strong VPN in front of online restrictions, you will be able to break through any firewall.
No, really! What is Internet censorship?
Is it just me or the Internet is less free today?
If you live in a country that (still) grants you access to all the general resources you need to stay happy online, I must inform you that the situation is not as bright anywhere.
Not anyone can frolic like a lamb on the online field. The things are pretty dark on the other side, and no, there are no cookies (just angry bats and thirsty vampires).
Even if certain researches prove wrong, internet censorship is shadowing more and more online space.
As previously mentioned, internet censorship may take many forms, from governments regulating people's right to freedom of speech to geo-restrictions applied to social media websites or media/VoIP services.
Even if this giant may seem unbeatable, we shouldn't ignore it or its negative aspects.
The way internet censorship is applied around the world varies from a country or a region to another. And speaking of that, I don't know if you're aware that in North Korea, citizens use a different kind of internet, which is infinitely-limited and 100% government-controlled.
Thus, if you're in search of truth, let's dig deeper.
How does Internet Censorship work?
Internet censorship isn't just a tool that helps governments regulate the way we search or get results. Nowadays, several types of software can block or limit someone's access to certain online content. Such tools are known as Web Filters or Censorware.
So, in most cases, web filters can be used to analyze and block incoming traffic based on internet censorship types.
To better understand how internet censorship can take such many forms, stay with me and have no fear, as I am still here…
Types of internet censorship.
Are you a newbie when it comes to online censorship? Grab your popcorn, and prepare for an interesting read!
Internet censorship divides into technical censorship and non-technical censorship.
Examples of the most popular technical censorship types
IP address blocking. Internet protocol address blocking is one of the most popular technical censorship methods. The main idea behind this method consists of blocking access for IP addresses to certain online content. This affects IP-based protocols such as POP, FTP, and even HTTPS.
DNS filtering and redirection. Domain Name System filtering consists of not resolving blocked domain names. Like in the previous case, this technique affects all IP-based protocols (HTTPS, POP, FTP).
Packet filtering. When a certain number of conversational keywords are detected, this type of censorship will terminate TCP packets transmission. Even if all TCP-based protocols are affected, the Internet filtering may apply to the Search engine results too.
URL filtering. Another mighty type of censorship is Uniform Resource Locator filtering, which refers to scanning URL strings to discover certain keywords, regardless of the domain name specified in the URL. Logically, this kind of censorship affects the HTTPS protocol.
Connection reset. This type of censorship can be either local or applied on a large scale. If a previous TCP connection is restricted or blocked by a certain filter, all future attempts may be blocked for a variable amount of time.
Network disconnections. Its name says everything about it. Network disconnection is, probably, the easiest method of censorship that implies exactly what its name suggests – cutting off all routers, leaving users without internet access.
Examples of the most popular non-technical censorship types
Publishers, ISPs, or authors may receive requests to block access to certain content. They can also be subject to civil lawsuits and can also receive threats or have their equipment destroyed or confiscated.
Due to certain types of censorship, specific online publications may guide and influence online opinion.
Internet access may be blocked or limited due to copyright-licenses or high costs.
If the governments are involved in the whole censorship process, the search results in different search engines may vary, as web browsers must comply with a set of rules and online standards before operating in a new territory.
Reasons why censorship is applied around the world
From a country to another, the reasons why internet censorship is performed may range from:
Internet censorship applied to maintain national security – a technique performed in countries like Saudi Arabia, North Korea, China, Tunisia, or Iran.
Internet censorship applied to force people into respecting traditional social values – techniques performed in countries like Oman and Sudan.
Internet censorship and traffic filtering for political stability – techniques performed in countries like Libya and Jordan;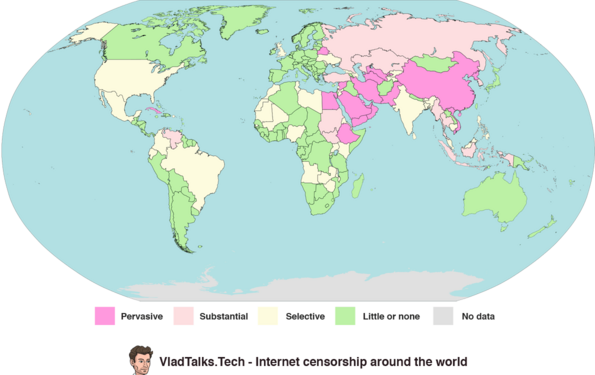 Does Internet censorship have any positive aspects?
The Internet used to be like a huge library, and any user had all the information at his fingertips within seconds.
We should all have the right to be informed and to be able to express our feelings and thoughts freely. Censorship changed the way people use the Internet around the world. Even if on a large scale censorship has many negative aspects applied to domestic environments, censorship may assure parents with the much-deserved peace of mind regarding children's access to some resources.
What I try to say is that there is specific software that helps individuals block certain websites. In this way, if we speak about domestic censorship, children won't be able to access the blacklisted websites picked by the parents.
P.S.: I hope that TomBat won't learn about such software, as he will definitely use it to block PonyBat's access to online media websites, so she won't be able to watch The Vampire Diaries anymore.
How can I circumvent internet censorship?
Diamond-cut-diamond, right? The great news is that you can fight back anytime you feel smitten by internet censorship.
Here are a few easy-peasy-lemon-squeezy ways you can fight against censorship:
Support the organizations fighting for your freedom of speech. More and more organizations fight together with their supporters for a free and open internet for everyone. Their mission is to raise awareness and educate people about their rights regarding the online world or about the concept of Net Neutrality by organizing dedicated events and campaigns for this purpose. Supporting them is as easy as supporting Vlad Talks – by subscribing to the newsletter, or sharing their websites or social profiles, and donating money.
Know your rights. In the US, freedom of speech is protected by the First Amendment. Of course, different countries comply with different rules. That's the very reason why you need to stay informed and curious in regards to your rights as a citizen.
Use encryption and anonymity tools. Such circumvention tools are assuring your online anonymity and, in some cases, online freedom. For guaranteed success, you need to start from the basis with things like:
Use encrypted chatting apps like Signal or Telegram.
Set up an encrypted e-mail.
Use Tor Network. Tor is a network consisting of thousands of relays (also known as volunteer nodes). Directing the traffic through these nodes helps users hide their real IP address. Probably the easiest way to use the Tor network is via a Tor browser.
Use Smart DNS to replace your DNS's default servers. Smart DNS (Smart Domain Name Server) is the smart solution that helps you access geo-blocked websites (or even gaming websites) like BBC iPlayer, Youtube, or Netflix. Even if the Smart DNS server does not change your real IP and virtual location, it can bypass restrictions by tricking websites into seeing your location as a legitimate one.
Get a proxy browser extension and change your IP like a boss. A proxy web browser (sometimes called a VPN extension) works like a charm for bypassing geo-restrictions and accessing blocked sites. Like in any other plugin, all you need to do is install it on your browser of choice (Google Chrome, Firefox, Opera, Microsoft Edge) and connect it to a proxy server. From this point on, you're able to surf the web as free as a bat flying over the Transylvanian fields.
Subscribe to a VPN service. The VPN service is the best way to fight for your online freedom, just like the garlic clove is the perfect weapon against vampires. Most online freedom advocates recommend the VPN as perfect not only to bypass online restrictions and access streaming websites but to encrypt your traffic and enjoy a secure Internet connection.
What is a VPN for internet censorship?
Most online freedom advocates recommend the VPN as perfect not only to bypass online restrictions but to encrypt your traffic, secure your P2P file-sharing activities, and enjoy a secure online connection.
A Vampire Permanent Neutralizer Virtual Private Network is a legal and valuable technology that creates waves among internet users these days. For many, VPN technology represents a real challenge, and they simply avoid it. In reality, even if the whole principle is complex, you can use it as simple as you use any other application.
Developed as a solution to help employees securely access a company's network (which is now available as a VPN concentrator solution too), the VPN switched into being a Swiss Army knife, suitable for many online activities.
Combining a military-grade encryption standard with a VPN protocol and a VPN server, the VPN creates a private scope of communication between your device and the internet.
As your whole internet traffic is encrypted, your ISP (Internet Service Provider) is not able to track your online activities. Also, the destination server you try to access has no idea of the traffic source. Cool, isn't it?
How does a VPN service work?
The whole secret that stands behind this controversial technology consists in how the elements are combined.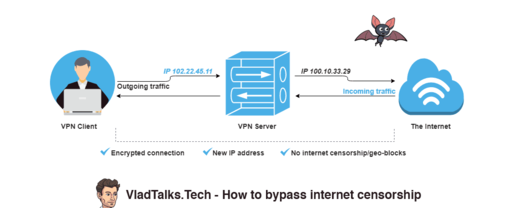 So, as soon as a user enables VPN tunneling, all its data is sent to the VPN server, which is helped by the encryption standard and the protocol to encrypt your data. As soon as this mission is completed, the server sends your request to the destination server. The process is reversible; that's why the VPN grants you complete anonymity and security concerning your ISP, the government, or other curious eyes spying on your data.
How to use a VPN service like a real Transylvanian to bypass restrictions?
Transylvanians are smart, fun, and brave. We're not afraid of vampires, so we're not afraid of internet censorship, as we use the VPN.
Because we like to work smart, not hard, our favorite way to enable a VPN connection is to use a VPN app.
Enabling a VPN connection with a VPN software.
Have you ever counted the number of apps you have installed on your devices? We use an app to access Facebook, another one to order food online, a special one to monitor our heart rate, and so on.
Just like any of these applications, VPN software is a special software developed to help you automatically enable VPN tunneling.
Usually, such applications feature a list of servers, a list of special protocols, and a huge Connect button. To enable the VPN app that helps you bypass internet censorship, you will need just a click on the connect button, and the connection is established within seconds.
Just check the example of Express VPN's Windows VPN client. Also, you may give a try to VPN Gate, an academic project built for helping those in need of unblocking censored Internet resources.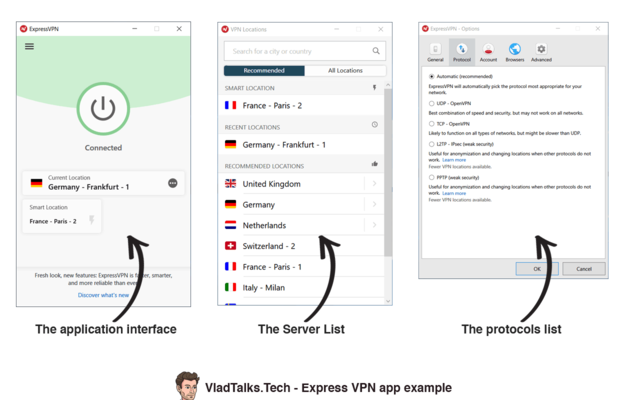 Setting up a VPN connection manually.
If you're stubborn, you can take the hard and advanced way, as no one can stop you. Actually, you can start from the very beginning and configure even a VPN server all by yourself.
The most popular OSes like Mac OS, Windows, iOS, and Android can work as VPN clients, allowing you to connect to a server using different types of protocols.
Even if you don't have to be a tech God to set up a VPN connection manually, technical knowledge is required. If you're thirsty to find out more about this, check this article.
Tips for guaranteed success.
I am a connoisseur… I like drinking wine and eating grapes and fine cheese while speaking about VPN technology? Why? Because it's exquisite, modern, and surprisingly effective.
Allow me to provide you a few insides which will definitely help you bypass restrictions like a pro.
Constantly switch between servers. As some VPN server IPs may be shared, they can be blacklisted, and firewalls or the filtering software can easily detect them. That's why it is recommended to switch between servers as soon as you cannot unblock a specific website. Or, you can even try servers like Double VPN and Tor over VPN.
Swing between protocols. There are old and rusty VPN protocols like PPTP, which are not that effective for online freedom. Actually, they are not effective when it comes to online privacy either. The great solution to bypass internet censorship and even the Great Firewall of China is to use open-source protocols like OpenVPN, SoftEther, WireGuard, Shadowsocks VPN, or Stealth VPN (an obfuscated VPN protocol), which are specially developed for circumventing restrictions.
Clear your browser caches. Anytime you decide to use a new VPN server or protocol, it is recommended to clear your web browser caches to erase your unsuccessful previous attempts. Then, before surfing the web, test your VPN to make sure you are successfully connected to the VPN server.
Do bats jump or fly to conclusions?
If you don't know if bats fly or jump to conclusions, just contact us, and TomBat will enlighten you.
Meanwhile, let's trap internet censorship in a nutshell and draw some valuable conclusions.
I know that you may feel overwhelmed by all the online challenges. I feel the same.
We need to keep pace with all the news always to be informed and ready to take action.
Should you feel that internet censorship is too much for you to handle, relax, as there are a few good options out there.
You can pick a proxy or a Smart DNS service, or you can play it smart and safe and choose a VPN provider.
The VPN works like a charm for bypassing online restrictions or assuring internet security and privacy. That's why we recommend it as being the top pick that can save you from troubles.
Now, your duty is to find the perfect VPN that meets all your needs and give it a proper try (no, a free VPN is not the way to go). Should you have questions or need guidance in finding a trustworthy VPN, drop me a line, as I am delighted to help you pass through this journey.
Stay thirsty for tech!
About the Author