I like keeping a curious spirit and an open mind. I also think that asking out all of your questions helps you grow as a person, and it keeps you prepared for whatever life has in store for you.
And if there's a VPN listed in your online cart, is absolutely normal to ask yourself, "is a VPN worth it?".
So, is a VPN worth it or not? Yes, investing in a VPN (Virtual Private Network) is a smart thing to do, especially in these challenging, pandemic times, when we all tend to spend more and more time online. It is true that we no longer connect to as many public Wi-Fi networks as we used to when we traveled or went for a coffee at a coffee shop or out for a drink (or two) in a bar, but we still need to stay focused on protecting our online privacy and security.
Let's dig into this subject and find out when a VPN is worth the money and what options you got to be sure you get a smart deal!
Is a VPN worth it? The Transylvanian explanation…
During winter, the cold Transylvanian winds cut through your skin. As bats are tiny, fragile creatures, they need special protection on windy days.
TomBat likes to be prepared, so he started a shopping session looking for the warmest winter jacket he could find.
He added a few items to the list of favorites, but a particular jacket caught his attention—a cool-looking, water-proof, warm, puffed jacket from the ColumBAT brand. The only problem with this jacket is that it was slightly more expensive than the other ones.
So, Tom started to ask himself – is this jacket worth it?
As he could not decide on his own, he decided to look for PonyBat's opinion, who's not only a shopaholic but also a fashionista with lots of knowledge on the advantages and disadvantages of each brand.
PonyBat shed light on this shopping dilemma. She quickly informed TomBat that going for the ColumBAT jacked is the right thing to do; as compared to the other jackets, this one has a higher quality, is made from a great fabric, and it has features like BAT-Heat tech to keep the heat locked in, being more like a shield, than a jacket.
Now, if you're having second thoughts while you shop for VPNs, and if you're wondering if a VPN justifies the money, you must know that it surely does, especially if your online privacy and security are as valuable as your real-life security and privacy. But, just like PonyBat says, it's worth the money if it acts like a shield, being able to keep you secure from the invisible threats, and if it comes with advanced features like the Kill Switch that helps you keep all your personal data secured and locked in just for you!
Are your security and privacy important to you?
This is such an easy question to answer, right? Of course, security and privacy are important to us! Of course, we do not want to have burglars break into our house or creepers spying on us late at night.
In these challenging times, we should consider our online security and privacy as valuable as the real-life ones. Due to the whole pandemic situation, we tend to spend more and more time online. We work online, we buy online, we socialize online, we live online. While performing all of these actions, we release a series of important information about ourselves into the online world. We share private work documents, we share credit card details, and even the most twisted online search we might perform while looking for a kinky gift for THAT special person in our lives.
I am not sure if you're aware, but your ISP (Internet Service Provider) has access to all this information, and it knows everything you do online. Yes, if your ISP wants to know what you're doing at this very moment, it will know that you're reading this article.
Besides your sneaky ISP, the mighty hackers are looking for their next victim. The COVID-19 pandemic sparked the trend in cybercrime; therefore, paying special attention to your online privacy and security is crucial, now more than ever.
To avoid having your online identity leaked or your devices damaged, tools like VPN and antiviruses help you stay safe and protected.
Hence, starting from these premises, we can easily conclude that a VPN is worth it, especially in this context.
What does a VPN do?
VPN (Virtual Private Network) is a great weapon to use to fight for your online privacy and security. This advanced technology for enhanced security combines a VPN server with a VPN protocol and an encryption standard to hide your real IP address and encrypt your traffic. Anytime you surf the web with an active VPN connection, the stuff you do online can't be associated with you, as you will appear to be surfing from a completely different IP address and, as the VPN uses military-grade encryption, none of your data will be visible to your ISP or mighty hackers.
These two majors advantages the VPN has, unblock other VPN power-ups, such as:
Should I pay for a VPN?
If your online privacy and security are valuable to you, then yes, you should pay for a VPN subscription. There are plenty of free VPN services you can use. Still, my honest advice would be to avoid free VPN services since they may be scams (just like lifetime VPN subscriptions) and may put your security and privacy at risk, as such services may keep connection logs, and their performance is questionable.
Premium VPNs are not that expensive. Actually, their price worth every penny since they put on the table impressive features, and the ultra-secure VPN protocols help you rest assured you surf free and safe from all your devices.
What VPNs worth your money?
The VPN market is pretty generous to internet users looking to secure their connection and enjoy private internet access. There are a handful of premium VPNs that work magic on providing military-grade encryption to your online connection and the ability to change your IP address within seconds.
When it comes to the combo between performance, the number of servers, the VPN protocols selection, and the advanced VPN features, my top picks are:
NordVPN
Without a doubt, NordVPN is one of the most popular VPNs nowadays. Also, I consider it the best VPN for fast, easy, and ultra-secure connections. NordVPN is a temple of encryption, built on reliable and easy-to-use VPN software. The impressive number of servers it provides guarantees that you will be able to connect to servers in the most-wanted locations around the world. Also, NordVPN allows its users advanced Wireguard support via their NordLynx feature.
ExpressVPN
ExpressVPN would be a more expensive option, specially made for internet users aware of the importance of using a quality VPN. ExpressVPN comes with dreamy VPN apps and a smooth VPN connection, powered by its highly performant VPN service infrastructure. Their support for unblocking streaming services is almost irreproachable; therefore, we can easily say that this provider performs in just about every area.
StrongVPN
StrongVPN is an affordable and suitable solution for users who look for a good VPN with a satisfying list of features. Just like NordVPN, StrongVPN provides access to Wireguard, meaning that the security and speed of the connection via this protocol are (almost) guaranteed.
How hard is it to connect to a VPN?
We sometimes tend to forget that time is our most valuable resource, not money. At this point in the discussion, I think it is pretty clear a VPN is worth the money. But how time-consuming is it to use a VPN?
VPN apps are making the whole VPN experience really enjoyable. A VPN client or app is an automated software programmed to enable a VPN connection with just a click or a tap, from your devices, as the apps are compatible with the most popular operating systems (Microsoft Windows, Linux, iOS, Android, macOS).
In the early days, when using a VPN implied a long and (sometimes) difficult manual setup process, only tech-savvy persons were willing to take the time and set up the manual connection, but now, everyone can do it.
With just three taps, you can connect to a VPN server from your mobile phone (no matter if it is an Apple device with iOS or a phone using Android). And to prove you so, I used NordVPN from my iPhone for a quick demonstration.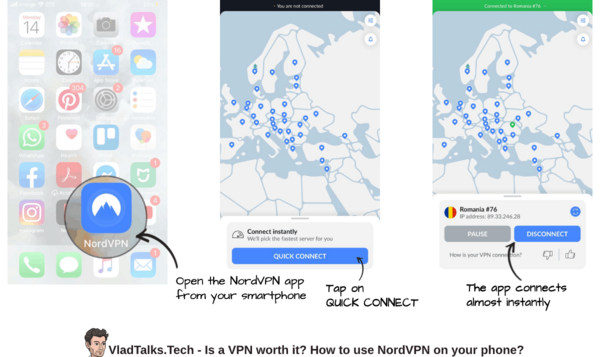 How to know you're making the right decision?
First of all, using a VPN is the right decision. There are plenty of options available for you.
A great VPN is more than just a tool to protect your online activities. With the help of this technology, you can forget about bandwidth throttling or internet censorship.
Most popular VPN services go the extra mile for their customers and come to meet even the most stringent criteria in terms of advanced features, security options, and VPN performance.
By throwing an eye on providers' websites, you may find their VPN price range out of your budget. You must know that during the most popular sales periods and throughout the year, VPN companies spoil their actual and potential customers with generous discounts and deals. All you need to do to end up getting a great deal is to keep an eye on the VPN provider of your choice. Another smart thing to do would be to subscribe to their newsletter, as they announce the sales campaigns via e-mail.
You know what? Since we're talking about subscribing to newsletters, I think you should subscribe to my newsletter, too, by using the form below. In this way, you will always be up to date with the latest industry news, and you'll be the first one to know what other routers and services I've tested. Trust me, just like getting a VPN, subscribing to our newsletter is worth it!
About the Author