A few years back, using a virtual private network (VPN) was a thing you found tech people doing and people who were paranoid about the Internet. Now, it's quite common, and we understand why.
Enabling a VPN while connected to the Internet is almost as common as opening a web browser. The improved security that a VPN brings is invaluable and keeps hackers away.
The Windows operating systems are well-prepared for connecting to VPN, either by using built-in VPN clients or by allowing third-party applications to encrypt your Internet traffic. Find out why bats have a special relation with windows, how to set up a VPN on PC, and how to choose your Windows VPN provider wisely.
How to use a VPN on Windows – A bat, four windows, and two headaches
For bats, windows are most useful when they are open.
Did you know that bats are not blind? They just have a problem with windows.
One mild spring morning, Vlad was woken up by a golden sunbeam. He slowly opened his eyes. "Auch, auch, auch …", he complained while trying to get out of the bed and feeling the awful headache. "Why do I feel so sick?" Then he noticed them: the four windows he had left open the evening before. As the night was cooler than usual, he caught an unexpected cold.
"What do I do now?! I need to attend the Transylvanian Castle Owners Conference later today. Unfortunately, I will not be able to get there with this headache!"
As the AnonymousBat (aka the VPN server) was flying around the castle, Vlad (now the VPN client) called him (with a low voice) and asked him to deliver an encrypted message (of course) to his dear friend, TomBat.
In the message, Vlad asked TomBat to search for the secret healing plant only the two knew about. The name of the plant and the location needed to remain a secret as it was very rare.
TomBat (the destination in our short story) received the letter and started looking for the plant at once. He got lucky soon, but, as he was quite eager to get back to PonyBat, his gorgeous girlfriend, he prepared an herbal tea (we can say he encrypted the information 😊), pour it in a thermos flask, and asked AnonymousBat to get back to Vlad.
The story is not over yet as Vlad was using windows (as most castle owners do nowadays). After AnonymousBat left, Vlad closed the windows and forgot them closed … As expected, AnonymousBat was in a head-on with one of them. Not a soft hit. For a second, it felt like flying over a firewall 🔥. Auch! (Again.)
Luckily, Vlad heard the boom and found AnonymousBat quite disoriented on the balcony. A few minutes later, they were sharing the herbal tea and a headache.
What is a VPN for Windows?
A VPN for Windows is a VPN connection established from a PC to a VPN server.
The Microsoft Windows operating systems (Windows 11, Windows 10, Windows 8, Windows 7, Windows Vista, Windows XP) can establish VPN connections using the built-in VPN components. In addition, they support VPN protocols like PPTP, L2TP, SSTP, or IKEv2.
Additionally, Windows supports third-party applications that run as VPN clients using the OpenVPN, SoftEther, or WireGuard protocols.
Why do you need a VPN on your PC?
Compared to proxy technology, for example, there are several reasons why you need to use a VPN on your Windows, but here are the three that we think are the most common:
To preserve your privacy
The Internet is not private, it has never been, and it has gotten much worse in the last few years.
In fact, your country's government may be part of those that demand and support data collection from Internet users. That means search engines such as Google and Bing have the legal right to access your private data when you are browsing.
Although the data is mostly used for marketing purposes – remember the ad popups that follow you everywhere you go on the Internet? Yet, there is the possibility that your private information is being used for more damaging things. For instance, Facebook was selling user data to companies. So, is it possible that data tracking companies are selling user data to buyers with an evil agenda?
We may never found out. In any case, using a VPN ensures that you are better safe than sorry.
For online security
When we are in public areas, we connect to free public Wi-Fi to do whatever we want to do on the Internet. Unfortunately, many people don't know that hackers lurk around looking for weak connections on random people's devices. Using free Wi-Fi without a VPN makes the job easier for them.
They can hack into your connection and devices to leave malware or steal your information. Using a VPN will encrypt your data before sending it out, making it impossible for hackers or any data tracking company to access your private data.
To bypass restrictions
China has a firewall policy that blocks many internet platforms in the country. This means that many Chinese people won't be able to access many regular platforms other people in the world use every day. Sadly, China is not the only country using internet censorship techniques. Some countries are even more strict with their internet rules. They try to limit citizen's access to the internet because of the information they may find.
Another case is that of institutions like schools blocking some phrases and words in an attempt to protect members from seeing them. For example, a high school or secondary school (as it is called many countries) may block these sex-related words to prevent students from watching porn.
What happens when a student is researching on prostate cancer? The student may not find sufficient information on the topic because some words have been blocked.
As it can hide your IP, a VPN can bypass the mentioned restrictions and other types. For instance, if a website, game, or streaming service is not available in a country you are located in, a VPN lets you access them. In addition, some VPNs are specialized in certain activities, e.g., VPN for streaming, VPN for Youtube, VPN for gaming, VPN for torrenting.
How to get a Windows VPN
The VPN server is the nucleus of a Virtual Private Network. Thus, the first step in establishing a VPN connection is to get access to a VPN server, which means that you need to know the server address (name or IP address) and the authentication credentials (username, password, security certificate).
The following options are at hand (you may read more about them in this article):
Purchase a subscription to a commercial VPN service;
Get access to private VPN in a company or school;
Build your own VPN server.
How to set up a VPN on Windows
Once you received access to a VPN server, you are ready for the next step: set up the VPN connection from your Windows device and connect to the server. You may establish the connection either using the Windows built-in VPN components or third-party applications.
Manually set up a VPN connection
Windows, similarly to other computer operating systems, can connect to a VPN server using built-in components.
For Windows 10, the manual VPN setup consists of the following steps:
Go to the Settings app (or use the Windows key + X shortcut), then choose Network & Internet.

Select the VPN menu.
Click on the "+" button next to the Add a VPN connection label and create the VPN profile.
Choose the Windows (built-in) as the VPN provider.
Set a connection name and fill in the server name or address (you need to know before you start setting the manual connection).
Select the VPN type or the VPN protocol. Windows can work directly with PPTP, L2TP/IPsec, SSTP, or IKEv2.
You may use several types of server authentication (User name or password, Smart card, One-time password, or Certificate).
Fill in the User name and Password (if you are using the username & password authentication).
Click the Save button.
Now, that you have the VPN profile set up, it is time to establish the connection to the VPN server:
Option 1: from Settings > Network & Internet > VPN > click on the VPN connection name > click the Connect button.
Option 2: from the taskbar (far right) > select the Network icon > select the VPN profile you want to use > click the Connect button. When connected, the VPN profile name will display Connected.
To change any settings to the manual VPN connection, go to Settings > Network & Internet > VPN > select the VPN connection and click on the Advanced Options button.
If you entered the wrong username and password or want to change the server name, select the VPN connection again and click on Advanced Option. You may edit the credentials, server address, or VPN settings.

To disconnect, go to the VPN connection settings as shown above and click the Disconnect button or from the taskbar, click on the Network icon, find the VPN connection, and click the Disconnect button.
Use a Windows application from a VPN provider
Windows is the most used computer operating system. Thus, all top VPN providers offer access to Windows applications that automatically configure VPN connections with one click.
Such Windows VPN clients make it easy to switch between servers, locations, and protocols. For example, if you want to use a VPN to access geo-restricted content, it is easy to pick a server to connect to.
Most of the time, to get access to a Windows VPN client, you need to subscribe to the VPN service or create an account. Afterward, download the application, log in, choose the desired server or location, and click the Connect button. In less than 10 minutes, you may successfully connect to a VPN on Windows.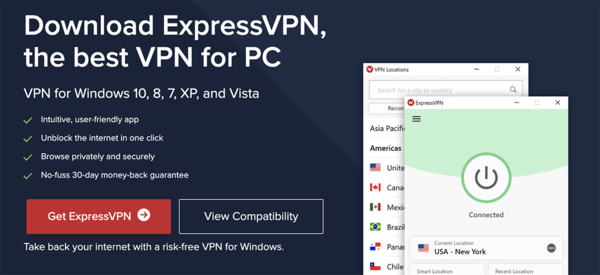 Important! Before you subscribe to a VPN service, make sure they have a VPN client application that runs on your Windows version. All the applications run on Windows 11, Windows 10, Windows 8, or Windows 7, but only a few VPN providers offer apps compatible with Windows Vista or Windows XP.
According to Statcounter, Microsoft Windows XP and Windows Vista are still used on 1-2% of PCs. Who is still using them? One of them is our dear GrandMaBat, the beloved wife of GrandPaBat.
Use Third-Party VPN Software
Alternatively to the manual setup or Windows VPN clients built by different VPN providers, open-source VPN clients are available.
OpenVPN is a popular open-source technology based on OpenSSL. It supports the Advanced Encryption Standard (AES), and it offers VPN clients for Windows 11, Windows 10, Windows 8, Windows 7. The OpenVPN client can connect to any VPN server that implements the OpenVPN protocol.
SoftEther is another popular open-source VPN client app that accommodates various VPN protocols, including OpenVPN and SSTP.
WireGuard has its own VPN clients that can be used by importing configurations offered by WireGuard VPN providers (here is how you can set up WireGuard on Windows 10).
Once the third-party VPN application/VPN client software (OpenVPN, SoftEther, WireGuard, or other) is installed, you may connect to a VPN server (either yours or one provided by a VPN service).
Use your own VPN server
Setting up your own VPN server is possible and, if you can do it, recommended in specific scenarios. Thus, you have full control of the server, and you may manage the VPN logs as you please. Additionally, you don't share the server resources with other VPN users.
After you built your own VPN server, you need to either manually set up the connection or use an open-source VPN client (both options are presented above).
Test run your VPN connection
After successfully setting up your VPN connection (whether PPTP, L2TP, OpenVPN, WireGuard, SSTP or IKEv2) on your Windows, test run it by going to XMyIP or another check IP site. You see your current IP address, and while using a VPN, they should be different from your IP address. If they're not, that means the VPN is not yet working. Additionally, you may test your VPN for DNS leaks, IP leaks, or unexpected disconnects behavior.
Common VPN connection errors on Windows
When connecting to a VPN on Windows, various errors may occur. Most of the time, the errors are caused by incorrect connections settings (server address, username, password, protocol).
Here are some of the most common VPN errors and how to fix them:
Error 678: The remote computer did not respond. > Check the VPN server address and make sure you are not disconnected from the Internet.
Error 691: Access denied because the username and/or password is invalid on the domain. > Check that the username and password you entered during the VPN connection setup are correct.
Error 800: The remote connection was not made because the attempted VPN tunnels failed. > The VPN connection can not be established; check the firewall or change the VPN protocol.
Error 809: The network connection between your computer and the VPN server could not be established because the remote server is not responding. > Ensure that the connection to the VPN server is possible (you have a working Internet connection, it is not blocked by a firewall or by your ISP).
How to share your Windows VPN connection on Wi-Fi
Once you have created a VPN connection on your Windows PC, you may share the encrypted Internet connection with other devices (computers, phones, game consoles, smart TVs).
There are two steps involved: creating a wireless hosted network and sharing the Internet connection with the hosted network.
And, here are two tutorials you may read that help you share the Windows VPN connection:
After you are done with the setup, the device that shares the Internet connection with your Windows computer also uses the VPN tunnel while connected to the Internet.
How to use a VPN on Windows with a router
An alternative option to using a VPN on your PC is to connect to a router that is already connected to a VPN.
The advantage is that you don't need to install or set up anything on your PC.
However, if the router is not connected to the VPN, some manual setup is necessary. Additionally, the main drawback of this approach is that the VPN does not protect the connection between the PC and the router.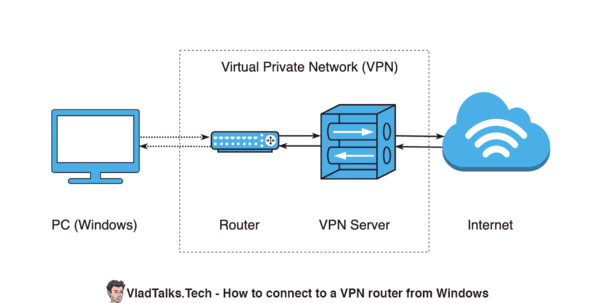 Most routers are VPN-ready and can establish various types of VPN connections:
Once your router is connected to VPN and your PC is connected to the router, you are using the VPN.
The best VPN for Windows
Are you looking for the best VPN for PC? We don't like to disappoint you, but there is no such thing as "the best VPN." There are market leaders and top providers. You need to try several VPN services before you get to the best VPN for you.
We recommend choosing your VPN service wisely.
When selecting a VPN for PC, we consider trust as the main criteria. Your personal data passes the VPN provider's servers. Do you trust that your data is safe with the chosen service?
Additionally, take into consideration the following factors:
Speed
The faster, the better. As your Internet traffic passes the VPN servers back and forth, the faster they are, the smoother your web browsing will be.
Security
The VPN connection encryption level is essential. The higher the encryption, the better. Your data will be more secure. However, as the encryption gets more complex, the VPN speed of the connection slows down.
Reliability
A VPN provider is of no use if you can't connect to it whenever you need to. Instead, look for a VPN service that works every time you need it to. Free or cheap VPN providers often use slower access speeds and fewer servers, reserving better systems for customers prepared to pay.
Next, we present our picks for the best VPN for PC. We tested them, we like them, and we use them regularly. They may be installed on Windows by setting up a manual connection (as explained above), installing a VPN app, or configuring your router.
ExpressVPN
ExpressVPN offers a good-looking VPN client for Windows. The basic interface, plenty of server locations, and helpful support. All you need for connecting to VPN from Windows.
You may choose between several VPN tunneling protocols: OpenVPN (UDP or TCP), L2TP, or PPTP.
We like that you may manage the VPN connection on a per-app basis (split tunneling) and choose apps that use the VPN tunnel while others don't. This feature is handy for optimizing your torrent downloads.
ExpressVPN is one of the best VPN for Windows due to its stability, reputation, and simplicity. It's definitely worth every penny!
Surfshark
Surfshark is a spectacular VPN service. It stands out due to its beautiful user interface (for Windows, macOS, Android, iOS), the impressive list of servers, and the VPN options.
On Windows, you may choose between various VPN protocols: IKEv2, OpenVPN (TCP, UDP), Shadowsocks, Wireguard. Additionally:
You benefit from IPv6 leak protection and DNS leak protection.
You may activate the Kill Switch option.
You may get a static IP address or connect to a MultiHop tunnel.
How to use a VPN on Windows on a daily basis
Do you take your Windows laptop with you while traveling, do you connect to public Wi-Fi from your favorite coffee shop, do you want to watch various flavors of Netflix or Amazon Prime? Then you need to be able to turn on the VPN connection rapidly.
Here are some tips you should consider making your online life safer and more pleasant:
Keep your VPN subscription updated. Subscribe to annual plans to reduce the risks of getting your VPN account suspended.
Use the automatic connect to VPN and run at start-up options.
Enable the auto-connect to VPN when switching to an unsecured Wi-Fi. This is very useful when traveling, and your PC automatically connects to various Wi-Fi networks.
Activate the Kill Switch feature to protect yourself from IP leaks.
Summary
The good news is that AnonymousBat is safe and sound. The better news is that you have plenty of quality options to connect your PC to a VPN.
It is easy to configure a VPN on Windows through manual setup, using VPN services' software that is easy to use or installing third-party, open-source tools.
When selecting the best VPN provider for PC, look at trust, speed, reliability, and security.
To conclude, we have explained how to use a VPN on Windows, and we recommend using a VPN while connecting to the Internet with a Windows computer. It is safer. It increases privacy. It unblocks geo-restricted resources—plenty of benefits.
Would you like to learn VPN? Subscribe to our newsletter! It will make a Transylvanian baby-bat 🦇happy.
About the Author