The online world feels like a personal paradise. Do you want to order a random piece of furniture? You can do it within minutes. Do you need to find some information about a famous event that happened 70 years ago? You Google it! Do you need that special image to include it in your PowerPoint presentation, so everything looks just perfect? You download it.
But you know what? There are snakes in paradise. That element of surprise which can turn a simple, innocent action into a horrible reaction.
As we're moving more and more into the online world, we need to make sure we keep it as real as possible. For that, we have to act responsibly and be aware of how to avoid the online dangers that can ruin our paradise.
On tech-related websites, everyone teaches you how to hide your IP address, how to encrypt your traffic, how to watch your favorite content on Youtube, how to access blocked games, or how to unblock hype streaming websites like Netflix or BBC iPlayer. Yet, everyone forgets about the critical action plenty of us do online, and that is torrenting.
In the digital era, torrenting is an underrated subject. And this happens as many internet users have misconceptions. This article makes torrenting justice, and it helps you understand what is this online practice. But, as we need to make sure you're down on Earth, I will also discuss how to download torrents safely by explaining what is a VPN for torrenting.
What is a VPN for torrenting? The Transylvanian explanation.
Private gatherings are a thing in the bats' community, as are the perfect place where the decisions are made, new strategic lines are drawn, and usually it all escalades in a kick-ass party with apple juice and figs.
TomBat and his community are organizing quarterly meetings where they discuss what happens with the Transylvanian chocolate traffic network, new tactics on how to upgrade their RoboBat, and, most importantly, how to keep all their projects classified, so Dracula's bats won't steal their ideas.
The quarterly meetings bring together lots of bats, and intruders are always lurking at the corners, waiting for the perfect opportunity to make it in.
However, this year, they have no chance. TomBat invited his cousins. And, trust me, his cousins would scare away even the fiercest Dracula bat. Are you curious about who his cousins are? Well, folk, they are part of the MADbat gang from Boracay, and they are Giant golden-crowned flying fox bats. They are like Robocops of bats, and nothing scares them.
As soon as they arrived in Castlevania, they studied the action plan. So, when the meetings started, they already knew what they had to do. The MADbat cousins placed themselves at every entrance and exit of the building. In this way, only the invited persons could enter the building, and, at the exit, each and every one of them had to promise that every discussed topic will remain a total secret.
I must assure you that this was the most secret, intimate, and private meeting in Castlevania and no curious eye and ears were able to get close to that place. All of these were possible because TomBat made the right decision to secure his actions.
This is what happens when you use a VPN for downloading torrents, as all your online actions all encrypted and very well hid from the curious eyes of your ISP or thirsty hackers.
Is my metaphor too deep? Then we need to discuss some basic things first, so we make sure everything is clear! Are you ready?
What is torrenting? Is it legal and safe?
When the VPN started to gain word of mouth, anyone started to question its lawfulness and efficiency. Just so happened with torrenting. For starters, let me assure you that the VPN is a legal, safe, valuable, and easy-to-use solution. There indeed are a handful of countries where VPN usage is banned or regulated, but that does not mean that you should look down on this hype tool. The same happens with torrenting.
Breaking news – torrenting isn't illegal!
P2P file sharing is a fancy name, I must admit it. This online practice is 100% legal and safe, as long as you don't download or share copyrighted content.
Torrenting is a peer-to-peer (P2P) file-sharing technology that allows users to connect and share files. An interesting fact is that users can download a file from its source and also from other users of the same torrent.
Somehow, torrenting tries to build a bidding Internet, where people, industries, and even nations have a better way to share information.
Before thinking that torrenting is outdated, please be aware that approximatively 40% of the total daily internet traffic is handled via BitTorrent's protocols. Impressive, right?
As you may expect, torrenting comes with its own dangers and dark sides, such as:
Malware;
Data leaks;
Hackers;
Legal aspects.
The torrenting dialect.
Do you speak torrenting?
As torrenting doesn't work as a simple download from a random website, you need to speak it before understanding how it works.
Therefore, let me introduce you to the torrenting dialect:
Peers – all active torrent users involved in the file-sharing process.
Seeders – all users downloading a torrent file, and keeping it available for other torrent users to download.
Trackers – digital bridges between peers, facilitating the data packets transmission.
Indexer – a website that acts as a search engine for files. A few good examples of such a search engine are Torrentz or Piratebay.
Swarms – peers who share or download the same torrent files.
Leechers – peers who restrict the upload from their server, right after they finished downloading a torrent.
BitTorrent client – an app that makes possible the P2P file-sharing activity.
How does torrenting work?
Now that we know the appropriate words to put in the phrase to define how torrenting works, it's time to start talking tech.
So, when we want to download files through torrenting, we download a torrent. This torrent is a really, really small file that does not contain any actual data but information on where that data is located.
BitTorrent is a P2P protocol that allows peers to share data, without having to be connected to a central server.
To start the torrenting process, you need to load a torrent file into a BitTorrent client. As soon as this thing is accomplished, the torrent app contacts the tracker mentioned in your torrent file. In this whole equation, as mentioned before, a tracker is a special kind of server that keeps a TRACK of the connected computers.
As these trackers act like digital bridges between peers, they can connect to each other. Once the connection is successfully established, the torrent client begins to download pieces of files. At the same time, the client can begin to share the downloaded data with other clients in the swarm. Therefore, when you download a file, you automatically upload it for others to download.
Contrary to the expectations, more people downloading the same file will fasten the downloading process. I know this may sound crazy, but this is how things work in torrenting.
Traditional download vs P2P file sharing.
The traditional download process implies the main server to download files from, while in torrenting everything is decentralized.
Therefore, when you download a web page, for example, your computer connects to a web server and downloads the data directly from there. In torrenting, things are really messy, and you end-up downloading the files you need from more than one source.
What is a VPN for torrenting – the most helpful explanation
VPNs are surely not a flim-flam. From huge corporations to tech newbies in their dorm rooms, everyone uses them.
The VPN is a special technology that helps you enable a private scope of communication between your device and the internet.
By following a special recipe for success, a VPN encrypts all your online activities, ensuring your online privacy, security, and anonymity.
In other words, the VPN is able to enable a private network over a public network, allowing your data to be safely transported from your device to its destination on the web.
An important thing to mention is that a VPN works at a "device-level", meaning that it encrypts the traffic generated via apps too not only via browsers. Transposing this into our torrenting-related discussion, we can easily conclude that the VPN is more than recommended when downloading torrents.
So, what is a VPN for torrenting?
A VPN for torrenting is a special tool that helps you encrypt your torrenting activities, for security and privacy reasons.
As already mentioned, torrenting is 100% secure and safe as long as you don't download copyrighted content. Moreover, some countries regulate or strictly ban P2P file-sharing. Therefore, you need to act like a responsible internet user and, first of all, make sure you keep your torrenting activities within legal limits and, second of all, make sure you secure such activities.
How does a VPN for torrenting work?
The difference between how a regular VPN and a VPN service for torrenting works consist only in the type of server you choose for your connection.
The VPN combines 3 key components: a VPN server, a VPN protocol, and an encryption standard (like 256-bit encryption).
Whenever you enable a VPN connection via a VPN client, or by manually configuring it on your device, the VPN connects to the VPN server, which encrypts your traffic, and helped by the VPN protocol and the encryption standard, it securely transports your data to its destination. As this process works back and forth, all your online activities are encrypted, secured, and, just like that, you will be able to enjoy private internet access.

When you use the VPN for torrenting, you must connect to a special P2P server. Such servers are strategically located in countries where torrenting is not regulated. Most VPN providers include this type of information in their Terms of service because this is an important detail anyone should keep in mind.
Why is a VPN for torrenting important?
As we move more of our online activities into the online environment, we should start acting accordingly. So, let's play an imagination game. Let's pretend you need to send a letter containing a piece of important and sensible information about your health to your friend, who lives on the other side of the city.
Right when you exit your house, you meet your neighbor who informs you that he is heading close to your friend's address and he can take that piece of paper you hold in your hand right to your friend's door. So, what do you do? For confidentiality reasons, you take the paper, put it in an envelope, seal it, and hand it to your neighbor, right?
Once you start being aware that your online privacy is as important as your real-life one, you will start understanding why VPN is important.
Therefore, you need a VPN while torrenting to keep your actions private. You don't have to download copyrighted content to use a VPN. In fact, illegal activities such as downloading copyrighted materials will remain illegal with or without using the VPN.
Another reason why you may want to use a VPN is to avoid having your bandwidth throttled. Bandwidth throttling is a practice used by ISPs to regulate network traffic. Just like online streaming, torrenting uses a lot of resources. As your ISP can see anything you do online, in case it will be unhappy with your online habits, it will throttle your connection by applying bandwidth limits.
Moreover, during your P2P file sharing process, you may face DNS leaks and, even worse, IP leaks. By using a VPN service for torrenting, you are automatically benefiting from its encryption which implies security for IP or DNS information too.
Let's not forget about hackers who are always looking for victims. With a VPN you make sure no hacker is able to see in plain text what you do online, what information you share over the web, or what torrents you are trying to download.
What makes a VPN for torrenting great?
There are a lot of VPNs on the market, but not all of those are suited for torrenting. As there's a fine line between a good and a great VPN, allow me to put in the spotlight the most important aspects you should look after when picking the best VPN for torrenting:
P2P VPN servers. I have already told you about how important is to use ONLY P2P servers when torrenting. Still, besides this aspect, the number of servers is also important. Furthermore, you should be aware that the VPN speed and performance are influenced by the distance between your real location and the location of the server. So, the closer the server is, the faster you will surf and download. This being said, make sure your future provider has P2P servers in its list, and the number of such servers is satisfying.
Strict NO logs policy. The logs policy is really important when it comes to picking a VPN because this detail grants you that your provider logs no information about your web traffic.
VPN apps. VPN clients are taking your VPN journey to the next level. Compared to the manual setup of the VPN on a device, VPN software bring a lot more possibilities to the equation like advanced features (KillSwitches, leak protection), the possibility to enable/disable the VPN connection or to pick protocols like OpenVPN with just a click.
Simultaneous connections. We no longer have just one device connected to the internet. From our PC, we perform P2P file-sharing activities, from our smartphone, we order something to eat, and from out smart TV, we bypass censorship and stream BBC iPlayer, while dreaming about the moment when you'll have that first bite of the cheezy pizza you just ordered. All at once. These 3 actions require a VPN, and that's the exact moment when the number of simultaneous connections is important.
Free trial VPN. Being able to test a VPN is really important because, as previously mentioned, its performance is influenced by many factors. In fact, testing your VPN is important anytime you go online, no matter if you're with that provider for 10 years or 10 days. VPNs are software that software can have flaws. Keep this in mind… always!
The best VPN for torrenting
Just like there is the best football player, the best make-up artist, or the best cheesecake in town, there are a handful of great VPNs you can put your trust and your money in. I am saying money because you should avoid free VPNs by any means or lifetime subscriptions provided by shady services. Free services grant you no security and no assurance that your data is not sold to companies around the world.
Here are my top picks when it comes to VPN for torrents:
ibVPN
I am using ibVPN for a few years now, and this provider is constantly keeping me curious about what its next feature will be, what funny newsletter it will send, or what important piece of information it will publish on its blog. ibVPN provides VPN for Windows, VPN for macOS, VPN for Android, and iOS VPN, and their Windows app is one of the most complete VPNs for Windows I have ever seen. Moreover, ibVPN provides proxy add-ons with features like WebRTC leak protection.
When it comes to torrenting, besides their list of P2P servers, or Onion over VPN servers, they also come with a knowledgebase of torrenting tutorials and other VPN-related materials you can follow to make the most out of your VPN service. Oh, and let's not forget about their 24-hours trial; no credit card required.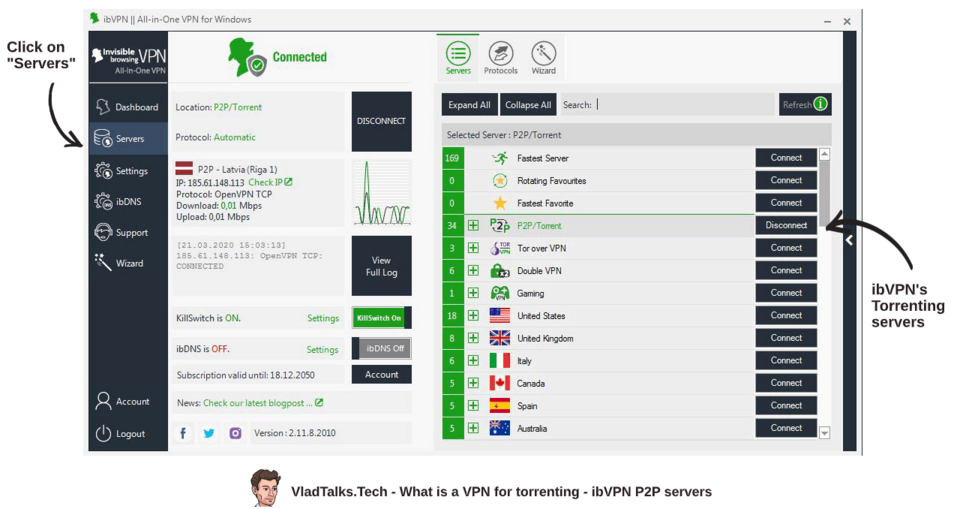 CyberGhost
CyberGhost VPN amazes me with its simple yet advanced apps and super-performant service. Their split tunneling option is super useful when it comes to torrenting, as this feature grants you the possibility to protect only your torrent only. Their apps are flawless, and the performance is divine.
CyberGhost offers a 24 hours free trial and a 45 days money-back guarantee policy.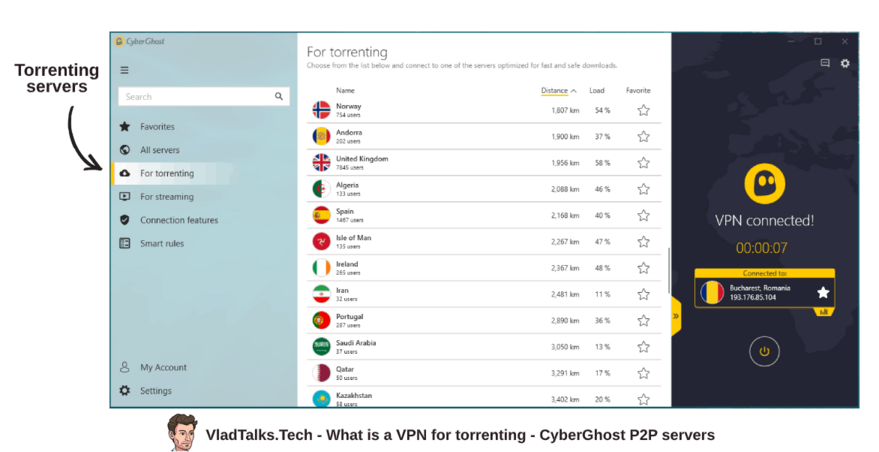 NordVPN
Modern, easy-to-use yet highly performant. NordVPN is one of the most hype VPNs on the market. Just like ibVPN, it comes with an impressive list of features, special servers like Double VPN servers and obfuscated VPN servers, bat-iful apps, and steady download speeds. 
NordVPN spoils its customers with unbeatable prices and three-year plans, which are clearly a great choice when you're up for long time commitment.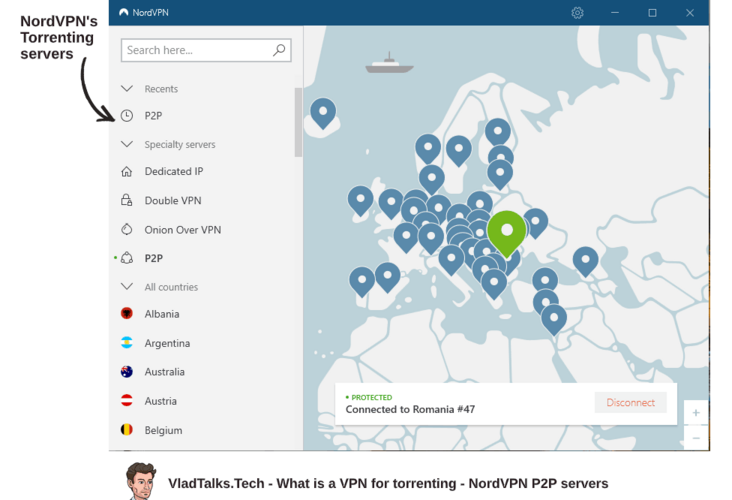 Bottom line, if you're interested in a CyberGhost vs NordVPN vs ibVPN fight, the wiser thing you can do is test them all, and pick the one that fulfills all your expectations.
VPN for torrenting vs Socks5 proxy.
This is a VPN vs proxy fight I am really excited about. Why? Because it is a battle between two technologies that have so many things in common but are so different in many ways. Just like a pair of twins. They may look the same, but it's amazing how different they are.
We already know what is a VPN for torrenting, so I will jump directly to Socks5.
Socks5 is an extension of Socks web proxies, known as the most flexible server protocol on the web. The whole principle behind proxies is just another computer positioned between your device and the internet.
Compared to the VPN, the proxy server acts as a bridge for your data, without encrypting it. Therefore, proxy will change your IP address, but there's no security provided for your online activities. That's why Socks5 is popular among internet users who look for a lite level of anonymity and fast connection speed.
Due to these characteristics, Socks5 is great for torrenting, as it changes your IP address, so your actions cannot be directly associated with you.
Conclusion time.
We may feel overwhelmed by all the information hitting us every day. When it comes to torrenting VPNs, I am here to simplify everything for you.
So, as a conclusion to all the things debated in this article, here are the main ideas that you should always have in mind:
Torrenting is a legal activity if you make sure you don't download copyrighted content. In such a case, copyright holders can easily identify you with the help of your ISP, and you'll be in trouble.
Torrenting anonymously is possible with the help of a VPN. Its strong encryption will securely guide your data back and forth, providing you complete privacy.
Not every VPN is a torrent VPN. Your future provider must allow you to use P2P servers and should ensure great downloading speeds.
Performing leak tests is mandatory before turning on the downloading process. VPNs may have their flaws therefore, you must make sure your service is working properly before surfing the web and downloading torrents.
The overall performance of a VPN is influenced by many factors. So, test it, test it, and test it again before buying it!
Use antivirus software. Partner your VPN with a trustful antivirus software. In this way, you will be sure that your ISP is now aware that you're downloading torrents, while the antivirus will secure your device from malware and viruses.
The golden rule. If you loved this article, subscribe to our newsletters, and follow us on Instagram!
About the Author