VPN Gate is a free VPN solution used by millions of Internet enthusiasts. It was developed as an academic research project, and it has plenty of advantages. But is VPN Gate the perfect VPN solution? Let's find out.
We do not (usually) recommend free VPN services due to security and privacy concerns. We believe that Internet users' private data is far too important to be endangered by free VPNs (we explain here why, in more detail). However, we have chosen to present VPN Gate because it is an academic project. There are plenty of interesting details regarding the architecture and the technical solutions adopted for the implementation.
From the very beginning, it is necessary to underline that VPNGate is not an ordinary VPN service. This article takes a closer look at the VPNGate project, presents its advantages, explains the disadvantages, underlines the possible privacy and security issues, and shows how you may connect to the VPN Gate network.
The Transylvanian story of a gate to freedom
The life of bats is not simple in Castlevania. There is always a bigger bat that can make your life miserable.
From the beginning of winter, the MegaBats have started to close communication routes between the other colonies of bats. They were able to intercept the messengers and lock them down. Why were they doing that? Because they could. For some bats, this kind of motivation is enough. Sad, but true.
To every problem, there is a solution. GrandPaBat and the other bats from the Council of Elders have gathered to find a way out to these arbitrarily-imposed communication restrictions.
– My fellow bats, there must be a way to stop this abuse! We need to share news regarding food, shelter, or possible dangers between us, the regular bats! Our survival is at stake.
And, indeed, they found a way. They established to use Vlad's castle as their safe harbor, their gate to freedom. When a group of bats would have something to share with the other bats, it should send a messenger, using a safe route (as far as the MegaBats as possible), to the castle. The messenger would entrust GrandPaBat and TomBat with the news and let them spread the knowledge to the other groups. No direct, unprotected communication between bat communities, lesser chances to lose important information.
Similar to the workaround found by the bats from Castlevania, VPN Gate represents a way to bypass censorship and keep the information private and secure.
And now, let's find out how VPNGate works and how to use it!
What is VPN Gate and why was it created?
VPN Gate is an experimental project created at the University of Tsukuba that has the declared goal to expand the knowledge of "Global Distributed Public VPN Relay Servers" and to find better solutions for distributed VPN server systems.
VPNGate is a network of VPN servers provided by volunteers worldwide, a server network that uses the SoftEther VPN technology for encrypting data, routing traffic, and secure communication. The VPN Gate's main purpose is to hide your IP address while browsing the Internet and help you benefit from the other VPN's advantages. The usage of VPNGate is free, and no registration is needed.
The software running the VPN Gate server network is based on the SoftEther technology, and it was developed as a plug-in to extend SoftEther. Both projects (SoftEther and VPNGate) are operated at the University of Tsukuba, but it is important to mention that VPN Gate is not part of SoftEther.
How does VPN Gate work?
VPN Gate represents the infrastructure that allows servers to be added by volunteers. The architecture is based on the SoftEther technology and benefits from its advantages (performance, security, multiple protocols).
When a volunteer installs the SoftEther VPN server software on his Windows machine, the server is added to the public list, and it can be discovered by interested users.
When a VPN Gate user needs to connect to the network, he/she looks through the available servers listed, picks one, and directly connects to it (as presented below). No data traffic is passed through the VPNGate network, only between the user, the VPN server, and the Internet.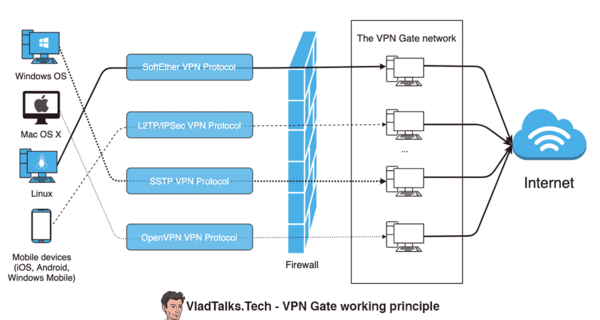 When to use the VPN Gate network?
VPN Gate is a totally free solution to connect to a VPN, hide your IP address, and encrypt your Internet traffic.
The VPN Gate is useful in certain scenarios to:
Bypass governmental firewalls. The main goal of VPN Gate is to enhance Internet freedom. The SoftEther VPN protocol works on HTTPS, and it is especially difficult to be detected and blocked. Thus, it is ideal for bypassing firewalls of any type, including the Great Wall of China.
Bypass geo-restrictions or ISP throttling. Some content (streaming channels, websites, forums, apps) is only available in certain countries or regions. By connecting to a VPNGate server from the country with access to the content, you may enjoy an awesome online experience without any restrictions.
However, before you start using it, make sure you read the disadvantages and the security concerns.
Advantages and disadvantages of VPN Gate
Like any other VPN solution, VPN Gate has pros and cons. I will list them below to help you decide whether VPN Gate is suitable for you or not.
Advantages of using VPN Gate
VPN Gate is free, but this is not the only advantage it has:
It is open source.
It is part of a research project backed up by a prestigious university.
There is an important community that sustains the project.
The network consists of more than 17,000 servers (only several hundred are listed at any given time, for security reasons).
Servers are not placed in data centers, and they are harder to be blocked based on IP ranges.
It provides access to several VPN protocols with high encryption (256-bit): SoftEther, OpenVPN, IPSec, SSTP.
Many servers use the SoftEther protocol, which is very safe, fast, and stealthy.
Some servers can unblock streaming channels like Netflix, BBC player, etc.
You benefit from unlimited server and country switching.
It can be configured on most devices, including routers.
There are no IP leaks.
Disadvantages of using VPN Gate
Even though the list of advantages is impressive, the VPN Gate network has its drawbacks:
It is too complicated for the average Internet user.
Many servers provide slow speed as they are basic computers located in residential areas.
The connectivity and overall performance are unstable.
On mobile devices (iPhone, iPad, Android), you may not connect using the SoftEther protocol.
It may be difficult to find a certain location or country since only a small part of the network is listed.
The general logging policy of the network is that servers keep logs for two weeks. You may check specific logging settings for each server in the server list.
Servers offered by volunteers may serve you ads (as some users have reported).
Is VPN Gate trustworthy? Privacy and security concerns
VPN Gate looks excellent from many angles: it is free, it was created and it is maintained by an academic institution, it is open source. But, should you completely trust it with your private data? I say you would rather not.
VPN Gate was created primarily as a research project to help those in need of bypassing governmental censorship. And for that it is great! You will probably not find a better free tool.
The weak spot of VPNGate is the fact that volunteers provide the servers. Even though VPN Gate's technology seems secure both for the user and the volunteer, there are still concerns about the way server owners manage users' data. For example, volunteers may have access to connection and usage logs. Are you comfortable with the thought that someone you don't know and is not restrained by any regulation has access to such data?
Additionally, as stated on the website, the VPN Gate team may hand in your activities' logged data if requested by official authorities.
Thus, if your data and activities' privacy is important to you, my advice is to choose a premium VPN service, such as NordVPN, ExpressVPN, Surfshark, or Mullvad. They are better to keep your Internet traffic data safe and maintain your privacy than some volunteers from random locations around the globe.
VPN Gate vs. free VPN
VPN Gate is free, but there are clear distinctions to free VPNs.
Most (if not all) free VPNs have the goal to make money, but they do not charge you directly, unlike commercial VPNs. Free VPNs are monetizing their users either through showing ads or by selling their data. That is why we do NOT recommend free VPN solutions.
VPN Gate defines a generic infrastructure that is regulated by the team at the University of Tsukuba. VPN servers are exposed to the network by volunteers, free of charge, of course, with the only declared goal to help the project research and help those in need for bypassing various restrictions or government's firewalls.
Still, my advice is to use VPNGate cautiously and only when you can not afford to get a paid VPN or don't have a better alternative. There is still a possibility that a VPN server may be corrupted and get your data traffic exposed.
How to set up VPN Gate on your devices
There are several ways to connect to a VPN Gate server and there are two aspects that you need to take into consideration:
the VPN protocols that are exposed by a VPN Gate server;
the operating system of the device you want to connect from.
The steps to connect to a VPN Gate servers are:
Open the VPN Gate Public VPN Relay Server list (www.vpngate.net) and choose a VPN server from any location you want (you may select the server taking into account the scoring that is related to the overall performance of the server);
Check the protocols shown by the desired server (SoftEther/SSL-VPN, OpenVPN, MS-SSTP, L2TP/IPSec);
Choose the protocol suitable for the device you want to connect to the VPN server (check the table below);
Download and install any app that you need to connect (the SoftEther client, the OpenVPN app);
Fill in the VPN connection properties (server hostname or IP address, port number, type of connection: UDP or TCP for OpenVPN or SoftEther, username and password). For all servers, usernames and passwords are "vpn".
Connect to the server (no registration is needed).
And here are the protocols suitable for the most popular operating systems (devices):
OS/Protocol

SoftEther VPN




(SSL VPN)

OpenVPN
L2TP/IPSec
SSTP
Windows (Vista, 7, 8, 10)
Yes
Yes
Yes
Yes
MacOS
Not easy
Yes
Yes
No
iOS
No
Yes
Yes
No
Android
No
Yes
Yes
No
Linux
Yes
Yes
Yes
Yes
Thus, for Windows, you may install the official SoftEther VPN client and connect using the SSL VPN protocol. There is also a VPN Gate Client plugin that integrates with the SoftEther app and initiates the VPN Gate connection with a click.
You may also connect from the built-in VPN clients available on Windows with Microsoft SSTP or L2TP/IPSec. OpenVPN is also an option by installing the OpenVPN client app.
On Linux, all options are available, with the limitation that, for SSTP, you need to install an SSTP library.
On Mac, there are options to connect to a SoftEther VPN server, and I have described them in detail here. Using the SoftEther protocol is possible but does not always work as it depends on a third-party, outdated app.
On mobile devices (iOS, Android), SSL VPN and SSTP are not available, but you may connect using L2TP/IPSec (with the built-in VPN client) or OpenVPN (by downloading the official OpenVPN client app).
Several tutorials on how to access VPN Gate are available on the official website.
How to install a VPN Gate server on your computer
Would you like to help others bypass Internet censorship? Then, you may consider sharing your Internet connection and become a volunteer in the VPN Gate network.
You need a Windows computer. Then you have to install the SoftEther VPN server, activate and configure the VPN Gate service, and (optionally) enable L2TP/IPsec VPN for your guests.
I strongly recommend you carefully read what the installation of the VPN Gate server on your computer involves. You may find all the details and installation info here.
VPN Gate FAQ
Is VPN Gate free?
Yes, VPN Gate is free. You may access any server from the server list, from any location, from as many devices you want free of charge.
Is VPN Gate safe?
It would be best if you judge for yourself. From the safety point of view, the weak points of VPN Gate are the VPN servers offered by volunteers. They may have access to your connection and usage logs. Are they trustworthy? It is up to you to decide whether you trust the network's overall technical approach or consider a certain server safe to connect to.
Does VPN Gate offer support?
There is no official support for VPNGate, but you may ask questions or report problems on the official SoftEther VPN user forum.
Is VPN Gate operated by SoftEther Corporation?
No, VPN Gate is not operated by the SoftEther Corporation. It is a separate research project of the University of Tsukuba, Japan.
Conclusion. Should you use VPN Gate?
VPNGate, the Japanese academic project, is a solid VPN solution, ideal for bypassing Internet censorship and unblocking restricted websites. It may be a valuable tool for Internet users from countries where free Internet access is restricted, for activists or journalists.
However, it may be complicated to set it up, find a fast server, and change VPN locations. Additionally, the fact that VPN servers are exposed and controlled by anonymous volunteers may be a deal-breaker.
Should you use it? My advice is to connect to VPN Gate only when you have no choice, when you can not afford to subscribe to a premium VPN service, or when you cannot solve your problem with a premium VPN. Top VPN providers offer access to friendly apps, plenty of servers, access to advanced security options (Kill Switch, split tunneling), or fancy server options (obfuscated servers, Double VPN, Onion over VPN, Shadowsocks).
You have reached the final of our article on VPN Gate. Please subscribe to our newsletter (below), and we promise to keep you updated with news and tutorials on SoftEther and VPN Gate. Plus, you will make a Transylvanian baby-bat very happy. 😃
About the Author