Aren't you curious to see what content portfolio Netflix has in the US or Germany? Still, booking a flight and going straight to one of these countries, only to have access to random online websites, would be just a little too desperate. Luckily, with a VPN installed on your device, no matter if we talk about a PC, a mobile phone running on iOS or Android, or a laptop, you can change your location with just a click, gaining access to blocked content around the world. Only if real-life traveling would be as easy as this task, right?
Are you curious about how to change your IP and location with a VPN, and what is the VPN change location principle? Have no fear, Vlad is here, ready to explain how to change your location with a VPN and what are the best VPNs for changing location.
First things, first! Let's start with the Transylvanian explanation of our topic of interest.
Change location with a VPN. The Transylvanian explanation.
You can never catch TomBat on the wrong foot. And when it comes to making PonyBat feel special, nothing can stop him.
Since he likes to make sure the gifts he buys for her arrive on time, he usually buys them a few days before a special event.
PonyBat does better research than the FBI and has an intuition that skyrockets. Therefore, TomBat always needs to find a new hiding location for each package that arrives.
Moreover, he used all the possible hiding spots in their cave, so for the latest gift he bought, he needed to come up with a solution that could trick PonyBat, and prevent her from finding the present he bought herself for Christmas.
Said and done! As soon as the courier delivered the parcel, he decided to glue a fake delivery document on the package, stating that the package comes from BATtlefront (the biggest gamers online store in Castlevania) and leave it in a visible place. In this way, he arose no suspicions since PonyBat thought it was just a new game TomBat purchased.
This is how my winged friend managed to keep a secret from his girlfriend, and this is how a VPN changes your location.
Your ISP may be just as curious as PonyBat, and it may stick its nose in your business. Thus, you may want to keep the spying eyes in the shadow while keeping all your data private. Using a VPN to change your location is like sticking different delivery information on a package. The package remains a package, is still there, visible, but it seems like it arrived from a completely different country. Translated into the VPN jargon, when you enable a VPN connection, your ISP cannot associate the traffic you are generating to your IP address, as you are assigned a brand-new IP corresponding to the VPN server you chose for your connection. In this way, you surf freely, without restrictions, and, most importantly, privately.
It's as simple as that!
What is a VPN and how does a VPN change your location?
In Transylvania, VPN stands for Vampire Permanent Neutralizer. Since we are here to talk about the IT meaning of a VPN, then you must know that VPN stands for Virtual Private Network.
The VPN is a popular technology capable of creating a private network over a public network. So, everything you enable a VPN connection, the VPN redirects your traffic through a private and encrypted tunnel before sending it to its destination on the web.
To accomplish this, a VPN engages three main components – the VPN server, which is the key to your VPN tunnel. Without a VPN server, a VPN connection is impossible. Therefore, as soon as you click on your VPN app's connect button, the VPN server takes over all your traffic, and it changes your location immediately (not your physical location, of course). At this very moment, you are assigned a different IP address corresponding to the VPN server location you choose for your connection.
The VPN protocol is the VPN server's best friend. This second component of your connection, helped by the VPN encryption, securely transports the traffic prepared by the VPN protocol to its destination on the web. As this whole process is reversible, when using a VPN, your connection is secured from an end to another, back and forth, meaning that you are granted private internet access.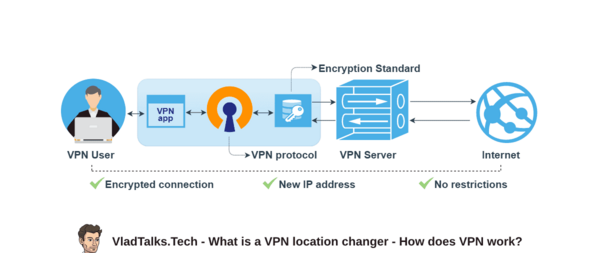 Why would you use a VPN for changing location?
There is more than one reason why you would want to use a VPN to change your location. From security reasons to travel reasons. Does this sound strange? Then, let me enlighten you!
The main reasons why you would want to change your location with a VPN are:
Surf anonymously and privately. There is no news that your ISP (internet service provider) may spy on you if it wants. And so may do the hackers. When you use a VPN, you are assigned a new IP address corresponding to your chosen server. If you are a folk located in Germany who connects to a server located in the US, the traffic generated will appear to be from the United States. With this workaround, none of your online actions will be assigned to you by your ISP. Plus, let's not forget about the VPN's other major advantage – encryption. With a brand-new IP at your disposal and an encrypted connection, no ISP or hacker can spy on your online activities. You will always surf freely, securely, and privately.
Avoid internet censorship. The Internet should be a gateway to a different kind of world, where you find answers to all of your questions, communicate efficiently with your friends located in the other part of the world, or access many online resources. In reality, there are a lot of filtering and internet censorship techniques standing in front of you. Internet censorship is the control imposed by a government, affecting what can be viewed, accessed, or published on the internet. Usually, online censorship is applied on a country level, just how it happens in China, Egypt, or UAE. As a VPN assigns you a 100% new IP address, you can bypass censorship and enjoy the internet without restrictions.
Increase your work productivity. Workaholics all around the world, can you hear me? If you feel like taking your laptop with you on the beach while being on vacation to send an important e-mail, make sure you have VPN software on your laptop. Some companies may restrict access to online work tools. Therefore, your Bora Bora IP may not grant you access to your e-mail. That is when a VPN will help you send the e-mail on an endless loop in your mind. Still, my advice would be to sip cocktails and enjoy the sun. You have just one life. Enjoy every moment, especially if you're on vacation.
Access blocked websites. Netflix, the reason why we remained sane during the pandemic, offers an impressive library of content to watch, including an ever-growing collection of original movies and series. Yet, Netflix is not available in every country around the world. And so it happens with Youtube, BBC iPlayer, Hulu, Amazon Prime, or Pandora. With a VPN tunnel, you can change your geolocation and unblock streaming services, games, VoIP services, or social media websites with just a click from the comfort of your sofa.
Get better prices while shopping. Yes, a VPN can help you save money while booking a flight, for example. Some companies may practice a different price policy for certain countries or regions. If you have an active VPN subscription, you may want to use it next time you look to book the vacation of your dreams! Yes, I know you're now thinking about Bora Bora!
How to use a VPN to change your location?
A while ago, only tech-savvy persons would use VPN since setting up a VPN connection would take time and advanced tech knowledge.
Nowadays, the manual VPN setup is performed only if the device does not support a VPN app. This thing may happen on routers, smart TVs, or gaming consoles.
The easiest way to use a VPN location changer is to install a VPN app on your device, create an account, log in, and enjoy an awesome online experience.
A VPN app is an automated software that creates a VPN connection with just a click or a tap. VPN clients include a selection of VPN protocols and VPN servers, and all you will have to do is decide what protocol to use and what location you're interested in connecting to. As soon as you decided and clicked on the connect button, you're good to go!
The cool part is that when you use a VPN app, you gain access not only to protocols that meet the most stringent criteria in terms of security (like OpenVPN, Wireguard, IKEv2, or SoftEther), but you are also able to use out of the box features (like split tunneling or Kill Switch) and special servers (like obfuscated VPN, Double VPN or the ones implemented to facilitate gaming, P2P activities, or maximizing your security while using Tor).
I will take NordVPN's example to show you how easy it is to enable a connection, but there are many other VPN providers that make VPN change locations a pleasant activity (Surfshark, ExpressVPN, PrivateInternetAccess, CyberGhost).
Open the app. The default protocol used by NordVPN is NordLynx (Nord's name for Wireguard). I would suggest using NordLynx, as it will provide fast and ultra-secure connections. The next step would be to connect to the server in the location of your choice. In a few seconds, you will be connected to the server.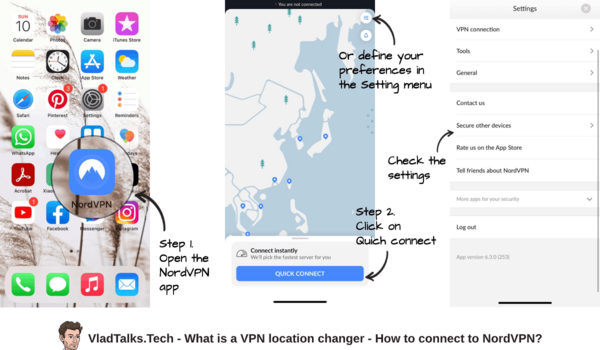 The App will display your new IP address, but if you just want to be sure you are successfully connected, you can perform an additional IP check by using an alternative IP location checker service.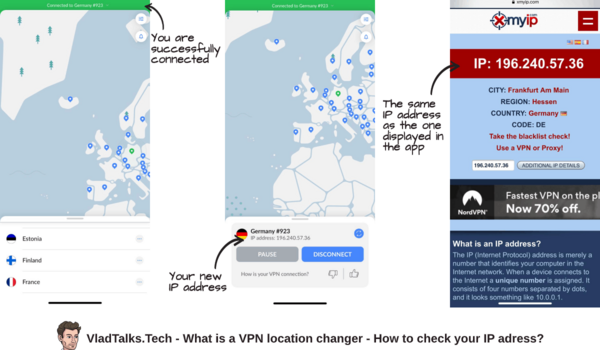 What are the best VPN location changers?
VPNs are gaining more and more popularity. If 10 years ago there were only a handful of VPN providers which a reliable service and a decent number of VPN locations, in 2021, there are more than enough options for internet users to choose between. Not all the VPN services available are worth buying. That is why you should always test your VPN in terms of speed and performance before deciding to subscribe. Some of these services provide a VPN trial, so anyone interested could get an inside of what they are about to buy.
If you don't have the time to invest in testing a VPN, allow me to recommend three of my favorite VPNs.
NordVPN
NordVPN is not only a VPN location changer but also a VPN game changer. Besides ExpressVPN, NordVPN is one of the most popular VPN services in 2021. This VPN provider surely deserves its top position. Its VPN is highly performant, the VPN apps are working wonders, and the number of VPN locations is more than satisfying – over 5500 servers in 59 countries.
ExpressVPN
If we're about to judge ExpressVPN based on the performance, you must know this provider beats every competitor. It is not as popular as NordVPN due to its price, which is a little bit spicier than Nord's.
ExpressVPN provides 3,000+ VPN servers in 160 VPN server locations in 94 countries when it comes to servers. Not bad at all.
StrongVPN
StrongVPN is a good VPN provider. This VPN will prove to be a nice surprise for most people, as it is easy to use, comes with reliable connections, decent speed, and is the first commercial VPN service to offer WireGuard across all of its apps and platforms. In addition, it provides 950+ servers in 30+ countries. Therefore, there are plenty of options for everyone! Plus, it is one of the VPN providers that also offer access to Smart DNS.
Alternatives to a VPN changer location.
The alternative for an iPhone would be a smartphone running on Android, the alternative for Windows would be macOS, and the alternative for a car would be a bike. But what alternatives are there for a VPN location changer? Folks, there are some, and they are way different than the VPN. They may accomplish the same thing, but the principle behind these technologies is not the same. A great example would be the difference between a car and a bike. Both means of transportation accomplish the same thing, but a bike is not as comfortable as a car ride, while always driving to work won't keep you in shape.
The alternatives you may consider for a VPN are:
Proxy. Proxy technology is one of the most facile options you could use to easily change your real IP address. Yet, compared to the VPN, the proxy does not offer military-grade encryption, meaning that it may be way faster than the VPN. Therefore, taking a virtual trip to Transylvania would happen in the blink of an eye.
Tor. Tor is a free, open-source software meant to help users enable anonymous communication with the world-wide-web. Tor uses a series of Tor servers to mask your real online identity. Even so, the constant use of the Tor browser may mark you for surveillance, as Tor is mainly used for fishy online activities. If you're interested in using Tor, the smart decision would be to use it combined with a VPN tunnel. There's actually a solution called Tor over VPN that helps you maximize your online activities while using Tor.
Smart DNS. Smart DNS technology is able to change your device's DNS in order to access geo-blocked media content. Smart DNS won't change your real IP but is able to trick websites into seeing your location as an eligible one and, in this way, you can get access to geo-blocked content. So, if you're looking to change your location to get access to blocked websites, Smart DNS is definitely a good idea.
FAQ on VPN location changer.
Can I use a free VPN to change my location?
If you're an Internet user preoccupied with your online security and privacy, then you may want to avoid using free VPN services. There are plenty of affordable VPNs that do a great job of spoofing your location and securing your activities.
Where should I set my VPN location?
You should set your VPN location depending on your needs. For example, if you're interested in unblocking a website, then you should pick a server located in a country where that website is available. But if you're looking to change your location just to surf anonymously, then you should pick a server close to your location. The speed of your VPN connection is influenced by many factors, including the distance between your real location and the VPN server's location.
Does VPN fake location?
Yes, a VPN fakes your location, as it assigns you a virtual IP corresponding to the one the VPN server has. Yet, keep in mind that the VPNs can't spoof your GPS location.
Will my ISP know I am using a VPN to change my location?
Yes, your ISP may see that you are using a VPN, and that is pretty it. As your traffic will be encrypted, your online activities will remain private.
Is it legal to use a VPN to change my location?
VPN technology is 100% legal. Still, there are some exceptions of countries where using a VPN is banned. Therefore, if you're not located in one of the countries where VPN usage is regulated, you can use a VPN to change location.
Before changing the subject…
Before closing the book on this subject, keep in mind that using a VPN is the smart thing to do these days. VPNs put a lot on the table and are worth every penny. The online world is changing as we speak, so we should keep pace with its development. Changing your location with a VPN will help you get access to blocked online resources, militate for free speech, surf privately and securely while being connected to a public Wi-fi or hotspot.
Before getting back to what you were previously doing, make sure to subscribe to our newsletter. It's a win-win situation. You will always be up to date with the latest VPN news, and the Transylvanian bats will be really happy.
So, see you in your inbox?
About the Author