Vilfo is a smart VPN router that packs plenty of useful features for VPN users. It can be easily installed, offers great speed, and great flexibility for setting up VPN connections.
You probably have many devices that connect to the Internet in your home and, if you are reading this article, there are high chances that you are using a VPN regularly. Setting up VPN on various devices is not difficult, but it may require some maintenance for changing VPN location/server, checking speed, updating apps, troubleshooting, etc.
The more efficient solution is to set up the VPN on your router and connect all devices to it. This approach simplifies VPN management and comes with the important benefit of using the VPN on as many devices as you need to, no matter the VPN account limitations.
This article presents Vilfo, a router built for VPN users.
Vilfo VPN router pros and cons [Summary]
Vilfo VPN router pros:

Built for VPN users.
Easy setup and management of the VPN settings (it supports many VPN providers that you may activate by filling in your VPN account's username/password).
Controls VPN access by grouping devices.
Unlimited simultaneous connections.
Provides great speed due to the powerful hardware.
Nice looking dashboard with plenty of real-time and historic information.
Split tunneling on the device-level as well as for websites, IPs, and ports.
Protection against VPN dropouts with the built-in kill switch.
A browser extension to bypass or force VPN connection from your laptop.
Access to your home network from anywhere with the Vilfo VPN server.
Basic parental controller.
Can be controlled via API requests.
One year hardware warranty.

Vilfo VPN router cons:

No real dual-band support (2.4 GHz or 5.0 GHz).
Less performant wireless capabilities.
No Wireguard support.
What is Vilfo?
Vilfo is a powerful VPN router created by the Swedish team behind the OVPN service. It offers a friendly interface to set up VPN access and manage devices easily. Vilfo works with all OpenVPN providers and allows multiple VPN connections simultaneously.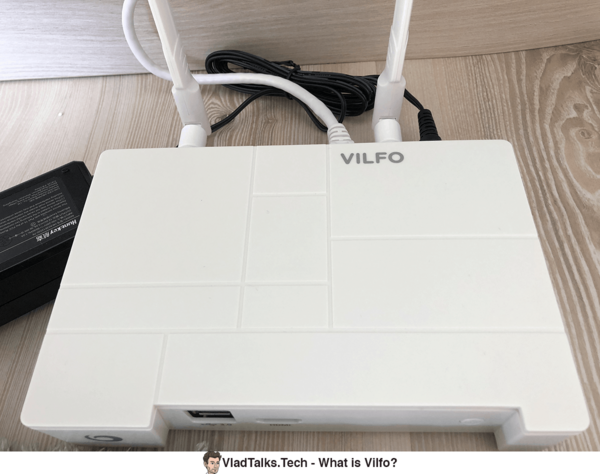 Key features of the Vilfo VPN router:
Compatible with all OpenVPN providers (services that offer access to OpenVPN config files).
Hardware: Intel Celeron, Wifi – MT7612E, 1 WAN x 1000 Mbit/s, 3 LAN x 1000 Mbit/s, 2 GB DDR3 1600 Mhz RAM, 8 GB SSD.
Wireless: 802.11ac (Max 867 Mbit/s), 8 dBi antennas (2T2R), 2.4GHz or 5GHz WiFi.
One year hardware warranty that covers hardware failures.
14-day return policy (you will be charged $30 for return shipping).
Shipped from Sweden.
Price: $379 (+ shipping & taxes) – order it from here.
Vilfo vs. a regular VPN-capable router
Not all routers come with the firmware that allow you to set up a VPN connection. Some of the them do, but with limited options.
Vilfo was built keeping in mind the needs of VPN users. Thus, it is not simply a router that you can set a VPN on. It is more than that.
It is important to understand the differences between Vilfo and regular VPN-capable routers to be able to make an educated purchasing decision:
| | | |
| --- | --- | --- |
| Feature | Vilfo | VPN-capable router |
| Enable multiple VPN tunnels simultaneously | Yes. | No. |
| Support for the OpenVPN protocol | Yes, it is OpenVPN-based. | Rarely. Most of the time regular routers support PPTP and L2TP. |
| Pre-setup for top VPN providers | Yes. | No. |
| Device grouping and split tunneling | Yes. | No. |
| Kill switch | Yes. | No. |
| Hardware | Powerful processor to support the encryption. | It depends. |
| VPN usage stats | Yes, beautiful stats. | No. |
| Wireless capabilities | Not its strongest feature.* | It depends. |
| Price | More expensive. | It depends on many factors. It may be cheaper. |
* Vilfo recommends that you set up a more powerful Wi-Fi router (if you have one) as an access point for the Vilfo router to combine the VPN power with the wireless capabilities of your existing router.
How to set up Vilfo
The first step is to order your Vilfo router. It will be shipped via DHL from Sweden, and it will get to you within a few days.
Open the package and get the contents out (the Vilfo router, two antennas, ethernet cable, power cord, and the licensing code).
Attach/screw the two antennas (if you plan using the WiFi).
Connect your modem to the Vilfo router using the ethernet cable on the WAN port.
Plugin the power cable and turn Vilfo on. After several minutes you will be able to start the initial configuration of Vilfo.
To connect to the Vilfo dashboard, you have two options:

Connect using Wi-Fi: select VILFO from the available Wi-Fi networks.
Connect using a network cable (more secure).

Open a web browser and access http://admin.vilfo.com.

If you can not access the admin page, then there may experience an IP conflict.
Try accessing http://192.168.0.1/ (it should work; if not, reach the Vilfo support team).
As there is an IP collision/conflict, you need to change the Vilfo's subnet to the suggested IP (in our case, 10.220.0.1).
Enter the IP (10.220.0.1 in my case) to the Local IP address field and press the Update button. It may take several minutes to update the subnet mask properly.
Next, access the admin area using the new local IP address (e.g., http://10.220.0.1/setup).

Proceed with the initial configuration and set the Wi-Fi properties (SSID, encryption type, password, protocol, band, channel).

It is recommended that you encrypt the connection using the WPA2-PSK algorithm.
Important! Vilfo is capable of running on 2.4 GHz OR 5 GHz (not both simultaneously!)

Next, fill in the license key found in the Vilfo box and the email address for password reset and notifications.
Further, you may select and configure the router with a pre-defined VPN provider. Thus, you enter the VPN login credentials, and Vilfo will get all the necessary config files and server-related info. About 25 VPN services were pre-defined at the moment of our test, among them NordVPN, ExpressVPN, iVPN, Hide.me, Private Internet Access, Mullvad, OVPN, PureVPN. If you don't have a VPN account or your VPN provider is not listed, you may skip this step.
If you have a VPN account, enter the VPN username/password and finalize the initial setup.

Important! Depending on the VPN provider, the username and password may differ for the ones you use to login to the VPN apps. For example, for ExpressVPN, you need to use the credentials for OpenVPN manual configurations that you find in the ExpressVPN account.

You have completed the Vilfo initial configuration.
How to make the most of your Vilfo router
Now that you have finished your Vilfo router's initial setup, you may take a step forward and get the most out of the Vilfo features.
Choose one or more VPN providers of your choice
It is unexpectedly easy to connect Vilfo to various VPN providers and select the location/server for your device or group of devices.
Several VPN providers are pre-set, and all you have to do is enter the username and password of your VPN account. Vilfo will bring all your necessary info and generate the necessary OpenVPN config files.
You may connect to as many VPN providers as you want. For each device or group of devices, you may choose a VPN provider and a location. Additionally, you may check the logs in case of connection issues.
If your VPN provider is not listed or you have built your own VPN server, you may still use it by accessing the Custom provider section (Menu > VPN providers). Upload your OpenVPN configuration file (.ovpn or .conf), and you are ready to go.
Control VPN access by grouping devices
One of the most powerful features of the Vilfo router is the ability to group devices, to have a different VPN connection for each group, and even to bypass the VPN for a certain group (device-level split tunneling). You may even use a different VPN provider for each group.
For instance, you may group devices that you use for streaming with VPN (Smart TVs, AppleTV, Chromecast, Xbox, PlayStation, Kodi) and easily set up the desired VPN connection to the group.
In our tests, we created a group connected to a VPN server located in Germany provided by ExpressVPN, another one connected to a US VPN from NordVPN, and we left several devices (in the Unsorted devices group) to bypass the VPN.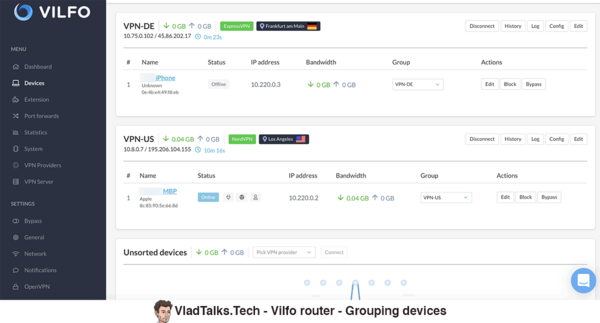 To add a device to a group (you may need to create a group first):
go to the Devices menu;
locate the device you wish to group;
from the Actions menu, select the group, and click the Add button.
Bypass websites, IPs, or ports for local access and better performance
For each device, you may go a step further and define bypass rules depending on the domain, IP, or traffic port. You may need this to achieve higher performance while accessing certain websites, accessing local flavors of the popular streaming channels (Netflix, Hulu), or better connectivity to game servers.
Suppose you want to watch the local Netflix content while keeping your device connected to an overseas VPN server.
As your device is already connected to the VPN due the rules defined on the Vilfo router you may need to bypass Netflix and you have the following options:
Install and use the Vilfo browser extension (available for Chrome, Firefox, or Vivaldi):

From the Admin area (Extension > Install now > Enable). You will need to authorize the extension.
Access the desired website in Chrome, Firefox or Vivaldi, open the Vilfo extension menu and click on the Bypass button.
You may proceed in a similar way with other websites. Additionally, you may use the Force option to enforce access to the desired website with the VPN.

From the Admin area:

Go to Bypass.
Click on Add rule and select your device.
Select the Type as Website (in this case).
Type in the name of the website (e.g., netflix.com).
Click Create.
From now on, you will be able to access Netflix with your real IP address and other websites with the VPN server's IP address.
Protect your online activities in case of VPN dropouts with Kill Switch
One of the VPN's biggest challenges is to shut down the Internet access for all applications (or for a selected range of apps) when the connection to the VPN server is interrupted. To prevent data leaks, VPN software use a mechanism called VPN Kill Switch.
Vilfo has a built-in Kill Switch that you may enable/disable from Settings > OpenVPN. Thus, Vilfo ensures that no traffic goes through your regular Internet connection in case of VPN connection problems.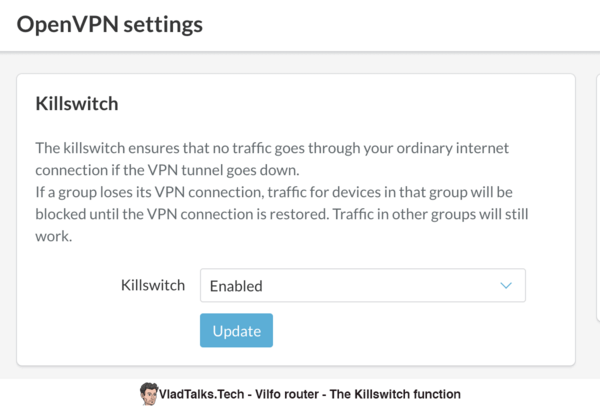 Access your home network from anywhere with the Vilfo VPN server
An excellent advantage of the Vilfo router is that you may set it up as a VPN server and access your local network resources from anywhere. Thus, you may access and manage the Vilfo user interface.
Moreover, you can exit through any of the VPN connections in Vilfo in the same manner as you would do at home.
The Vilfo VPN server setup requires you to start the VPN server, download the OpenVPN configuration file (you may choose between OpenVPN 2.4 and OpenVPN 2.3 or older), and create a user account in the Vilfo. You may find a detailed tutorial here.
The last step is to connect to the Vilfo VPN server. The simplest way is to download the Open VPN client app (available for Windows, macOS – here is our tutorial on using OpenVPN on Mac -, Linux, iOS, Android) and import the OpenVPN config file previously downloaded from the Vilfo admin area.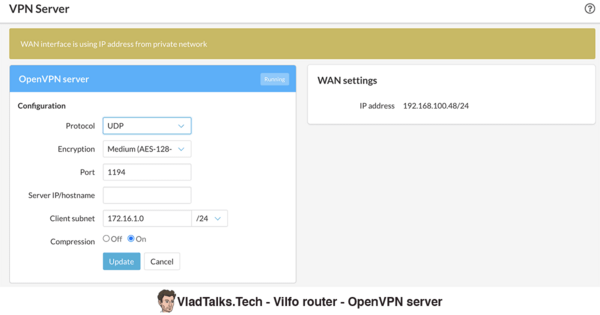 Keep your children safe with a basic parental controller
You may define rules (Settings > Parental control) that restrict access to the Internet on certain days of the week and during certain hours intervals. Thus, you may better control the online activities of your children.
Monitor connections and groups
The Vilfo interface offers access to plenty of data regarding VPN usage and performance: gateway latency (VPN and ISP), used bandwidth, encrypted vs. unencrypted traffic, and more. With Vilfo you are always informed and in control.
VPN on a router vs. VPN on a device – Is speed an issue?
The basic functioning principle of VPN technology is that it encrypts and decrypts data. But, the encryption/decryption process takes time and consumes resources.
And, if the device is not powerful enough, as is the case with many VPN-capable routers, it takes even more time.
I took a simple test to compare the VPN speed provided by Vilfo and by a VPN app. Both speed tests were performed on a laptop (Macbook Pro): (1) the laptop was connected to Vilfo on Wi-Fi, and Vilfo was connected to the VPN, and (2) the VPN app was connected to the same VPN server (from NordVPN), and the laptop was connected to the Internet directly on Wi-Fi.
As you can see below, the results were almost equal. This proves that Vilfo is powerful enough to handle the encryption process successfully, and you can benefit from the advantages offered by a VPN router without worrying about the speed.
Vilfo security and privacy concerns
Vilfo was started as an Indiegogo project. During the early phases of testing, several users have pointed out some potential security and privacy issues like:
Vilfo did not come with a default password for the Wi-Fi;
It used the DNS services from OVPN by default;
The admin interface included (and still does) a live chat support interface from Intercom and integrates Google Analytics tracking;
DNS leaks were possible in certain scenarios.
Feedback is always appreciated by a team that takes product development seriously. The Vilfo team has corrected or improved the reported issues as you can read here. I honestly think this is a good sign as there is no perfect product, only products that can be improved.
If you are a privacy-oriented person you should take a moment and de-activate Google Analytics tracking and Intercom integration (from Settings > General).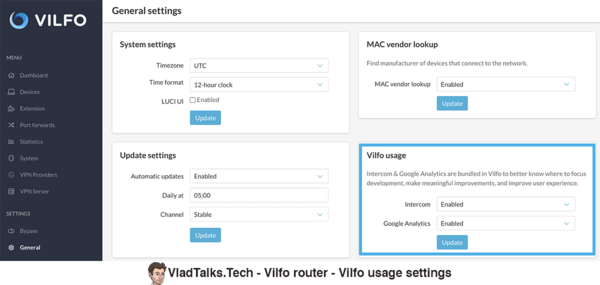 Vilfo VPN router – FAQs
Does Vilfo support WireGuard?
Vilfo currently does not support WireGuard, only OpenVPN. However, the Vilfo team will introduce WireGuard soon.
Does Vilfo offer dual-band support?
Yes, but only one band can be active at a time (2.4 GHz or 5.0 GHz).
Conclusion
I have enjoyed using the Vilfo VPN router. Vilfo is clearly a top VPN router. It has many useful and well-presented features. And it works smoothly.
The fact that Vilfo is pre-set with a lot of the top VPN providers is a big plus for the average VPN user. Individual devices can be grouped and use multiple VPN services. You can decide which devices use VPN and which are not. All with easy control from the Admin area.
To sum up, if you are looking for a router that is all VPN-capable, then Vilfo is a great choice.
Don't forget to subscribe to our newsletter (below). We promise to keep you updated with news and tutorials on Vilfo and other VPN routers. Plus, you will make a Transylvanian baby-bat very happy. 😃
Disclaimer: We have tested Vilfo for about 3 weeks on a review unit provided by the Vilfo team. Also, we use affiliate links to Vilfo within this article and other articles from our site.
About the Author