This short tutorial helps you set up PPTP VPN on Windows 10 devices. It also explains why PPTP is no longer considered a safe VPN protocol, how to set PPTP up on your Windows machine, and what alternatives you should consider.
PPTP VPN setup on Windows 10 [Summary]
Setting up PPTP on Windows 10 is not a difficult task and several options are available:
Option 1: Manually set up a PPTP VPN connection on your Windows 10 device:

Open the VPN Settings (type VPN in the search box and click VPN Settings).
Click on the "+" button to Add a VPN connection.
Select the Windows (built-in) as the VPN provider, set the connection name, and fill in the VPN server IP or address.
Select the VPN protocol as PPTP.
Fill in the User name and Password for the PPTP connection.
Save and connect.
Are you looking for more options to connect to a VPN from Windows OS? Start by reading how to use a VPN on Windows.
What is PPTP? Pros and cons.
PPTP (Point-to-Point Tunneling Protocol) was developed by a Microsoft initiative, and it was included in all Windows versions starting with Windows 95. Thus, it has become one of the most commonly used protocols for establishing VPN connections.
PPTP is easy to set up and very fast. For that reason, the PPTP VPN protocol is helpful on devices with limited processing power, or for applications that require fast processing, like audio/video streaming apps.
However, PPTP is not considered safe as several security vulnerabilities have been identified (related to the PPP authentication and the design of the MPPE protocol).
Consequently, Apple has removed PPTP from macOS 10.12 and above. Nevertheless, PPTP can still be used on Windows, and PPTP is still an option for Android or on Linux.
How to set up a PPTP connection on Windows 10
PPTP is still available on Windows (all versions, including Windows 7, Windows 8, and Windows 10) and it is quite easy to set up. Here are the available options.
Manually set up a PPTP VPN connection
Windows exposes built-in VPN components that allow you to easily connect to VPN servers using the following communication protocols: PPTP, L2TP/IPsec, SSTP, and IKEv2.
For Windows 10, the manual PPTP setup consists of the following steps:
Enter "VPN" in the search box and click on the VPN Settings.
Click on the "+" button to Add a VPN connection.
Choose the Windows (built-in) as the VPN provider.
Set a connection name and fill in the server name or address (you need to know before you start setting the manual connection).
Select PPTP as the VPN type or the VPN protocol.
Fill in the User name and Password for the PPTP connection.
Click the Save button.
To establish the PPTP connection to the VPN server:
Option 1: from VPN Settings, click on the VPN connection name, and then on the Connect button.

Option 2: from the taskbar, select the Network icon. Next, select the VPN profile you want to use and click the Connect button. When connected, the VPN profile name will display Connected.

To disconnect, click on the Network icon from the taskbar, find the VPN connection, and click the Disconnect button.
Use a Windows VPN application from a VPN provider
VPN providers offer access to Windows VPN clients (VPN software) that automatically configure VPN tunnels with one click. Thus, you are able to easily switch between protocols, servers, and VPN locations.
But, due to security concerns, most VPNs have partially or completely abandoned the PPTP protocol.
We were able to identify two good VPN services that may still help you get a PPTP VPN on Windows 10: PureVPN and HideIPVPN.
To get started, subscribe to the VPN service (PureVPN offers a 7-day trial for $0.99), install the Windows app, open the settings tab, and select the PPTP protocol.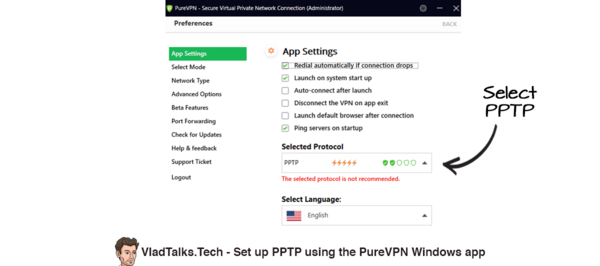 Set up PPTP on your router
Do you need to connect multiple devices to the VPN using the PPTP protocol? You may set up the PPTP connection on your router and you are done.
To set up PPTP on a router you need to:
Log in to the router admin area.
Open the VPN settings page and look for PPTP (many routers still have PPTP available).
Set the PPTP parameters (server IP or name, username, password) and save.
Connect the Windows devices to the router and test the VPN connection.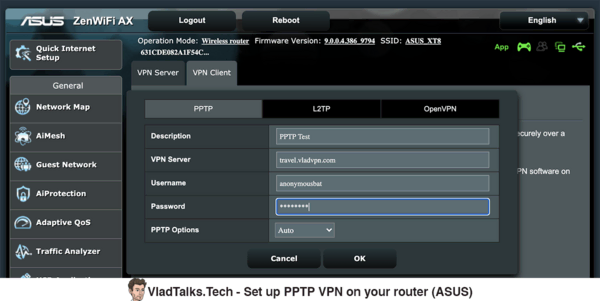 PPTP VPN alternatives on Windows 10
Don't use PPTP unless you have no choice! Other VPN protocols that are available on Windows 10 are safer and more reliable:
PPTP VPN on Windows 10 FAQs
Is PPTP secure?
Serious security vulnerabilities have been discovered in the PPTP protocol. Thus, PPTP is not considered to be secure.
Can't connect to PPTP VPN on Windows 10?
If you are not able to connect to PPTP using Windows 10 make sure that: your Internet connection is running properly, you have set up the correct VPN credentials (server address, user name, password), the VPN server is working (you may set up the PPTP connection from a different device), your firewall does not block the VPN connection.
Summary
Unlike macOS, Windows is still supporting the PPTP protocol, even though it is considered insecure.
The most straightforward approach to use PPTP VPN on Windows 10 is to set up a VPN connection manually. Additionally, you may set PPTP on your router or use a VPN client app that is able to create PPTP connections.
Would you like to be notified when we publish more articles on PPTP and other protocols? Subscribe to our newsletter! It will make a Transylvanian baby-bat 🦇happy.
About the Author