Some things are too good to be true, right? VPN is good, but is VPN legal? First of all, I feel like I owe you an "explanation" for the excellent mood I have while writing this article.
I am currently enjoying a lovely Saturday afternoon in my hammock, at my mom's house, in a picturesque place, between the foothills of the Calimani Mountains. If you're curious, drop me a line, and I will e-mail you a picture of this stunning place, as I think that anyone needs to see it.
Then this thought kicked in. Some things in life feel just too good to be true, right?
This past week felt too good to be true, as I had a few days off from work, and I got the chance to do whatever I wanted to.
For instance, have you ever met someone and felt that unbreakable connection? Maybe now you're married to that person. 😊
Or, have you ever received good and unexpected news regarding a health issue you once had?
Disclaimer! This is not a Sandra Brown book, as she is not writing about VPNs (as far as I know), so stay with me!
Let's exit this sentimental mood and focus on another thing that it's just too good to be true – the VPN.
Is VPN legal? YES, the VPN is a great tool for online security, anonymity, and privacy that worth every penny, and YES, the VPN is legal.
Still, there are a few exceptions you need to be aware of.
So, stick to this article and be in the know.
Is VPN legal? The Transylvanian explanation.
Being in love makes you lose your mind.
In Romania, we celebrate Valentine's day, but we also have a traditional day called the Dragobete, celebrated on February 24.
On February 24, each year, Romanian couples celebrate love in the most lovely and unique ways. Some couples enjoy romantic dinners in stylish restaurants, other couples are spending the weekend in cozy mountain cabins, while others are… getting inked.
Guess what TomBat did for PonyBat this year. Yes, you're right… he went to Battoo, the closest Vampire Tattoo salon, to forever mark his love for PonyBat.
Out of pure love, he decided to get the word LOVE tattooed on his chest.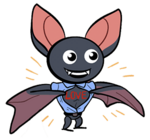 Seeing the final result, PonyBat was shocked, in a good way. No other bat male batman did something this crazy for her before, so she was delighted beyond words. Plus, this new tattoo made TomBat look even more lovable. What batman gets such a girlish tattoo? Only the one that is blinded by love (as bats are not actually blind).
However, who are we to judge TomBat or to make fun of his new tattoo?
But wait, if TomBat lived in North Korea, he would be in serious trouble right now.
Why? Because North Korea regulates the tattoo content and the word Love is completely forbidden unless it speaks about the love for the Communist Party or the love for the country.
Shocking, right?
The same principle applies to the VPN in some countries.
So, the VPN is a secure and legal solution, but it may be regulated or even forbidden in some places worldwide.
What's all the hype with the VPN?
The VPN technology for online security is like Transylvania for Romania.
We know that all the hype with Transylvania is due to Count Dracula, but what links VPN with online security?
Before the VPN became popular among regular internet users, the technology was used by the companies to assure the secure connection to corporate networks. For companies, the whole solution developed and they are now able to use VPN concentrators to secure their network.
Once all the benefits were brought to light (a thing that would be completely unacceptable for Count Dracula), people worldwide started to use the VPN technology.
The main online activities you can accomplish while using a VPN (Virtual Private Network) are:
Change your real IP. Hiding your IP address and changing your virtual location is a good solution that assures online anonymity and online freedom.
Encrypt the internet traffic. Once you enable the VPN connection in the traditional way or using a VPN app (VPN software), all your traffic is routed via a VPN server. Combining the server with the VPN protocol and the encryption standard, the main result is an encrypted and completely secure internet activity. The VPN creates a bridge between your device and the world wide web, enabling a private network over a public network.
Bypass online restrictions. Online restrictions are a series of actions applied by governments, ISPs (Internet Service Providers), or companies to regulate access to certain online resources. These geo-restrictions are popular among huge streaming services like BBC iPlayer, Netflix, or Hulu, or gaming websites. With a VPN for streaming, you can access your favorite media content anywhere, anytime.
Bypass firewalls and DPI. Net neutrality and the concept of an open internet no longer exist. People living in China, for example, are not able to access Facebook or Youtube. Can you imagine this? With the help of a powerful China VPN and their advanced features (like Double VPN or Tor over VPN, for example), people living in highly-restrictive countries can enable a VPN connection to gain access to popular social media websites or VOIP services.
Protect your sensitive data from hackers.
How many internet surfers use the VPN at the moment?
The number of VPN users increases from a year to another. This tool acts like garlic clove, keeping away all the vampires' lurking eyes, ensuring a high-security level, both for personal networks and for public WiFi networks.
In 2020, it's not enough to use a VPN on Windows or a VPN on Mac, but it's essential to protect your mobile devices too. Learn how to protect your iPhone/iPad or your Android device with a VPN.
As the awareness raised during the last years, according to a survey performed by GlobalWebIndex in Q4 of 2018, 30% of the respondents have made use of a VPN or a proxy server in the past month. Based on their country, the respondents used the VPN to:
As you can see, in countries where internet censorship or geo-restrictions are performed, internet surfers use a VPN to ensure their access to specific websites. In contrast, in countries where the internet is still an open gate, users think more about their online security and anonymity.
Is VPN illegal? Are VPNs legal?
By definition, the VPN is not illegal. This powerful tool uses a tunneling protocol with military-grade encryption to encrypt and secure your data. However, sometimes, the VPN is associated with illegal activities. In other words, caring for your internet security and privacy is completely legal, but keep in mind that if you perform illegal activities while using a VPN, you won't be under any protection.
VPNs and the mighty illegal activities.
P2P file sharing is not illegal, as long as you download or share content that is not copyrighted. For this purpose, you can use a VPN for torrenting securely. However, the situation changes as soon as you use a VPN to download copyrighted content. This action is completely illegal, and a VPN will not protect you in any way! Due to practices like this, the VPN is automatically linked to illegal activities.
Besides the illegal file-sharing, other activities remain illegal even if you use a VPN:
Hacking. On top of the list, we have the hacking activity. Frauds, data stealing, or unauthorized access to someone's computer network or data is entirely illegal.
Cyberstalking. Besides the fact that this activity is as creepy as a vampire, stalking someone online while using a VPN (or not) is illegal and wrong on so many levels.
Downloading, buying, or selling stuff on the dark web. The dark web is called dark for some good reasons. First of all, it is not safe, and second of all is a place where dealers sell weapons, drugs, or perform other nasty activities you don't want to be associated with.
So, don't get distracted or dragged into activities that have nothing to do with your good intentions and goals! Don't be a vampire! Be a little and cute bat!
Why are VPNs regulated?
Due to some particular situations, the VPN was put under the magnifying glass in some countries, and… ended up being regulated. Based on the VPN regulation, we can divide these countries into three major groups:
Countries where VPN usage is completely legal;
Countries where VPN usage is government-controlled;
Countries where VPN usage is banned.
But which are those particular situations that caused the VPN regulations? Let's find out together!
VPN regulations.
As one of the main "bat-nefits" a VPN has is to provide online security, we can easily conclude where VPNs are illegal or banned.
Usually, countries with restrictive laws concerning civil rights and freedom of speech decided to put under the justice's magnifying glass the VPN technology.
In such a country, no matter if you use a VPN to access Facebook or secure your connection while using public WiFi, the simple attempt to enable the connection will cause you serious trouble.
That's why it is important to know whether the VPN is legal in your country or in the country you're about to visit.
Just check the image below:
The great news is that the VPN is legal in many countries, yet there are a handful of places where the VPN is regulated or banned.
In countries like the United States/USA, UK, France, Germany, or Australia, VPN technology is completely legal, and many people use it.
Still, in countries like China, Iran, Oman, UAE, Russia, or Turkey, the VPN is government regulated.
What does this mean?
Countries where the VPN is regulated
China
In China, all the approved VPN providers went before through the Government's filter. This decision was made in March 2018, as the Chinese Government wants to regulate the services which conduct cross-border operational activities unlawfully.
On the other hand, Chinese people love bats… so, there's still hope! 🙂
Iran
Back in 2003, the Iranian government decided to allow the usage of approved VPNs only. The explanation behind this decision is that they want to prosecute internet users who are violating state laws.
Keep in mind that if you visit Iran and use a VPN, you may end up in jail for 91 days, or even for a whole year.
Oman
Oh man, Oman decided to regulate VPN usage to prohibit its citizens from bypassing internet censorship or using VOIP services, and we can get why. You should also keep in mind that if you use a VPN approved in Oman, your logs will be kept, meaning that your online activities are not private. Plus, if you use the bat bad VPN, you may pay a fine that reaches the amount of $1,300. So, be cautious!
UAE
The United Arab Emirates is regulating VPNs to… prevent citizens from using Skype, Viber, or WhatsApp to the detriment of local Telecom companies.
The repercussions are significant… you can end up in jail or, if you're lucky enough, you'll end up paying a fine of up to $544,000.
Russia
When I say Russia, I get chills… Mainly because of the Russian low temperatures and secondly because Russia regulates VPN usage to prevent the sharing of extremist materials.
Turkey
If you plan to spend a lovely holiday in a Turkish resort, you better think twice before using a VPN in the hotel lounge. Alongside other countries, Turkey decided to regulate VPN usage to prevent certain restrictions closely related to internet censorship.
Countries where the VPN is completely banned
On the other hand, we have the less fortunate countries where the VPNs are completely banned. These countries are Belarus, North Korea, Turkmenistan, and Iraq.
Belarus
The Government entirely banned the VPNs from the desire to prevent bypassing internet censorship and firewalls.
North Korea
The citizens of North Korea don't even have internet access we are used to. They use their own version of the internet called Kwangmyong.
Turkmenistan
In Turkmenistan, citizens are not allowed to use a VPN to have access to specific online content such as news and social media websites or media content.
Iraq
Iraq is another country where the VPNs are completely prohibited. I must say that I totally get why this measure was taken. The government regulates VPNs to stop ISIS from manipulating social media and monitoring online terrorist activity.
VPNs may break certain TOS.
Have you ever read the full TOS while subscribing to a service? Yeah, me neither!
Yet, this thing is super-important.
As I am sure you've heard of BBC iPlayer and Netflix, I will give you an explicit example of how a VPN can breach terms of service.
BBC iPlayer and Netflix are two giants in the media streaming services market. Their popularity skyrocketed in the last years, and now is super hype to have a BBC or Netflix subscription to watch your favorite series, movies, or documentaries.
BBC iPlayer is meant only for UK residents, as it requires a UK TV license, and Netflix has different content catalogs for certain countries.
Therefore, in the case of these two giants, we can talk about geo-restrictions.
Geo-restriction is a technique used by different providers to restrict certain online content only to a few regions.
Looking closely at the situation with BBC or Netflix, we may get a sense of why they apply geo-restrictions.
These two providers are allowing users to stream content produced by them or content brought from other producers. Usually, this type of content is copyrighted and meant only for some countries or regions.
What happens when someone uses a VPN to access BBC iPlayer of Netflix UK outside the UK? Yes, it breaks the terms of service.
This practice is performed mostly by UK residents traveling or temporarily moving to other countries, so the situation is understandable (somehow). It's unfair to pay for a subscription and be unable to enjoy it.
As the media providers are aware of the incoming VPN traffic, they use advanced filtering and blocking algorithms.
Even so, there are a few VPN services like Express VPN or Nord VPN, considered by many the best VPN service providers, claiming that they can bypass BBC and Netflix's powerful filtering systems.
How to make sure you're not breaking the law while using a VPN?
Using a VPN in a country where the technology is regulated or banned can put you in real trouble. In conclusion, you need to be aware of a few important things that can save your skin from paying fines or other unpleasant situations.
Here are the most important aspects you need to keep in mind:
Check the legality of the VPN in the country you live or you're about to visit. This is the first step that can get you out of trouble. Here are there scenarios:

If the VPN is legal, you can use your

existing

subscription or get a VPN that meets your needs.
If the VPN is regulated, do some research and find out what VPNs are allowed in those specific countries and use only those making part of that list.
If the VPN is banned, don't even think to enable a VPN connection, as you may regret that moment for the rest of your life.

Pick a trustworthy VPN provider. When we speak about VPNs, we talk about protecting all of the sensitive info you send over the web, like your browsing data and even credit card information. That's why it's important to choose a provider with a lot of experience in its field that keeps no logs. Keep in mind that you should never use a free VPN service. Free VPNs are very dangerous, as are usually selling your data. Plus, their performance is questionable, just how it may happen in case of the lifetime VPN plans provided by certain services so, don't be stingy. Your online privacy is worth more than you think.
Use advanced security features. Now that you know what VPN to choose make the most of what it offers. Install its apps on all your devices, including mobile ones. The next step would be to be super cautious and use advanced features like the VPN Kill Switch or enable options to avoid IP and DNS leaks.
Use powerful protocols. For example, under normal circumstances, it's super hard to bypass the Great Firewall of China. But with a powerful VPN protocol like OpenVPN, Shadowsocks, or Stealth VPN (a protocol that uses obfuscation), you can bypass the DPI and enjoy VOIP services or access social media websites even if you're in China.
Test your VPN. After you turn on the VPN, you should check that it works properly, and it does not leak your data.
Let's sum things up because this is 100% legal.
In case you're still worried about TomBat, I assure you he's fine. His tattoo healed well, as PonyBat made sure to put healing cream on it every night. Plus, he's not planning a trip to North Korea anytime soon, as he has in mind other romantic places like Paris, The Maldives, Hawaii, or Aspen during winter, and lucky for him, in all these places, his tattoo and even the VPN are legal.
Based on what we've learned, at your turn, you need to make sure you use the VPN responsibly.
Always check if the VPN is legal in the country you're about to visit, as I am sure you don't want to have your holidays ruined.
Plus, if you enjoyed this article and want to be in the know, subscribe to our newsletters and be part of our bat-iful community.
Last but not least, I wasn't joking when I said that if you want, I will e-mail you a picture from my mom's backyard, contact me, and consider the job done!
About the Author