This short article shows how to watch BBC iPlayer outside UK on iPhone or iPad and how to keep unblocking iPlayer on a regular basis.
You may either access iPlayer from the app or from a web browser. However, iPlayer is sometimes able to detect that you are abroad and blocks your entrance. I will show you how to restore your access.
How to watch BBC iPlayer abroad on iOS [Summary]
Why watch BBC iPlayer outside UK?
BBC is one of the most attractive online streaming media sites in the UK as it gives you access to high-quality UK TV shows, movies, radio programs. Additionally, it is a great way to catch up on missed television.
iPlayer is meant for UK users only. However, a lot of people are accessing iPlayer from different countries. This is possible using a VPN (Virtual Private Networks) that hides your real IP address or other related technologies (proxy or Smart DNS).
By unblocking iPlayer, you may watch popular BBC shows like Top Gear, MasterChef, The Nest, Doctor Who, Sherlock, The Musketeers, Call The Midwife, EastEnders, and many more.
How to create a BBC iPlayer account
To watch BBC iPlayer either using the app or a web browser, you need a BBC account. If you don't already have an account you may register one following the steps described below:
Tap on the Register button (in the app) or click on the Register now link (from a web browser).

Select the age category that describes you (Under 13, 13 or over).
Enter your date of birth (not necessarily real, but you will need to remember it in case you need to recover your account).
Enter your email and choose a strong password.
Check your email and click the Verify your email address button.
When you log in to your account for the first time you will be asked: "Got a TV License?" Tap (click) on the I have a TV license option.
You have successfully created a BBC account.
How to install the BBC iPlayer iOS app abroad
You may download the BBC iPlayer app on your iOS device only if you are signed in with an Apple ID with the location in the UK:
Open App Store.
Search for "bbc iplayer".
Tap on the GET button.
If you live outside the UK and you are using an Apple ID from your location you will not see the iPlayer app available for download. You need to create a new Apple ID with the location in the UK.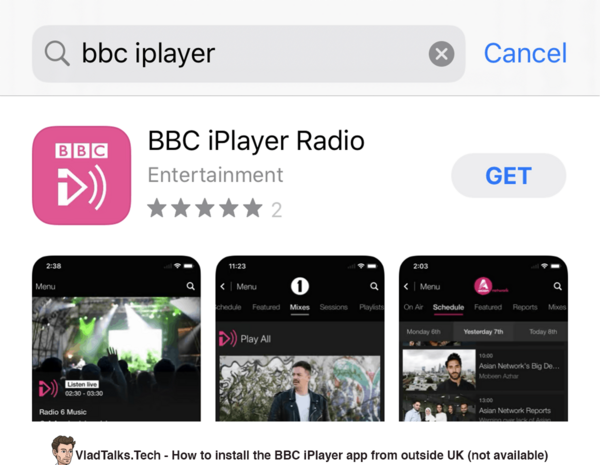 Important! Do not try to change the location of your current Apple ID. You will lose your existing settings.
Here is what you have to do:
Sign out from your existing Apple ID (App Store > Sign out from the bottom of the page).
Navigate to this page to create a new Apple ID. You may use a disposable email address, create a new email address or use another one that you have access to.
Fill in the form and make sure you select the United Kingdom as Country/Region.

Verify the email you entered for your new Apple ID.
Go to App Store and sign in using your new Apple ID.
You will need to Complete your Apple ID:

Agree to Terms and Conditions and tap Next.
Let the Payment Method set to None.
To the Billing address, enter an auto-generated UK address, including the postal code.
Tap Next.

Open App Store.
Search for "bbc iplayer".
Tap on the GET button and download the app.
Lastly, sign-out from the new Apple ID and sign-in with your regular account.
How to watch BBC iPlayer outside UK on iPhone or iPad
The access to BBC iPlayer is a must-have for many British expats. However, when starting an iPlayer streaming from outside the UK the following message is shown: "Sorry, this content can only be played within the UK."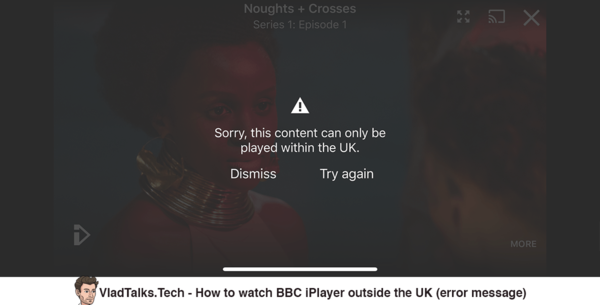 The solution? Use a VPN to virtually place you in the UK.
Using the iPlayer app
The most straightforward method to watch BBC iPlayer on iPhone or iPad is to use the iPlayer app. Installing the app from abroad is tricky, but it can be done by creating a new Apple ID, as explained above.
The next step is to access a VPN service that can unblock the BBC iPlayer (aka, VPN for streaming). We consider these the best VPNs: NordVPN, ExpressVPN, Surfshark, Hide.me. They do the trick (tested!) and offer good value.
Install the VPN software, turn on the VPN (connecting to a UK VPN server), open the iPlayer app and start the desired show.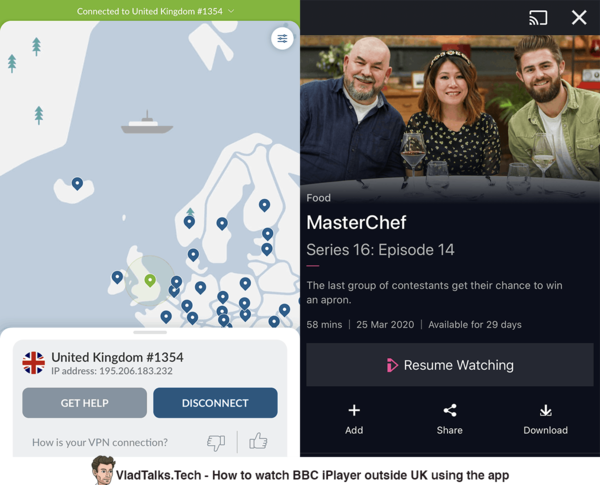 Important! Every time you start watching a show in the iPlayer app make sure you have the VPN turned on. Otherwise, you will get the iPlayer error message.
Using the web browser
If you don't want to install the iPlayer application you may use a web browser (Safari, Chrome) to access the BBC iPlayer website. You still need to have an active account to log in.
To unblock BBC iPlayer within a web browser:
Get a VPN on your iOS device.
Turn on the VPN on the UK location (NordVPN, ExpressVPN, Surfshark, Hide.me).
Open the web browser and load the BBC iPlayer website.
Log in to your BBC account.
Start the streaming and get the BBC content.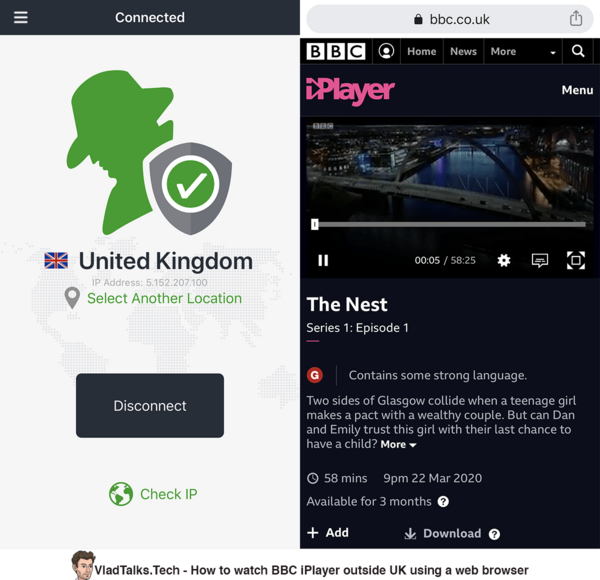 Important! You need to keep the VPN running all the time you access the BBC iPlayer website open.
Alternative solution: set the VPN on your router
Do you need to access the iPlayer from multiple devices? Then, instead of setting up the VPN on every device, you may install it once on your router and unblock BBC on all devices that connect to that router (including devices like Apple TV or Roku).
Most popular VPN services (including those recommended above) can be configured on different types of routers. Step-by-step tutorials are available from each provider.
If you don't have a router that is VPN-capable, we recommend considering Vilfo, a VPN router with great features for online streaming.
Important! Before setting the VPN on your router make sure the VPN server you choose it is able to access BBC iPlayer. You should test it first from one of your devices.
As it is more difficult to turn the VPN from a router on and off, you may consider setting up a separate router exclusively for accessing BBC iPlayer.
What to do if you get blocked
Have you been blocked by BBC iPlayer? Don't get it personal! The BBC iPlayer platform uses monitoring tools that automatically block users based on certain red flags.
What you can do:
If you are using the iPlayer app:

Close the app, disconnect from the VPN, reconnect to a different UK VPN server, re-open the iPlayer app.
If you are still not able to unblock the iPlayer, you may need to delete and reinstall the app. However, you should remove the app and all the app data: Settings > General > iPhone Storage > BBC iPlayer > Delete App.


If you watch iPlayer from a web browser:

Delete the BBC browser cookies:

For Safari:

Settings > Safari > Advanced > Website Data > type "bbc" > Delete all rows.

For Chrome:

Open the Chrome app > tap "…" from the bottom right > Settings > Privacy > Clear Browsing Data > check Cookies, Site Data (uncheck the other options) > tap Clear Browsing Data > Done.
Close the Chrome app.

Next, re-connect to the VPN, open the web browser (only after you are connected), and load the BBC iPlayer website.

If you are using a router: connect to your router and change the VPN server.
FAQs on unblocking iPlayer on iOS
Is the BBC iPlayer free to use?
Yes, it is. However, it is supposed that you pay the TV license fee required for any TV channels in the UK.
How does BBC iPlayer know I'm using a VPN?
BBC iPlayer monitors the IP addresses of the users that access the streaming channels. When many users connect using the same IP address (the one exposed by a VPN server), the IP is blacklisted and the access is blocked.
What VPN works with BBC iPlayer?
The basic rule is that you need to connect to a VPN server located in the UK in order to be able to unblock iPlayer. Theoretically speaking, any VPN service that offers a VPN server in the UK should work with BBC iPlayer. However, as many server IP addresses get blacklisted, only several VPN providers are able to constantly provide access to the streaming site.
The VPN services that we tested (and we test them on a regular basis) are listed above. If you know other good options let us know in the comments.
Summary
You have just learned how to watch BBC iPlayer outside the UK on iPhone or iPad. Similarly, you may unblock iPlayer on Android, Mac, Windows. Also, you may access ITV or USA streaming services like Amazon Prime Video, Netflix, Hulu.
Getting access to iPlayer requires some work (create an account, install the app, get a VPN), but it can be done by any average bat (Joe).
Remember that you need to have your VPN turned on every time you start watching a show on BBC iPlayer!
Do you want to make a Transylvanian baby-bat 🦇happy? Subscribe to our newsletter (below) to you will get valuable VPN tips right to your inbox!
About the Author