Although a VPN can run straight from a computer or a mobile device, it is also possible to set up a VPN on a router. This results in all devices (computers, mobiles, smart TVs, game consoles) connected to the router network going through an encrypted tunnel all the time.
This is a more comprehensive security solution, and although more work is required upfront, it means you don't have to start up a VPN every time you want increased security for your devices. Additionally, bypassing restrictions or unblocking geo-blocked websites is reduced to connecting to the Internet via the router.
This article explains what is a VPN for a router, what are the pros and cons of this approach, how to get a VPN on router, and lists several VPN services that are suitable for setting them on routers.
How to use a VPN on a router – Safe deliveries in the bat World
As you probably know by now, TomBat and his soul mate, PonyBat, are running a chocolate business. And they are doing great! Lots of orders from all over Transylvania!
To optimize the distribution process TomBat had the idea of using RoboBat for delivering the bat-iful boxes full of yummy chocolates. And, it worked for a while … Until the Megabats found out and attacked RoboBat. Things started to get an unfortunate turn.
"Pony dear, what should we do? I really believed using RoboBat was a great idea …" hummed TomBat.
"Wait, wait! What about a safe box that can only be open by the client with a code that we communicate when the order is placed?", proposed PonyBat.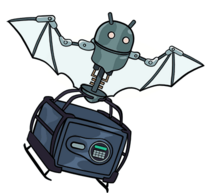 And this is what they did: TomBat, helped by GrandPaBat, built a safe delivery box (one that Megabats could not open).
And it went like this: TomBat and PonyBat (the devices that connect to the router) asked RoboBat (the router) to transport the safe delivery box (the VPN) and to deliver the tasty chocolates to the clients (the Internet).
Now that you got the basic idea, let's talk tech!
What is a VPN for a router and a VPN router
Simply put, a VPN for a router is a VPN that can be set up on certain routers. As there are two sides involved (the VPN and the router), the distinction is necessary: some VPNs can not be set up on routers, while some routers (by design, or lack of it) can not establish a VPN connection (e.g., most ISP routers).
On the other hand, a VPN router is a type of router built or configured to establish secure tunnels using VPN technology.
How does a VPN work on a router?
A VPN (Virtual Private Network) installed on a router implements a layer of online privacy and security for all devices connected to the router. When a device connects to the Internet, it uses the router to handle the traffic data.
When a VPN is active on a router, all the Internet traffic is encrypted and sent to a VPN server. There the encryption is removed, and the data is sent to the Internet. The response is encrypted and sent back to the router (in this scenario, the VPN client), where data is decrypted and forwarded to the device.
However, it is important to understand that, even though the connection between the router and the VPN server is encrypted, the data that travels between the connected devices and the router is not protected.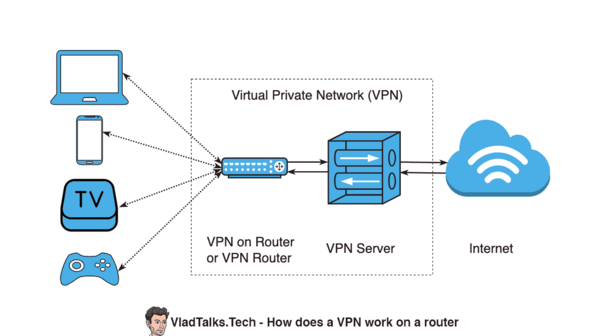 Why do you need a VPN on your router?
If you require that all the devices on your network have the security of encrypted traffic or the convenience of having them all routed through a specific country to enable, for example, the use of Netflix, Youtube, Amazon Prime, or BBC iPlayer, the best way to achieve this is by setting up VPN access on your router.
Apart from allowing you to avoid snooping, bypass censorship, even the hardcore one like the censorship imposed in China, or a user in your home using websites or services that may draw the attention of authorities, this also means that even if a user on the home network forgets to use a secure connection, it won't matter as their connection will still go through the VPN.
It also means that any device, even those that don't support VPN services or proxies (smart TVs, game consoles, Apple TV), will still be able to dodge geo-blocking.
Thus, while using a VPN, the communication between the router and the Internet is encrypted and protected. A router VPN also helps you unblock restricted websites by changing your virtual location and provides online anonymity by hiding your real IP address.
To sum up, a VPN on router offers many benefits:
Online security and protection for all devices connected to the router.
Data encryption from the router to the Internet.
IP address hiding while browsing the Internet.
Websites unblocking.
Advantages and disadvantages of using a VPN for router
Before setting up a VPN on your router, you should understand the pros and cons of using this approach. Pay extra attention to the possible disadvantages!
Advantages of using a VPN for router
All-inclusive home security. You get a whole home VPN. With a VPN on router, all devices connected to a home network will be protected without having to configure new devices or those belonging to guests using your WiFi.
Privacy and security are always on. When VPN is enabled on the router it allows devices to be connected to the VPN server all the time. Users don't have to remember to secure their connection and a device that initiates an automatic connection will still be secured.
More devices may be connected. Although many VPNs allow multiple devices to be connected, a VPN-compatible router counts as only one device, irrespective of how many devices are connected to the router. This allows for many devices to be protected by the VPN without incurring additional costs.
Devices not supporting VPN are covered. There are many devices with WiFi that don't support VPN coverage, for example, home media systems. These would normally not be able to access geo-blocked content, but with a VPN installed on a router, geo-blocked content becomes available.
Disadvantages of using a VPN for router
Routers have different encryption power. Most routers can only run very basic tunneling or encryption protocols, and you may need better protection.
Managing VPN settings is difficult. Routers don't have a proper user interface, making it tricky to adjust VPN settings. This often has to be done via a separate device connected to the router.
Traffic between the router and devices is unsecured. As encryption is done on the router, traffic on the network itself is not encrypted. It is crucial to ensure the home Wi-Fi network setup is secure and can't be accessed by random strangers.
Some incoming connections are blocked. VPNs block unauthorized incoming connections. With a router, it becomes difficult to authorize incoming connections that you want to allow through.
How to get a VPN for router
The first thing you need to do is get access to a VPN-enabled router, meaning that it can establish VPN connections. There several options, and I am going to explain them below.
Purchase a VPN router (e.g., Vilfo)
An elegant and quick solution (but not cheap) is to purchase a VPN router, which is a router built for enhancing your network's security and privacy with VPN protection. Such a VPN router offers plenty of options that regular, VPN-compatible routers don't.
We have recently reviewed Vilfo, a great VPN router, and if you can afford it, we recommend purchasing it. It is simple to use, fast, and compatible with most VPN providers.
Use routers with VPN client support
There are several routers available on the market that have a VPN client package included with the hardware. But not all of them.
Most new ASUS routers, however, support VPN client mode. These include the more economical RT-AC52U right up to the premium RT-AC3200. Other routers, like TP-link, D-Link, or Netgear routers, also offer great VPN support.
The level of encryption (VPN protocol) on the different models varies widely. Some ASUS routers only accept Point-to-Point Tunneling Protocol (PPTP), while others can set up OpenVPN or Shadowsocks connections. You might want to make sure you know what is included before buying one.
Install a VPN firmware on your router
If you already have a router and it is not VPN-enabled, you may flash it with VPN firmware, meaning that you may install an operating system that can deal with VPN connections. This is a DIY option, and it is slightly more difficult.
There most well-known and versatile types of VPN firmware available on the market are DD-WRT and Tomato.
DD-WRT is third-party firmware that has been around for years and it will work with numerous different types of routers.
The DD-WRT option is very appealing as it is free, robust, and adds a large amount of versatility to all types and sizes of routers, including a VPN client mode. DD-WRT has been installed and tested without a problem on routers ranging from newer flagship routers like the Netgear R8000 to the venerable old Linksys WRT54GL.
Tomato offers a more user-friendly interface and better bandwidth monitoring options. However, it is not supported on as many routers.
Buy a pre-flashed router
If you require the power DD-WRT or Tomato firmware give you, but are not comfortable doing the ROM flashing process yourself, you can purchase one from sites like Flashrouters or Sabai Technology. These routers actually have VPN-ready firmware installed on them right out of the box.
Either option you choose, the next step to get a VPN on your router is to know the VPN server address (IP address or name) and the authentication credentials (username, password, security certificate for OpenVPN).
Further, you may proceed with the setup.
How to set up a VPN for router
The set up of a VPN on router consists (most of the time) from the following steps:
access the router configuration page;
set the VPN parameters;
test the VPN connection.
Log into your router and access the configuration page
Every router type is a little bit different and the access to the administration area depends on the IP address used by the router for network communication.
When you get a new router, the provided installation instruction contains the IP address that the router use.
However, if you forgot the router's IP here is a tutorial that helps your find it.
Next, you should enter the default username and password (or the one that you set up during the installation).
Set the VPN parameters
A router acts like a VPN client that connects to a VPN server and encrypts all the communication between the router and the server.
Setting up a VPN on router consists of filling in the VPN server parameters.
Top VPN providers offer detailed setup tutorials on how to configure VPN tunnels for different types of routers. Basically, you need to enter the VPN server name (or IP address), the authentication credentials (username, password, or certificate) to the VPN configuration page from the router admin area.
Here is an example of how to set up a VPN connection on a router running the DD-WRT firmware:
Enter the DD-WRT control panel.
Click on Services > VPN.

Choose the type of VPN tunnel: PPTP client or OpenVPN client.
For PPTP client enter the Server IP or DNS Name, Username, Password and other parameters required by your VPN provider.
For OpenVPN client enter the Server IP/Name, Port, Tunnel protocol (UDP or TCP), Tunnel device (TUN or TAP). Additionally, you need the CA certificate and public/private keys (more details here). All this information is provided by the VPN service.

Save changes and check your setup.
If you purchased a pre-configured VPN router then your job on setting up the VPN parameters is even easier: you need to choose the desired VPN provider (you need to get an account first), enter the account username and password, select a location or server, and connect. The VPN router will make the necessary technical configurations for you. This is one of the advantages of a VPN router.
Test your VPN connection
Testing your VPN connection is crucially important as there are several manual settings when settings up a VPN for a router; there is room for mistake. Thus, you need to test your VPN setup (make sure you perform a leak test as well).
The quick test consists of the followings:
Get access to a device that is able to connect to the router using WiFi or cable.
Load an IP locator website to check your public IP address. If the VPN setup is completed successfully then: (1) the website should load without issues and (2) the IP address shown should be the one exposed by the VPN server, not your real IP address.
How to use a VPN for a router with your devices
After setting up the VPN on router all you have to do is to connect your device to the router (by WiFi or cable).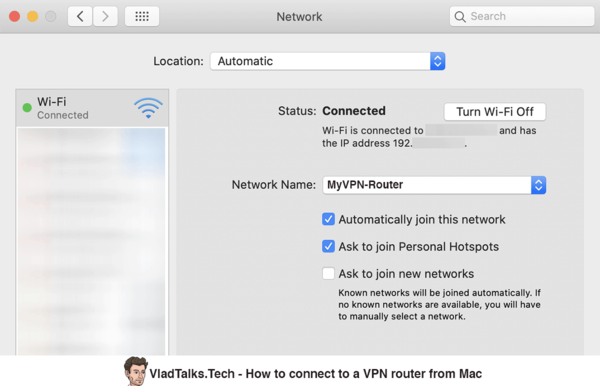 Hurray, you are now connected to the VPN!
How to choose the best VPN for your router
If you already have a VPN subscription and want to set it up on your router, simply contact the support with your router model and ask for guidance. Most premium VPN services can be configured on popular router models.
The services that we recommend are the ones that we have tested and used for years and proved to be reliable and trustworthy. All top VPN providers offer detailed instructions on how to set up their service on different types of routers.
An alternative approach is to purchase a VPN router from Flashrouters or Sabai Technology and then subscribe to a VPN service that is integrated within the router control panel.
What you need to consider when you choose a VPN for your router:
make sure the connection is stable (in case of frequent disconnects, all devices connected to the router would get offline);
get a VPN that is fast enough for all your day-to-day online activities: browsing, streaming, gaming, downloading;
choose services that operate under the no-logging policy (all your online activity, from all devices, may get logged or monitored if you don't);
get a VPN that has in-depth setup guides for your type of router.
Here are several great VPN services that work great on routers.
NordVPN
NordVPN is recognized as one of the most complete and reliable VPN services on the market. It is fast, stable, and it has a strict no-logging policy.
NordVPN recommends several types of routers that work great with their VPN: DD-WRT routers, Tomato, Padavan, OpenWRT, Merlin. Additionally, NordVPN is smoothly integrated with Flashrouters devices. Thus, it is a great choice as your VPN on a router.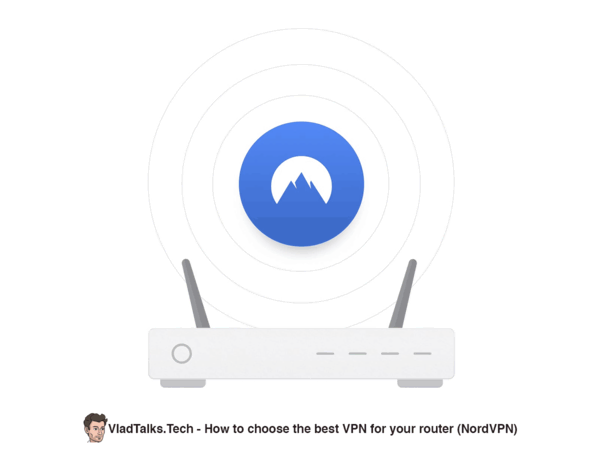 ExpressVPN
ExpressVPN is a fast and reliable VPN service. It offers its own firmware that you may install on your router and easily get connected to the VPN. Installing the ExpressVPN firmware it is an advanced approach but it can save you a lot of time in the future as you can easily change servers and locations.
CyberGhost
CyberGhost is nicely integrated with the Flashrouters privacy app and it can be configured easily. It is an exceptional VPN service with lots of locations and great VPN apps.
Tips to get the most from your VPN on router
As you have read this far, you are serious about using a VPN on one of your routers. Great! You deserve several more tips to make sure you get the most of your experience with VPN:
VPN for router FAQ
How to turn off the VPN from the router?
Turning off the VPN on the router consists of accessing the Control Panel of the router and disabling the VPN option.
How to change the VPN server on a router?
To change the VPN server on a router, you need to log in to the Control Panel and change the server settings for the VPN connection.
However, some VPN routers can be controlled remotely on a desktop or mobile devices. This is a more elegant solution for those who need to change VPN locations frequently.
Summary
Setting up a VPN on a router rather than on a single device has the advantage of securing and protecting your total home network without too much difficulty. Although there are some disadvantages to doing this, these are not major and can be overcome relatively easily.
Most of the modern routers can be configured for establishing a VPN connection. An alternative solution is to flash a VPN-capable firmware on your router and get started with the VPN setup.
If you don't have a router or want to replace your existing one, my advice is to get a VPN router. They are fast and optimized for VPN usage. Great choice!
My last piece of advice for this article: make sure you choose a VPN service that is fast and stable.
Finally, don't forget to Subscribe to our newsletter (below) and we will send you regular and funny updates. You will make a Transylvanian baby-bat very happy. 😃
About the Author