Unblocking geo-restricted streaming channels (Netflix, Hulu, Amazon Prime, etc.) is a great achievement for all those people (me included) that like to watch the latest (and most interesting) movies, documentaries, or mini-series. What can be better than ending your day with a glass of wine and a good movie?
There are several solutions for accessing blocked streaming sites or apps: VPN, Smart DNS, proxies. The one that brings you the smoothest streaming experience is Smart DNS, as it does not involve any encryption. For those using their MacBooks to relax after a long day, I am going to explain how to set Smart DNS on Mac.
Set up Smart DNS on Mac [Summary]
Setting up Smart DNS can be done in a matter of seconds. On Mac, you need to get to the macOS DNS settings and alter the DNS with server addresses provided by the Smart DNS service.
Prerequisites:
Setup:

Step 1: Get to the Network > DNS settings.
Step 2: Add the Smart DNS server addresses.
Step 3: (Recommended) Restart your Mac.
The Smart DNS alternative to unblocking channels is the well-known VPN (Virtual Private Network) technology. Even though VPN is slower than Smart DNS, it may be the only solution for certain media sites. In case you are interested in setting up a VPN on Apple Mac OS X, I recommend reading our tutorial.
Why use Smart DNS on Mac?
Smart DNS is a technology that can be used to unblock popular geo-restricted websites like Netflix, Hulu, or BBC iPlayer easily.
The main advantage of Smart DNS over VPN is that it does not involve any data encryption. Thus, the streaming speed is as good as your regular Internet connection can achieve.
Smart DNS uses proxy servers to bypass geo-restrictions, but it does not hide your public IP address. You should remember this and do not assume that Smart DNS offers any protection against data leaks and hackers.
If you want to use your Mac for watching your favorite show on a restricted streaming channel, you have two great options: VPN and SmartDNS. As mentioned above, Smart DNS is (most of the time) faster, but it involves some initial manual setup. However, it can be done in several minutes. Read on to see how to get started.
How to set up Smart DNS on Mac
Firstly, you need access to the IP address or the name of a Smart DNS server. There are several good Smart DNS providers you may subscribe to for a reasonable price. You will find our recommendations later in the article.
You will get access to one or two IP addresses (to have a backup solution if the primary server is down or blocked).
For example, if you choose the Smart DNS solution offered by Surfshark, you should log in to the Surfshark account and, from the left menu, click on Smart DNS. You will see the two DNS addresses available. Additionally, you need to Activate your current IP address such that you are granted access to the Smart DNS service.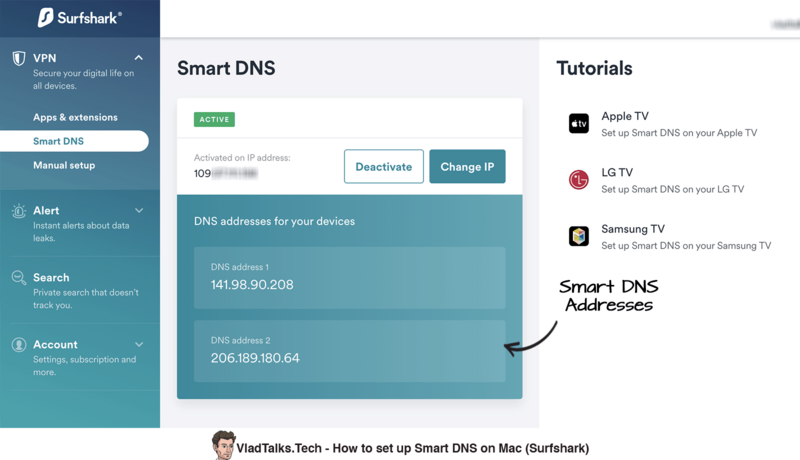 Once you have the address(es) of the Smart DNS server(s), you have to follow this step-by-step tutorial:
Open System Preferences from the top left of your screen.
Click on Network.

Select the network you are connected to (Wireless or Ethernet) and click the Advanced button.
Access the DNS tab.

If there is any DNS listed, select it and press the "-" button (delete it).
Press the "+" button and enter the IP address of the SmartDNS server. In case, you have more DNS server IPs, repeat the process.
You are done with the DNS settings. It is advisable to restart your Mac.
Some SmartDNS services are able to verify the connection. Thus, you may log in into admin panel offered by the provider and check your connection status. If no such option is available, simply try to unblock the desired streaming channel. If everything is properly set up it should work smoothly.
An alternative to the above-explained setup is to change the DNS settings on your router. This may be a little bit more complicated, but you may achieve access to the desired channels on all devices connected to the router (on Wi-Fi or Ethernet cable).
Troubleshooting your Smart DNS connection
In case you are not able to access a specific streaming site, you may try one of the following:
use another browser (if you access the channel with a web browser);
clear the browser cookies;
try the Incognito mode.
If you are still unsuccessful, you should contact the support team of your Smart DNS provider.
Smart DNS services for Mac
You may use any Smart DNS service on your Mac as the only required setup is to add the DNS addresses to the macOS DNS settings (as presented above).
However, we recommend subscribing to the SmartDNS services that also offer access to VPN. Thus, if the Smart DNS service is not able (temporarily or permanently) to unblock your favorite channel, you have the backup option to use the VPN.
Additionally, you may switch from Smart DNS to VPN when you get slow speed. SmartDNS is usually faster than VPN, but you may experience low-quality streaming due to DNS server issues.
We have tested several such SmartDNS+VPN services, and we gladly recommend you try one of the following: StrongVPN, CactusVPN, Surfshark, NordVPN. All these services have great compatibility, and you may use them on iOS (iPhone, iPad), Android, Windows, Mac, Linux.
Summary
Smart DNS is a great technology for unblocking streaming channels or various media channels. To set it up on Mac, you need to configure the macOS DNS settings such that the provider's servers are used. We recommend subscribing to a Smart DNS provider that also offers access to VPN such that you have an alternative to unblock what you desire.
Have you found our article on how to set up Smart DNS on Mac useful? If so, subscribe to our newsletter! We will let you know when we publish new articles, and you will make a Transylvanian baby-bat 🦇happy.
About the Author