Need to access your favorite content on Netflix, Disney+, BBC iPlayer, or other geo-restricted channels? Smart DNS is a solution that is not only easy to set up but also faster than VPN. This does not mean that you have to choose between Smart DNS and VPN. You may have access to both. This article lists the best Smart DNS services offered by top VPN providers.
Smart DNS is a technology that can easily unblock streaming channels from all over the World. There are two main benefits of Smart DNS: it offers great speed while accessing streaming content, and it can be installed on devices that are not VPN-enabled.
This article briefly explains what SmartDNS is, emphasizes its advantages, explains why VPN providers have embraced the technology, and lists the best Smart DNS services that we have tested.
What is Smart DNS, and what are its main advantages?
Smart DNS is a technology that can unblock geo-restricted streaming channels like Netflix, Amazon Prime, Disney Plus, HBO, Hulu, BBC iPlayer.
Unlike VPN, which can also be used to access streaming sites, Smart DNS does not hide your IP address nor encrypt your data (more details regarding VPN vs. Smart DNS can be found here). It solely redirected requests to streaming sites through proxy servers from different locations (e.g., in the United States for accessing Hulu or Amazon Prime). Thus, the proxy server plays the middleman role and facilitates a connection between your device and the streaming servers.
When Smart DNS is enabled, the ISP-assigned DNS (Domain Name Server) address of the device is replaced with the Smart DNS server's address. When you access a streaming channel that the service can unblock, the streaming servers' requests are redirected to a proxy service that does the trick of changing the request's location.
The main advantage of unblocking streaming websites or apps with SmartDNS is that the approach does not slow down your connection (as no encryption is performed). Of course, the downside is that Smart DNS does not provide the same level of privacy and anonymity as a VPN.
Another significant advantage is that SmartDNS can be set up on devices not VPN-enabled, for example, on Smart TVs. Thus, such a service can unblock streaming services directly on your TV without extra tweaks.
Why are VPN providers offering SmartDNS services?
Some VPN providers have decided to include a Smart DNS service along with the VPN offer. This is a "smart" decision as it brings benefits to both the users and the providers:
The Smart DNS technology offers better speed and greater stability for online streaming compared to the VPN (Virtual Private Network).
It is a complementary service, and clients may use both Smart DNS and VPN.
Smart DNS can be used on devices that do not support VPN connections.
Unblocking streaming channels consumes a lot of server bandwidth. The Smart DNS technology reduces the load on VPN servers and lets the users in need of encryption benefit from smoother and faster connections.
What you need to run SmartDNS
Smart DNS can be set up on a large variety of operating systems (Windows, Mac, Linux, iOS, Android) and devices: desktops, mobile devices (Android, iPhone, iPad), gaming consoles (PlayStation, Xbox), Smart TVs (Sony, Samsung, LG), Apple TV, Roku, routers.
You don't need to install anything. The manuals setup consists of modifying the DNS settings of your device or an app. Also, some SmartDNS providers offer the functionality of setting up the DNS from within the VPN apps (which are easy-to-use VPN software).
Before you start installing SmartDNS, you need to get the IP(s) of the Smart DNS server(s). You may usually find the DNS IP in the tutorials provided by the SmartDNS service.
Next, you need to modify the DNS settings for your device. For example, on Windows 10, you have to:
Search for the Control Panel.
Click on Network and Internet and, further, on Network and Sharing Center.
Next, on the left side, click on Change adapter settings.
Right-click on the interface through which you are connected to the Internet and click "Properties."
Uncheck the Internet Protocol Version 6 (TCP/IPv6) option.
Double-click on Internet Protocol Version 4 (TCP/IPv4).
In the General tab, select Use the following DNS server addresses and enter the DNS server address provided by the SmartDNS service.
You may check the Validate settings upon exit. If you do, the Windows Network Diagnostics will start after you click the OK button, and it will check the DNS settings.
It is advisable to restart your computer.
After you have finished the Smart DNS setup you may load the streaming website or the streaming app.
Important! A Smart DNS service will unblock only specific streaming services listed on the provider's website. It is not an unblocking technology that works on any website.
VPN providers that offer the best Smart DNS services
For some time now, VPN services have successfully integrated the Smart DNS technology in their services. The most well-known services that popularised SmartDNS were Overplay.net (now part of StrongVPN) and StrongVPN with its StrongDNS. Other VPNs followed, and now there are plenty of VPN providers that offer SmartDNS.
Of course, several services only offer SmartDNS, like SmartyDNS, SmartDNSProxy, or Unlocator. However, we consider that VPN services with SmartDNS bring more value for the money as they offer alternatives to unblocking streaming content.
Now, let's get started with the list.
[1] StrongVPN
StrongDNS is the name of the Smart DNS service offered by StrongVPN. And, it is exceptional. The number of unblocked channels is fantastic and the exposed features are very useful.
To get started with SmartDNS, you need to create a StrongVPN account first. Next, from the Customer Area, click the StrongDNS link. You will be redirected to the StrongDNS website to continue with the setup.
From the Setup Instruction page click on the Configure your channels button. You may turn StrongDNS on or off for your IP address.
The best part is that you have a large selection of channels; for each channel, you may choose a country/location (if available), and you may see on which devices StrongDNS works. For example, you may unblock Netflix from one of the many locations listed but only from your browser.
Other advantages of Strong DNS:
You may update your IP using the URL provided on the Setup Instruction page.
You may set it up easily on DD-WRT, Tomato, Sabai routers (tutorials are available).
Overall, I consider StrongDNS the most advanced Smart DNS service offered by a VPN provider.
[2] CactusVPN
The Smart DNS service offered by CactusVPN is also impressive. It unblocks more than 300 streaming channels from many countries and locations, and it exposes several advanced features that may be useful in various scenarios.
You may use the service from devices located in one local network at a time. First, you need to validate the public IP address of your network (Admin area > Settings > Validate Your IP address), then change the DNS settings on your device(s) as shown in the provided tutorials. Next, you need to select the country/region you want to unblock (Settings > Smart DNS Manual Setup > Websites Region).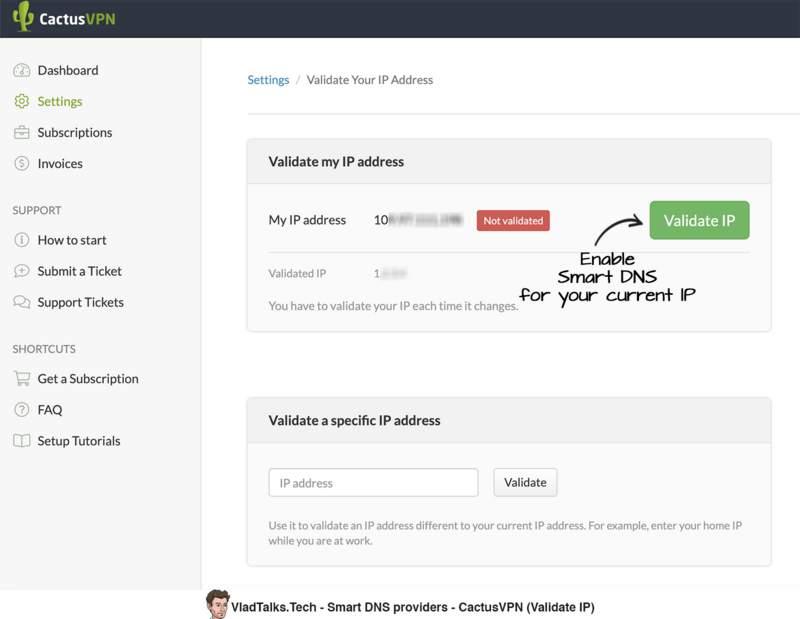 In case your IP address is dynamic and it gets changed a lot, you have several convenient options instead of logging in to the admin panel and validate the IP manually (as shown above):
Validate your new IP address with an URL and access the URL every time your IP is changed.
Use a Dynamic DNS service and set the domain to the CactusVPN admin panel (Settings > Smart DNS Advanced > Dynamic DNS Settings). Your IP will be updated automatically.
Several channels that may be unblocked by the CactusVPN Smart DNS service are listed below:
US – Netflix US, Amazon Prime, Disney+, Hulu, Pandora, Crunchyroll, HBO Go, HBO Max, NBC, Fox, ESPN Player, etc.
Canada – History, MTV.ca, ShowCase, CBC, SportsNet, CTV, CraveTV, TVA, TSN, etc.
UK – BBC iPlayer, ITV Player, Channel 4, Channel 5, NowTV, Eurosport Player, Demand 5, Sky Go, etc.
Germany – Zattoo Germany, RTL, Vox Now, Super RTL, Alles Kino, Arte Germany, 2DF, ZDF, ARD.de, DMAX, TV.de, Maxdome, SAT.1, etc.
France – France.TV, France 1, France 2, France.TV Sport, myCanal, Canal Play, My TFI, Arte France, Molotov.TV
Italy – Netflix, Rai Play, Infinity, Mediaset Play, Dplay Italy, NowTV Italy
Poland – Netflix Poland, HBO Go, TVP.Pl, TVP VOD, iPla, VOD, KinoPlex, Nowa, WP, Vectra, etc.
Switzerland – Zattoo Switzerland, Swisscom, Play RTS, Play SFR, Teleboy, Wilmaa, etc.
Sweden – HBO Nordic, Plejmo, SVT Play, Viafree, UR
Rusia – Wink, Amediateka, DivanTV, THT, Okko
India – Disney+ Hotstar, Voot, Zee5, Star, TVF Play, MX Player, ALT Balaji, etc.
Australia – 7 Plus, 9 Now, SBS, Fox Sports, Anime Lab, iView, Stan, Kayo, Binge.
[3] Surfshark
Surfshark includes access to their Smart DNS services without extra charge. You may activate it for one IP address at a time and it helps you bypass geo-restrictions for the US content (US Netflix, Amazon Prime, Disney+, US Hulu, etc.).
To activate SmartDNS, log in to the Surfshark account and click on Smart DNS from the left menu. Your current visible IP address will be shown, and you may Activate Smart DNS for it. You may change it later if your IP address is changed. If you intend to use SmartDNS on a device from another network, type in the IP address corresponding to that device.
Next, you will see the DNS address you need to use for the Smart DNS setup on your device.
[4] NordVPN
NordVPN is one the best VPN providers available on the market, with excellent features, fantastic performance, and great apps. It also has a strict zero-log policy audited by independent IP security companies.
With the Smart DNS service offered by NordVPN you may access the following streaming services:
ABC Go (US region)
Amazon Prime (US region)
Fox Now, Sports Go, News, Showtime (US region)
HBO Now (US region)
Disney Plus (German region)
Netflix Originals
One IP address is supported, so you may use it on multiple devices, but located in the same network. Thus, if you use a router at home you may set the Smart DNS on all devices that connect to the router and share the same public IP address.
To activate Smart DNS, log in to the NordVPN account, click on the View Details button from the NordVPN service. Next, click on the Activate button from the Smart DNS section. Your current public IP address is picked up, and you will be granted access only to devices using this IP. You will receive an email with the DNS addresses and set up instructions.
Important! If you want to activate Smart DNS for a Smart TV, you may need to activate the service from the same network used by the TV.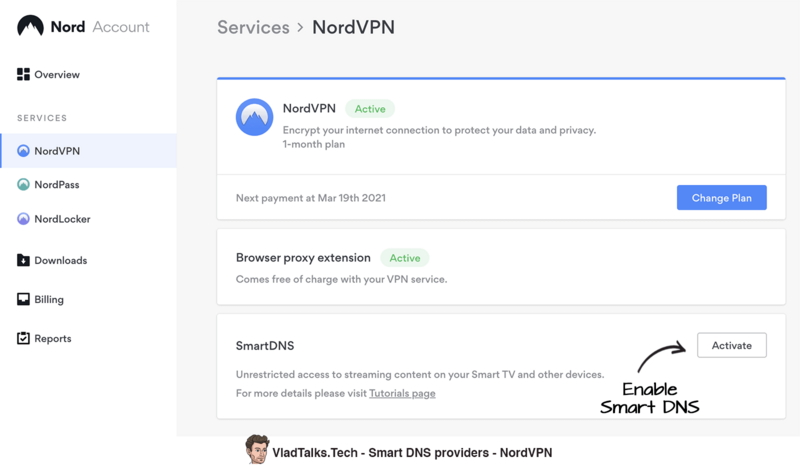 [5] ExpressVPN
MediaStreamer is the Smart DNS service designed by ExpressVPN to help you unblock geo-restricted streaming channels. Even though the websites and apps that can be accessed using MediaStreamer are not listed, it seems that it works only for US-based channels (Netflix, Hulu, Amazon Prime, etc.).
To get MediaStreamer activated, login to the ExpressVPN account and select DNS settings from the left menu. You will get your current IP address registered.
Every time your IP changes, you need to update it to the ExpressVPN systems. You may select to have your IP address updated automatically. Thus, every time you sign in to the ExpressVPN website or use an ExpressVPN app, your current IP will get re-registered.
The last step is to set ExpressVPN DNS IP addresses to your device. Click the Configure DNS on this device to proceed.
Best Smart DNS FAQ
Is Smart DNS better than VPN?
The Smart DNS technology provides faster access to streaming channels compared to the VPN. From this point of view, Smart DNS is better than VPN. However, the main function of a VPN is to encrypt the data passed through the secured tunnel, while Smart DNS is to unblock streaming websites or apps. Thus, there is no room for many comparisons between the two technologies.
Is Smart DNS safe?
The DNS traffic the passes through the Smart DNS servers is encrypted and secured. However, Smart DNS does not encrypt all the traffic between your devices and the Internet, as does a VPN. Smart DNS is a safe technology, but it does offer the security benefits of a VPN.
Summary
We have listed 5 VPN providers that offer access to their own Smart DNS service. The main advantage for you is that you may unblock streaming channels on devices that can not connect to VPN, such as Smart TVs and game consoles. Additionally, Smart DNS is faster than a VPN.
Do you know another VPN provider with Smart DNS that is not on the list? Feel free to let us know in the comments below.
Would you like to be notified when we add new VPN services to the Smart DNS list? Subscribe to our newsletter! It will make a Transylvanian baby-bat 🦇happy.
About the Author